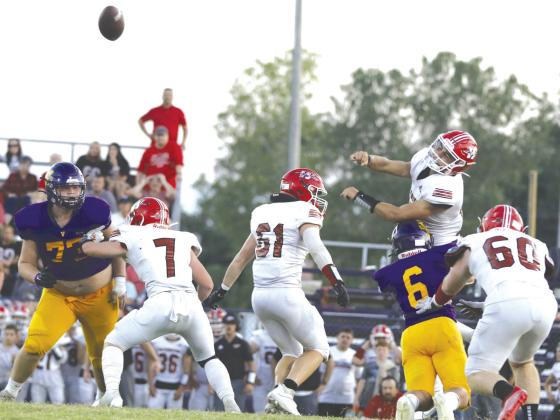 Road trip on tap for Vian Friday at Eufaula
LEA LESSLEY SPORTS WRITER
Class 2A No. 4 Vian travels to Eufaula Friday night to take on the No. 10 Ironheads as the Wolverines look to even their season record and defeat Eufaula for the seventh straight year.
Kickoff inside Paul Bell Stadium is scheduled for 7 p.m.
The Wolverines lost 39-24 at home to top-ranked Washington last week and Eufaula participated in its second preseason scrimmage.
Vian edged the Ironheads 34-27 in McIntosh County.
"They're a well-coached team and they always play us really tough," Vian head coach Gary Willis said about the Ironheads. "Big strong quarterback, throws the ball well and they're pretty good. They're a spread offense and like to throw it around and run counter and they're pretty good at it."
Some of Eufaula's offensive standouts are quarterback Luke Adcock (6-foot-3, 220-pound senior), receivers Brett Pippenger (6-0, 175, sr.) and Kaden Bumgarner (5-10, 180, sr.), running back Ontario Ellen (5-10, 190, sr.) and linemen Draven Gragg (6-3, 265, jr.) and Carson Luna (6-1, 270, soph.).
"Just shut down the pass and contain the quarterback when he runs," Willis said were keys for his defense Friday night. "He's a big, strong kid, probably about 6-3, 220, and he'll be a handful. They lost some linemen that were really good last year but they're still good."
The Ironheads are led defensively by outside linebacker Kaden Bumgarner, defensive ends Ontario Ellen and Draven Gragg, nose guard Rashon Watts (6-0, 300, sr.) and defensive backs Preston Dalton (5-11, 180, jr.) and Taylen Shade (6-1, 165, sr.).
"They're a 3-4 on defense," said Willis. "On offense I usually say go establish the run-game and we'll still do that but the group we have right now is a little more geared toward the spread so we want to spread it out a little bit and take what they give us. We're still going to run the football but we may throw considerably more."
Vian and Eufaula did not play in 2014 and '15 and the Wolverines won five straight in the series after the Ironheads defeated Vian 23-14 in 2008.