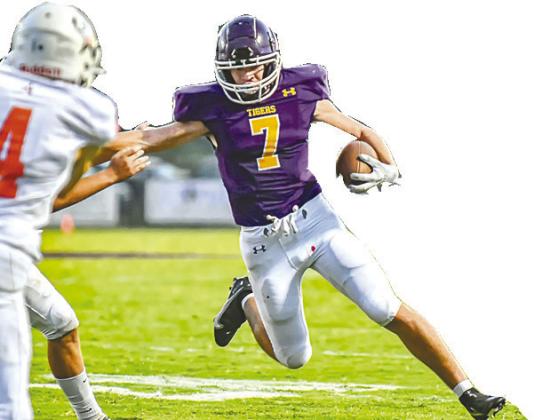 Sports
September 23, 2022
Central hosts Haskell in district opener
The Central Tigers are hosting their first Class A-District 8 game of the season today versus the Haskell Haymakers at 7 p.m.
Haskell comes to Central with a 1-2 record in non-district play and a 30-0 loss to Class 2A Morris last Friday.
The Tigers are coming off a 30-21 victory against the Class 2A Roland Rangers last week, and own a 2-1 record going into tonight's game.
Central head coach Jeremy Thompson has been preparing his charges to defend their house all week so the Tigers can improve their record to 3-1, and are looking to have a 1-0 district record.
"They've got a really good quarterback, and he's got good receivers, and they're big receivers," Thompson said. "They like the big play. They throw it deep quite a bit. They do have two good backs. There's a lot of athletes on the field. I think they're going to make us defend the whole field."
Central's keys to winning tonight are getting pressure on Haskell's quarterback while keeping them from making big plays, protecting the football and minimizing penalties by staying disciplined.
"We've definitely gotta put pressure on their quarterback. All four of their receivers are definitely good; they're good backs. We feel like we've got to be sound … don't give up the big play this week."
The Haymakers' offense is led by returning dual-threat quarterback Brannon Westmoreland, who posted 1,500 yards and 15 touchdowns through the air and rushed for another six scores last year. Westmoreland, being fleet of foot, will make the Tigers defend the whole field to limit experienced receivers Lane Mann and Lucas King, and offensive linemen Briar Payne and Junior Faul.
Haskell's defense has seven returning starters, led by its big man Faul with his 75 stops, 20 of which were for a loss and six sacks a year ago. Payne returns at noseguard where he posted 12 tackles for loss and three sacks last year.
It will be a big lift, but not out of the Tigers' abilities, to prevail against the Haymakers tonight, and Thompson knows it.
"So far they've done a good job, and I think this will be their biggest test of the year. We're going to make some adjustments in our run game a little bit. We've just gotta keep getting better in what we're doing is the main thing."