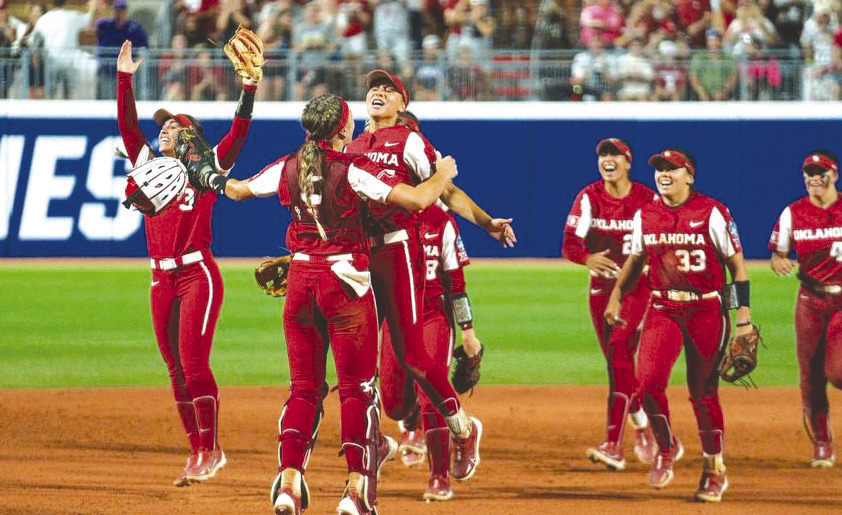 OU SOFTBALL
Sooners on cusp of third straight national title
OKLAHOMA CITY — For Oklahoma's record-setting softball team, patience was its biggest virtue during a 5-0 opening-round victory over Florida State in Game 1 of the Women's College World Series Championship Series on Wednesday night at Hall of Fame Stadium.
Not even two lightning delays totaling 1:43 or uncharacteristically poor fielding, nor a slow start at the plate were enough to derail OU's runaway train that has now extended its Division-I record winning streak to 52 games.
A determined crowd of 12,142 sat through it all.
By posting their school-record 35th shutout of the season, the Sooners (601) are a victory away from becoming only the second team in history to win three consecutive national titles (UCLA 1988-90).
OU is seeking its seventh NCAA crown overall, its fifth in the last seven seasons and its sixth in the last 10 seasons (there was no WCWS in 2020 due to COVID-19). Game 2 in the best-of-three series was scheduled for Thursday night. Game 3 (if necessary) will start at 7 tonight.
In Championship Series history, 76 percent of the teams that win Game 1 go on to win the title.
"It's always really good to get that first win under your belt — really important," OU coach Patty Gasso said afterward. "Our team was really focused for that. The rain situation and all of the lightning and so forth kind of put a wrench in it.
"It felt like a little bit of rushing. It was just uncharacteristic of what the beginning of a Championship Series would feel like. Watching all the fans go in and out, it was just … Some were not moving at all [smiling]. It's a big moment. Everybody wants to see it."
The game started 61 minutes late due to lightning in the area. Only nine minutes passed before the next delay, which lasted 42 minutes.
"I think we started off a little bit nervous," Gasso said. "We had a little conversation as a group. They decided we need to be more like us and stop trying (so hard). We don't try hard, we just play. We were trying hard. You can see the difference."
OU's bats also got off to a slow start as the Sooners didn't collect their first hit until No. 9-hole hitter Rylie Boone hit a line-drive double to right-center. They collected eight more hits in the final three innings. Boone finished 2-for-3 with two doubles.
Lightning finally struck for the Sooners with a three-run fourth inning. A line-drive double to center from OU senior catcher Kinzie Hansen scored starting pitcher Jordy Bahl, who was pinch-running for Haley Lee. The second run came on an RBI bloop single to right from third baseman Alyssa Brito to score Hansen. Brito, who went 2-for-2 with a run batted in, made it 3-0 when she scored on a bunt single from rightfielder Alynah Torres when a poor throw got away from the first baseman.
"Once they (OU players) got their feet on the ground, (they) just kind of took off, hit the ball hard — really started hitting the ball hard," Gasso said. "(I'm) proud of how we turned that switch really quickly. Then, from that moment on, we just were back to our old selves."
Hansen finished 2-for-4 with two RBIs. "One thing about our offense is we embrace challenges," Hansen said. "I know we work on a lot of things specifically at practice that we know we're going to see in the game. Going into this game, we knew that they were going to try to take a different strategy possibly. We know there's a bunch of different challenges that people might throw at us to catch us off guard. When that did happen, that did occur going into the second time through the lineup, it didn't really faze us. We were kind of excited to see the challenge, excited to get a different look going into it."
Fortunately for the Sooners, Bahl (22-1; 0.92 earned-run average) was her usual self. The sophomore right-hander tossed a complete game two-hitter with 10 strikeouts on 97 pitches. Her lone walk came with two outs in the final inning.
"Jordy again was just absolutely exceptional," Gasso said.
Through all the starts and stops, Bahl said she was confident her teammates eventually would find their stride.
"I always know the offense is going to get going," Bahl said. "Especially this entire tournament, we've faced some really tough pitching, but I know they're going to score runs. I just try to do my best to just throw a good game and let the defense work, know that the offense is going to come through."
OU entered the game as the nation's top fielding team with just 16 errors in 1,456 chances (.989). However, the Sooners committed lead-off errors in back-to-back innings against the Seminoles (58-10).
Brito back-peddled on a ground ball in the third inning, and Bahl dropped the ball when she tried to tag out the batter on a slow roller down the first-base line to lead off the fourth.
FSU wound up stranding a runner at second in the third inning and runners at second and third in the fourth as Bahl worked out of both jams.
In addition to Jayda Coleman's defensive gem, FSU had one of its own in the bottom of the sixth when leftfielder Kaley Mudge robbed Lee of a potential game-ending three-run homer when she snared the ball with the top of her glove while reaching over the fence.
Without Mudge's heroic effort, the game would have ended 8-0 in the sixth because the NCAA implemented the run rule into the Championship Series for the first time ever this season.