FORT GIBSON: July 25. Elevation is normal, water temperature 80°F and stained. (USACE Lake Level) Largemouth bass fair on plastic baits around main lake. White bass good on jigs, sassy shad...

To paraphrase author Steve Smith in the introduction to his book, "Hunting Ducks and Geese," if slogging about in cattails wearing chest waders gets your blood moving, if you yearn for the...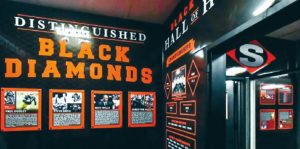 By&nbsp
Jim Cameron Sports Writer&nbsp
The Black Diamonds Field House is getting a new connection to it's legacy as part of new head coach, Mark Hutson's era. The walls are now covered with wallpaper that tells the story of pas...
During their regular June meeting Monday in Oklahoma City, Oklahoma Wildlife Conservation Commissioners approved additional opportunities to harvest antlerless deer and approved hunting season dates a...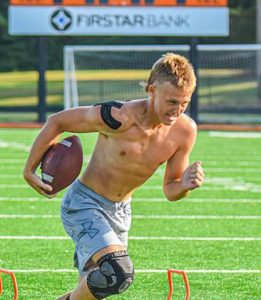 Wyatt Abner Parker Pratt Kash Keepes Parker Jackson Caleb Hightower Jaxston Martin Charlie Martin Broque Oft Dawson Glover Ce_alm Kilpatrick Ethan Holman Alex Asbill
One traditional role of the local public library is the preservation of community history. The Stanley Tubbs Memorial Library has chosen for 2022 local history topic, Sallisaw: Founders and Football. ...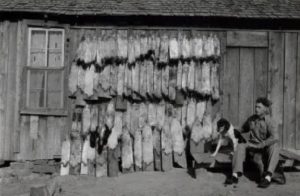 By&nbsp
Jerrod Davis Outdoor Oklahoma&nbsp
Animal skins have been utilized in the lands we now call Oklahoma for thousands of years. Inhabitants used furs for housing, clothing, containers, and as goods in a vast trade network. Burial sites in...
By&nbsp
Amie Cato-Remer&nbsp
A man could face imprisonment for up to 10 years in the penitentiary or one year in the county jail if found guilty of a felony charge of assault, battery, or assault and battery with a dangerous weap...
By&nbsp
Oliver Grigg University Of Arkansas Athletics&nbsp
FAYETTEVILLE, Ark. – The 2022 MLB Draft has concluded with nine Razorbacks selected for the second year in a row. Pitcher Mark Adamiak, taken by the Oakland Athletics in the 15th round (No. 454 ...
Greenleaf: July 18. Elevation is normal, water temperature 85°F and clear. Largemouth bass fair on buzz baits, crankbaits, in-line spinnerbaits, minnows, spinnerbaits, topwater lures, and w...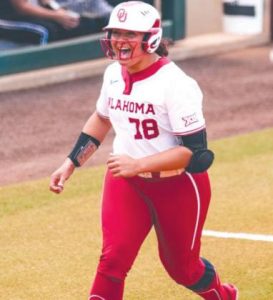 By&nbsp
Soonersports.com&nbsp
LOS ANGELES — Oklahoma softball redshirt senior Jocelyn Alo was named the ESPY award winner for Best College Athlete, Women's Sports during Tuesday night'...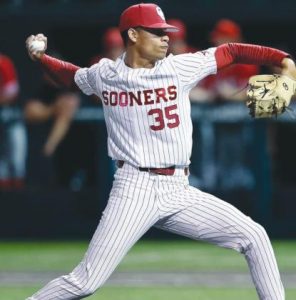 Yet another pitcher from the University of Oklahoma has gotten the call from the big leagues. Vian's Javier Ramos, a 6'6" 206-lb. right hander, has been selected in the MLB Draft in ...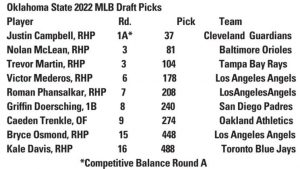 By&nbsp
Bryce Osmond Oklahoma State University Athletics&nbsp
STILLWATER – Two Oklahoma State pitchers, Bryce Osmond and Kale Davis, were among the final day picks of the 2022 Major League Baseball Draft. OSU had nine players selected in this year's ...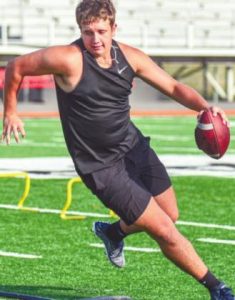 COOPER CARTER CHARLEY MARTIN JOSH TAYLOR CE_ALM KILPATRICK MATHEW MCGREW The Sallisaw cheerleaders, on the last day of summer pride, took over the Sallisaw field house's weight room Wednesday du...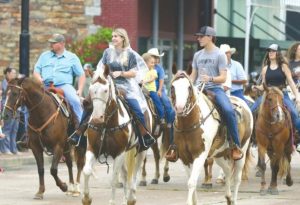 A parade through downtown Sallisaw starting at 5:30 p.m. on Aug. 4 (Thursday) will kick off activities for this year's 78th annual Sallisaw Lions Club Rodeo. Nightly performances for the rodeo, ...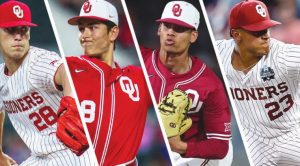 By&nbsp
Soonersports.com&nbsp
NORMAN – Four more University of Oklahoma baseball players heard their names called on the final day of the 2022 Major League Baseball Draft, as David Sandlin, Chazz Martinez, Javier Ramos and J...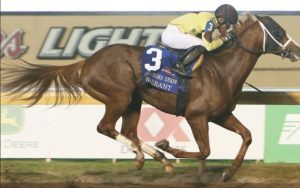 By&nbsp
Oliver Grigg University Of Arkansas Athletics&nbsp
OKLAHOMA CITY – The 2022 Thoroughbred Season at Remington Park features a stakes schedule that is once again led by the Grade 3, $400,000 Oklahoma Derby and the $400,000 Springboard Mile. The se...
By&nbsp
Lea Lessley Sports Writer&nbsp
Registration for the 78th annual Sallisaw Lions Club Rodeo will open on Wednesday, July 27, rodeo chairman Marley Abell said. The books for registration will open at 8 a.m. on July 27 and close later ...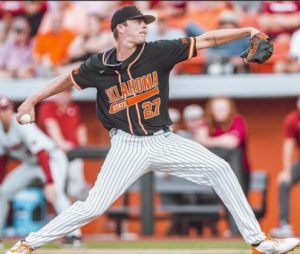 LOS ANGELES – Oklahoma State pitcher Justin Campbell was selected by the Cleveland Guardians in the Competitive Balance Round A (first round) with the 37th overall pick of the Major League Baseb...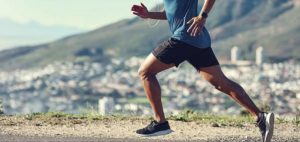 Few physical activities inspire the devotion that avid runners have for running. Millions of individuals across the globe lace up their sneakers and run for miles on end each day, and the fitness expe...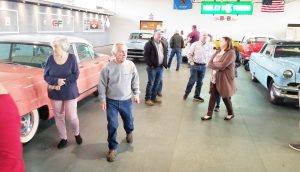 Larry Crowe provided a sneak preview Wednesday of his Big Toy Museum, located in Sallisaw's old middle school. The tour of the remodeled school was a trip down Memory Lane for many who were students w...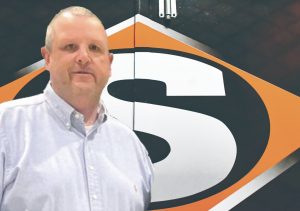 By&nbsp
Lynn Adams Staff Writer&nbsp
If history does, indeed, repeat itself and new Sallisaw football coach Brandon Tyler replicates the success he enjoyed at Vian and Gore, then go ahead and make hotel reservations for the Class 4A stat...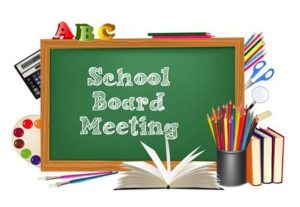 Along with business manager's in special meeting
By&nbsp
Amie Cato-Remer Editor&nbsp
Vian Public School Superintendent Victor Salcedo and Business Manager Ed Brockman's resignations were accepted by the Vian Board of Education on March 29, during a special meeting. After going into an...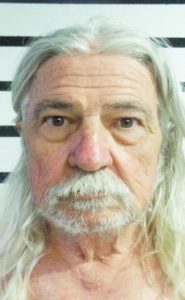 Between Walmart and bank
By&nbsp
Amie Cato-Remer Editor&nbsp
A Sayre man is facing a felony charge of indecent exposure after he reportedly exposed himself earlier this month in Sallisaw. Wilbur C. Poindexter, 65, was formally charged on March 10 in Sequoyah Co...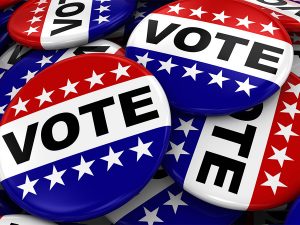 By&nbsp
Amie Cato-Remer Editor&nbsp
Sequoyah County voters will go to the polls to decide who will represent area schools and towns in the Board of Education General Election and Municipal General Election on Tuesday, April 4. Scott Cha...