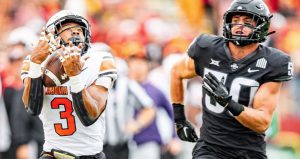 OSU FOOTBALL
By&nbsp
IOWA STATE UNIVERSITY MEDIA RELATIONS&nbsp
AMES, Iowa – Rocco Becht's passing revived what had been an inconsistent offense and Iowa State opened Big 12 Conference play with a 34-27 victory over Oklahoma State on Saturday at MidAmerican Energy...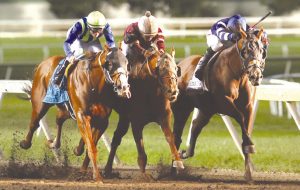 REMINGTON PARK
By&nbsp
RICHARD LINIHAN REMINGTON PARK&nbsp
OKLAHOMA CITY — For the second time in the last six-runnings of the Grade 3, $400,000 Oklahoma Derby, three horses hit the wire together noses apart, with 44-1 longshot How Did He Do That splitting ha...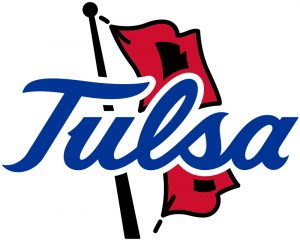 TU FOOTBALL
By&nbsp
DON TOMKALSKI TULSA MEDIA RELATIONS&nbsp
DEKALB, Ill. — Tulsa took control in the final quarter and overcame a five-point deficit for a 22-14 win over the Northern Illinois Huskies on Saturday afternoon in front of 10,321 fans at Huskie Stad...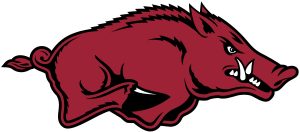 UA FOOTBALL
By&nbsp
LSU MEDIA RELATIONS&nbsp
BATON ROUGE, La. — Placekicker Damien Ramos connected on a 20-yard field goal with five seconds remaining to lift No. 12 Louisiana State University to a 34-31 win over Arkansas in a back and forth aff...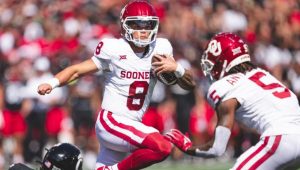 OU FOOTBALL
By&nbsp
UNIVERSITY OF CINCINNATI MEDIA RELATIONS&nbsp
CINCINNATI — The Cincinnati Bearcats trailed by just four points at 10-6 midway through the third quarter on Saturday afternoon at Nippert Stadium, but No. 16/14 Oklahoma pulled away down the stretch ...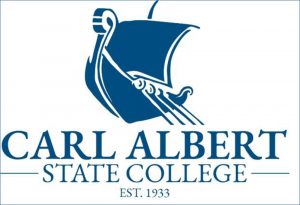 CASC CROSS COUNTRY
By&nbsp
DAVID SEELEY SPORTS EDITOR&nbsp
STILLWATER — The Carl Albert State College cross country runners competed Saturday at the Oklahoma State University Jamboree. Two Lady Vikings participated in the women's 6k run. Jacie Moffett was 143...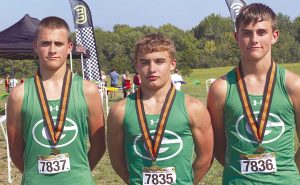 HIGH SCHOOL CROSS COUNTRY
By&nbsp
DAVID SEELEY SPORTS EDITOR&nbsp
It was a local 1-2 finish at Saturday morning's Sallisaw Invitational cross country meet as Gore's Hallie Kinion won the high school girls' two-mile race with a time of 14:24.76, with Sallisaw's Molly...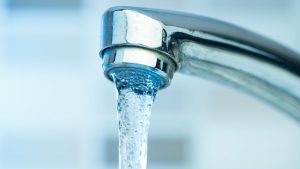 BREAKING NEWS
If you've turned on your faucet and noticed the water is a bit discolored, Sallisaw city officials say don't worry — "our water is safe for consumption." The city is having issues with Manganese in it...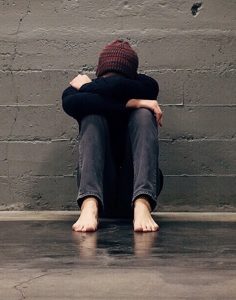 IN PLAIN SIGHT
By&nbsp
JACOB BOWLING STAFF WRITER&nbsp
Sequoyah County, renowned for its rich history and warm hospitality as the 'eastern gateway to Oklahoma,' confronts a troubling reality - human sex trafficking. This atrocious crime, a heart-wrenching...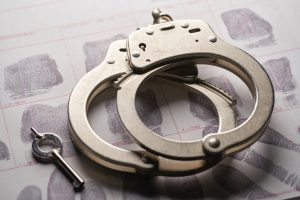 Duo now facing child neglect charges
By&nbsp
Amie Cato-Remer Editor&nbsp
Two local residents are each facing a felony charge of child neglect after they reportedly left their two children at a local splash pad, and allegedly asked another individual to watch them while "th...

Ashley Price was crowned Muldrow High School's Homecoming Queen on Sept. 15 at Marty Rogers Field. Members of the homecoming court were (front, from left) Adalynn Bullock, Blaz Hill, KyLynn Miller, Ke...