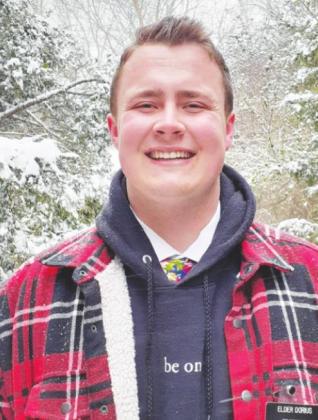 Just Folks
April 15, 2022
Stephen Dorius
Stephen Dorius may be from Utah but has made Sequoyah County his temporary home in a ministry which he has chosen or maybe one that has chosen him.
Dorius, a missionary, is part of a ministry organized through the Jesus Christ of Latter Day Saints. The church assigns volunteers to places to assist with such services as mowing lawns, painting or other jobs to promote the ministry and God, he said.
"I've only been here a week but I have a Facebook page up for me and another person who has also been assigned to this location," he said. "We're starting to get some interest but it's what we want," he said.
"We as missionaries get assignments and this particular one is a part of the Bentonville, Arkansas Mission which includes communities in Oklahoma, Arkansas, Missouri (northwest and southwest) and I was chosen for the Sallisaw area," he said. Dorius said there is also a team which has been assigned to the Gore area.
The ministry offers help with mowing, painting and other type of maintenance help people may need.
"We don't do jobs which require power tools due to liability but if they supply the paint, mowers or anything like that, we can do the work," Dorius said.
Dorius, 20, the youngest of seven children, said he was raised in a home of devout Christian parents.
"My dad is a professor and my mom is a teacher, actually a food teacher," he said.
"She makes the best apple pies and cinnamon rolls. Just talking about it makes me want some apple pie," he said, laughing.
"We always went to church. After I graduated from high school, I was praying about volunteering for this ministry and when I submitted my application, I was one of those chosen. It's something I'm really having a good time with. I've gotten to know a few people here and there and I've heard some good things about this community so I'm glad to be here," he said.
Dorius said his reasons for wanting to volunteer for the mission was mainly because he enjoys helping people.
"I love to see people be happy and enjoy making them smile. I believe it's a part of the ministry to help those who need it along the way and reach out to them and just make their lives a little better," he said.
After Dorius has completed his two-year mission, he said he will go back to Utah and make plans to go to college and live a "normal life."
Dorius said anyone who may need his services to do some free work for them can go to his Facebook page.
"I'm glad to be here. I hope to do some fishing while I'm here," he said.
"Sallisaw for the most part is a lot flatter than back home. Coming to Oklahoma, my first thought was I had never seen this many casinos as I have here," he said, laughing.
Just Folks. Just Folks is Your TIMES way of honoring the regular people of Sequoyah County, recognizing their unique talents, personalities, jobs, abilities, etc. Your TIMES appreciates the cooperation of each Just Folks and the public's nominations for this feature. If you know of someone you think might be a good story, contact Roy or Lynn at 918-775-4433.