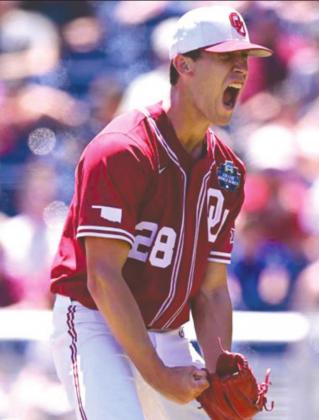 Champ Series Bound: OU Beats Texas A&M
OMAHA, Neb. – Given his previous appearance against Texas A&M at the NCAA Men's College World Series, Oklahoma righthander David Sandlin turned in a phenomenal performance Wednesday afternoon.
What a difference five days made for the redshirt sophomore who helped the Sooners advance to the best-of-3 championship series with a convincing 5-1 victory over the Aggies on Charles Schwab Field in Omaha, Neb.
OU (45-22) will face the winner of the Arkansas-Mississippi semifinal, which was set to start at 6 p.m. Wednesday. Arkansas must win twice to advance while unbeaten Ole Miss needs one victory.
The championship series will be played at 6 p.m. Saturday, at 2 p.m. Sunday and at 6 p.m. Monday (if necessary). The Sooners will be seeking their third national crown, having previously won in 1951 and 1994.
Coming on the heels of its softball team winning a sixth NCAA title earlier this month, OU becomes the third program to put teams in the championship series of both the MCWS and WCWS in the same year, joining Florida (twice) and UCLA.
While facing Texas A&M (44-20) last Friday afternoon in the MWCS opener, Sandlin relieved starter Jake Bennett with the Sooners holding a comfortable 12-4 lead.
The Aggies pulled to within 12-8 after Sandlin allowed two hits, four runs (all earned) and one walk in his first relief appearance of the season. He recorded one out (a strikeout) before giving way to closer Trevin Michael, who finished out the 13-8 victory.
Afterward, OU head coach Skip Johnson explained sending Sandlin to the mound in relief. "I wanted to get David out there for an inning, just to get him out there," Johnson explained. "No better time to get him out there – he's probably going to start the third game – to get him comfortable. Whatever happened, it didn't matter."
In Wednesday's semifinal against Texas A&M, a composed and authoritative Sandlin (9-4) scattered five hits and struck out a career-high 12 – the most for any Big 12 Conference pitcher in MCWS history – while surrendering just one walk and one run over 7.0 innings. He threw 100 pitches (69 strikes).
Coincidentally, OU starter Cade Horton had a career-high 11 strikeouts in Sunday night's 6-2 victory over Notre Dame, also on 100 pitches (69 strikes).
Asked if Friday's difficult outing helped prepare him for Wednesday's start,
Sandlin said, "Absolutely. Just got me ready for the atmosphere I was going to be in and mentally prepare almost more for this game and trust everything I had. I think I tried a little too hard, and as Coach Johnson says, you can't do that. You don't want to get geared up when I don't need to be."
Meanwhile, OU redshirt sophomore catcher Jimmy Crooks fed off the confidence he built in the previous contest against the Aggies.
In the top of the second inning last Friday, Crooks hit a 3-run home run to right field on a breaking ball off the second pitch he saw from reliever Joseph Menefee.
In the bottom of the first inning on Wednesday, Crooks again hit a 3-run homer, again to right field, again on a breaking ball, but this was off the first pitch he saw from starter Ryan Prager (1-4).
"It's really important for us to score first," Crooks said. "That's the whole game. You just have to score more than the other team. Our approach is just to be aggressive and just do our thing."
On the mound, Sandlin was in command from the start, joining Bennett as the only starter to strike out the side in the first inning of a game this season.
"I thought Sandlin set the tone early executing one pitch at a time," Johnson said. "That's what we talked about. We practiced it, actually, the other day in the shadowing. And Jimmy getting a big hit, separating the game. When you get to separate in the game early, your breaking ball gets better, your fastball command gets better, getting a lead early."
OU is 3-0 in the MCWS and has yet to trail at any point.
The Sooners, who have won 12 of their last 14 and 18 of their last 23 games, have been dominant on the mound and at the plate. They now rank second in the NCAA postseason in runs scored (80) and their pitching staff has thrown double-digits strikeouts in six of their 10 games played.
"They've proven over the last six, seven days they're the best team in our bracket – at least playing the best baseball," Aggies coach Jim Schlossnagle said afterward. "Very, very consistent starting pitching, defense, timely hits."
OU freshman rightfielder John Spikerman and Crooks each finished with two hits while centerfielder Tanner Tredaway extended his hitting streak to 17 games while adding an RBI. Redshirt sophomore shortstop Peyton Graham also extended his hitting streak to 17 games.
Texas A&M's lone run came on a solo home run from leftfielder Dylan Rock, which barely flew over the outstretched glove of Tredaway.
After Michael struck out the final batter, the Sooners were smiling, but subdued, in their post-game reaction to reaching the championship series. There was nothing resembling a dog-pile, just a row of highfives.
"I think those kids are focused," Johnson said. "I don't know if it's dog-piling or whatever it is. I mean, it's kind of weird sometimes. I don't tell them not to dogpile, I can tell you that. I'm real emotional. It might not seem like I am."
Oklahoma pitcher Javier Ramos, a Vian High School alumnus, did not appear in Wednesday's game.