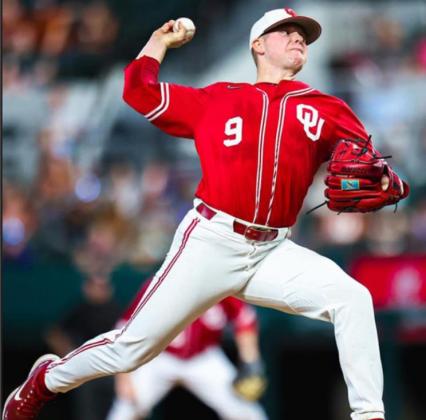 Horton Picked Seventh on First Day of MLB Draft
NORMAN – Redshirt freshman righthander Cade Horton was selected seventh overall by the Chicago Cubs, and three Sooners were picked Sunday night on the first day of the 2022 Major League Baseball First-Year Player Draft, held in Los Angeles.
Redshirt sophomore left-handed pitcher Jake Bennett was selected in the second round (45th overall) by the Washington Nationals and redshirt sophomore shortstop Peyton Graham was taken in the second round (51st overall) by the Detroit Tigers.
This is the first time the Sooners have ever had three players selected in the first two rounds of the MLB Draft. OU has now produced three first round draft picks in five years under head coach Skip Johnson: Horton, Cade Cavalli (22nd overall pick by the Nationals in 2020) and Kyler Murray (ninth overall pick by the Oakland Athletics in 2018).
Horton is OU's highest draft pick since pitcher Jon Gray went third overall to the Colorado Rockies in 2013. He is Oklahoma's 11th first-round pick in the regular June draft and OU's 21st first-round selection overall, including secondary drafts and supplemental round picks. Bennett is the highest lefthanded pitcher drafted from Oklahoma since David Purcey went 16th overall in 2004.
A Norman, Okla., product, Horton earned Freshman All-America honors from Baseball America and D1Baseball. He went 5-2 with a 4.86 ERA in 14 pitching appearances and 11 starts on the mound. He registered 64 strikeouts and only 15 walks over 53.2 innings. He made 25 starts at third base, four at shortstop and 11 as designated hitter, batting .234 with six doubles, two triples, a home run, 17 RBIs and 28 runs scored in 145 at bats. He was also 8 for 9 in stolen bases. In five postseason starts, beginning with the Big 12 Championship game win over Texas, Horton went 3-0 with a 2.61 ERA and notched 49 strikeouts against six walks in 31.0 innings, never allowing more than two runs or two walks in an outing.
The right-hander was at his best in the College World Series. In starts against Notre Dame and Ole Miss, Horton pitched 13.1 innings, striking out 24 batters and allowing four runs on nine hits and one walk. His best performance was in the MCWS Finals where he registered career highs of 13 strikeouts and 7.1 innings. In the NCAA Tournament (which also included starts at Florida and Virginia Tech), Horton allowed a .186 batting average and struck out 40 batters over 25.2 innings, posting a 2.81 ERA.
"I'm super excited for Cade," Johnson said. "He put the work in coming off Tommy John. Our trainer (Luke spitz) and strength coach (Tim Overman) did a great job of getting him back. His work ethic speaks for itself. How many people come back like he did in 15 months, and do what he did? It's pretty amazing. I'm super excited for him. I think it's a testament to our development program at the University of Oklahoma. (The Cubs are getting) a front-end starter. He's going to be a number one, number two or three starter in the big leagues. I think he's capable of doing that. His mental capacity, his delivery, his swing and miss is incredible. He pitches with his head and his heart, and his athletic ability. I think that's what sets him apart. His mindset in what he does. He goes out every day and proves that. He works, he's really humble. He doesn't have a lot of swagger, he just goes out and takes a workman's mentality to what he does."
A Bixby, Okla., product, Bennett was also selected by the Nationals in the 39th round of the 2019 MLB Draft. He will be reunited with OU and Bixby High School teammate Cavalli in the Nationals organization. He received second-team All-America recognition from Baseball America and D1Baseball and third-team honors from Perfect Game, and also earned first-team All-Big 12 honors.
As the Sooners' Friday night starter all season, Bennett posted a 10-4 record and 3.69 ERA in 19 starts, and struck out 133 batters and walked only 22 in 117.0 innings. He went at least 6.0 innings in 13 starts and allowed three or fewer runs in 11 starts. He was victorious in six straight starts from May 13 through June 17 and earned his first career save in OU's regional final win over Florida. He struck out 10 batters over 6.1 innings in the College World Series finals vs. Ole Miss and went 7.0 innings, striking out eight and allowing one earned run in the Super Regional opener at Virginia Tech.
"They're going to get a professional type of kid that understands what routines are, understands what pitchability is, understands the work that it takes to put in," Johnson said of Bennett. "He's like the poster child of our program. Came in as a freshman – body changed, delivery changed, makeup changed, command – everything you can think of from a pitcher, he did well in it. He's going to be an innings eater in pro ball. He posted up every time, every outing all year long. I think there were maybe one or two guys all year that did that throughout the year. That right there tells you he's going to eat innings."
A Waxahachie, Texas, product, Graham was named a first-team All-American by Baseball America, D1Baseball and the NCBWA, a second-team All-American by the ABCA and a third-team All-American by Collegiate Baseball. Also the NCBWA District 6 Co-Player of the Year, he was a finalist for the Brooks Wallace Award for nation's top shortstop and a semifinalist for the Golden Spikes Award as well as a first-team All-Big 12 selection. He was named the Most Outstanding Player of the 2022 Big 12 Championship and selected to the Gainesville Regional and College World Series All-Tournament teams.
Graham led Oklahoma with 20 home runs, four triples, 71 RBIs, 75 runs scored and 34 stolen bases, and batted .333. He also registered 17 doubles, 29 multiple hit games and a team-best 21 multiple RBI contests. He became the first player in OU history to register at least 20 home runs and at least 30 stolen bases in a season. He hit three grand slams during the 2022 season. He finished the season with six games with four-plus RBIs and eight games with three or four hits.
"He's got dynamic athleticism," Johnson said. "There's nothing that he can't do on a baseball field. He can run, he can throw, he can hit. He's got power, he's got instincts to play the game, instincts to run the bases. He's got every tool that you can imagine. For him, the ceiling is incredible. (The Tigers are getting) an all-star. A superstar that's going to play a long time. He loves to compete. He wins every competitive thing we do on the field, whether it's outfield, pop ups, bunting – he's going to win all of them because he's so competitive."
Oklahoma was one of only five schools to have three players selected in the first two rounds (including competitive balance rounds) of the draft. Arkansas, Florida, Oregon State and Tennessee also had three players drafted Sunday night. OU and Tennessee were the only two programs with all three players taken in the first 55 picks.
A total of 287 Sooners have been selected in the MLB Draft, including 21 first rounders. At least one player has been drafted every year since 1970, and OU has had at least one player picked in the top 10 rounds every year since 2011.
The MLB Draft continued Monday with rounds 3-10 and rounds 11-20 were held Tuesday.