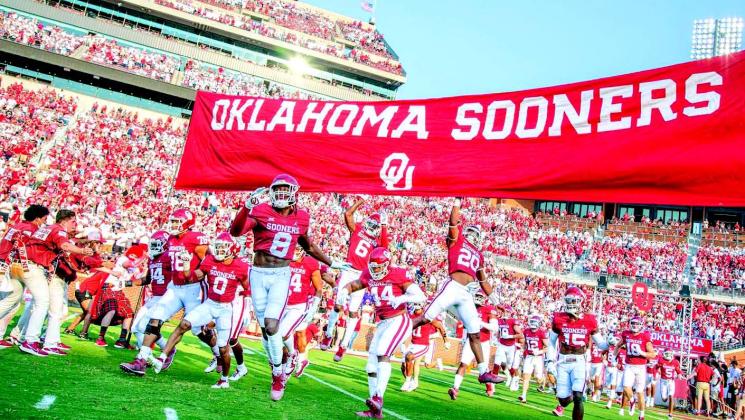 Oklahoma Ranked Ninth in AP Preseason Poll
NORMAN — For the 20th time in the last 22 years, the Oklahoma football team is ranked in the Associated Press preseason top 10. The AP released its preseason top 25 Monday morning and OU is ranked No. 9.
The Sooners, who are entering their first season under head coach Brent Venables and coming off an 11-2 campaign that ended with a 47-32 victory over Oregon in the Alamo Bowl, accumulated 956 points in the poll. Alabama is ranked No. 1 (1,566 points), Ohio State is No. 2 (1,506 points), Georgia is No. 3 (1,455 points), Clemson is No. 4 (1,292 points) and Notre Dame is No. 5 (1,242 points). No. 6 Texas A&M (1,212 points), No. 7 Utah (1,209), No. 8 Michigan (1,203) and No. 10 Baylor (884) round out the top 10.
This marks the 23rd straight year that OU has appeared in the preseason AP Top 25, which is the second-longest current string behind Ohio State (34). It also represents the 64th time that Oklahoma has appeared in the preseason AP poll, second most behind Ohio State (69 times). OU's alltime average preseason AP rank is 6.6, best in the nation (Alabama is second at 7.2).
Additionally, of its 64 appearances in the AP preseason poll, Oklahoma has been ranked ninth or higher 48 times. That has occurred in 19 of the last 22 preseason polls. This is the seventh straight year OU has been ranked in the top 10 of the preseason AP poll.
The Sooners, who have finished in the AP's top 10 each of the last seven seasons (10th last year), are one of three Big 12 teams in this year's preseason AP poll. Following OU and Baylor, Oklahoma State is ranked No. 12. Texas is the top Big 12 team among those receiving votes with 164 points (27th overall) while Kansas State received 14 votes (38th overall).
Oklahoma, which is also No. 9 in the preseason USA Today Sports AFCA Coaches Poll, was picked second in the Big 12 Conference preseason poll by the media.