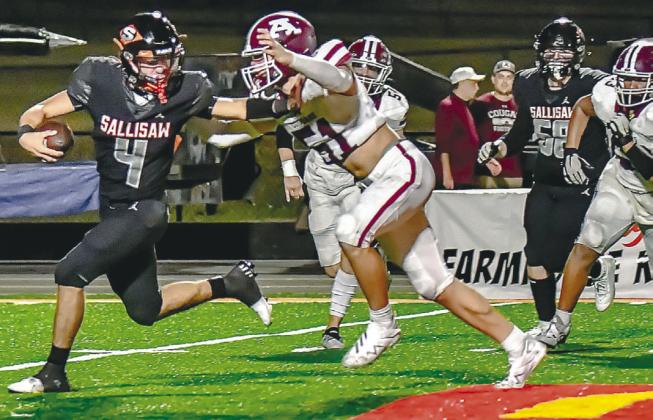 Sports
September 30, 2022
Sallisaw will have its hands full at Stilwell
Sallisaw will face a tough Stilwell squad tonight on the road, coming off a 48-0 loss to Ada last Friday.
Sallisaw's defense will have to figure out how to slow down a Stilwell offense that features leading receiver Tray Chuculate, averaging 85.5 yards per game, and leading rusher Ethan Richards, who's averaging 82 yards per game.
Stilwell is coming off two consecutive losses, a 55-14 loss two weeks ago to Stigler at home, and 51-25 last week on the road to Hilldale (Muskogee).
The Black Diamonds' defense will have to dig deep and play clean to avoid giving up good stops to the Indians by committing avoidable penalties.
The Sallisaw offense will have to move the football more effectively than it did last week against the Cougars. The offensive line will have to protect quarterback Parker Jackson, giving him time to throw, and open up holes for the running backs in order to get first downs.
The Stilwell defense is led by Dustin Noisewater, who's averaging 8.8 tackles per game, followed closely by Blaine Holloway with 8.3 tackles per game and Malachi McNac with 7.3 tackles per game so far this year.
If the Black Diamonds want to win, they're going to need to protect the football, not give up the big play and get a successful ground game established, which will help open up their passing lanes.
This is going to be a relatively even matchup, and might be the best opportunity so far to come away with a win for the struggling Sallisaw squad.
Sallisaw head Coach Mark Hutson needs to figure out how to protect the quarterback better and instill some discipline to keep the penalties from deciding the outcome.
Stilwell (2-2) is the second district game of the year for Sallisaw (0-4), and will hopefully be the first win of the season for the rebuilding Black Diamonds.
Â