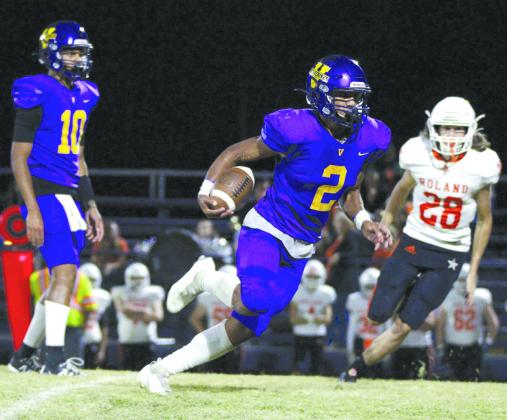 Explosive Vian tops Rangers on homecoming night
LEA LESSLEY SPORTS WRITER
Roland couldn't overcome Class 2A No. 5 Vian's fast start Friday night inside St. John Stadium as the Wolverines defeated the Rangers 52-13 in a District 2A-5 contest.
Vian (3-2 overall and 2-0 in the district) takes on Okemah at home Friday night and Roland (1-4 and 1-1) hosts Prague.
The Wolverines received the opening kickoff and on their first offensive play quarterback Diego Ramos completed a 62-yard touchdown pass to receiver/running back Desean Mays. Vian led 8-0 following Masyn Wright's conversion run.
After the Vian scores a 23yard run by Ashton Peters and quarterback Michael Taylor's 45-yard dash took the Rangers to the Vian 10. A 15-yard penalty moved Roland to the 23 but Taylor's 19-yard run set up third-and-goal from the 4. On fourth down an incomplete pass from the 8 ended the scoring threat.
Completions of 19 (Wright) and 32 yards (Nathan Creasey) from Ramos helped set up Vian's second TD, a 19-yard reception by Jacob Brannick with 4:33 remaining. Wright's conversion run gave the Wolverines a 16-0 advantage.
Following a Roland punt Ramos threw a 20-yard touchdown pass to Brannick and Mays' conversion run ended the first-period scoring with Vian in front 24-0.
A personal foul penalty against Vian, Taylor's 15-yard run, receptions by Dolton Crossono (6 yards) and Logen Thomas (4) and Thomas' 5-yard run helped the Rangers move to the Vian 10 early in the second stanza but Taylor was sacked for a 5-yard loss following a false-start penalty and the Rangers turned the ball over on downs.
Wright ran for three touchdowns later in the period. The freshman's first TD came on a 7-yard run with 6:25 left and two minutes later he scored on a 5-yard rush. With 1:20 left before the half Wright ran for a 27-yard touchdown and Kaden Fullbright's point-after kick made the score 45-0.
The Rangers received the second-half kickoff and two plays after Taylor completed an 11-yard pass to Peters, Roland got on the board when receiver Kyeree Hall caught a 62-yard
Â