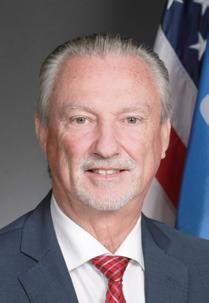 Columns & Opinions
November 4, 2022
General Election approaching
The general election is in less than two weeks, and I want to share important information for the upcoming election.
You can vote early Wed., Nov. 2 through Fri., Nov. 4 from 8 a.m. to 6 p.m. and Sat., Nov. 5 from 8 a.m. to 2 p.m. Early voting takes place at your county election board office.
On Election Day, which is Tues., Nov. 8, polls will be open from 7 a.m. to 7 p.m. Your polling place may have changed after our redistricting process, so be sure to check where to vote at okvoterportal.okelections.us ahead of Election Day. You can also view your sample ballot there so you know what you can vote on. It's a good idea to check this ahead of time so you can research various races before voting.
I encourage you to research the candidates for every office, including the judges on the ballot. Voters will decide whether to retain four Oklahoma Supreme Court justices and five Court of Civil Appeals judges.
Unlike other state races, appellate judges do not have opponents, and their party affiliations aren't listed on the ballot. Instead, voters cast a simple yes-or-no vote on whether the judge should be retained in office. Judges need a simple majority to be retained.
The Oklahoma Bar Association maintains a website where voters can learn about the justices and judges who will be on the ballot this year, read their biographies, and browse decisions they've authored. You can browse that information at courtfacts.org/retentionballot/.
Additionally, voters in some counties will vote to elect district and associate district court judges. These are competitive races, so I encourage you to research those candidates, as well as the other candidates for local and statewide offices.
You've no doubt seen negative campaign ads in some of these races. It's important not to take negative ads at their word and not be deceived by commercials and mailers. Instead, research the candidate's actions for yourself and talk to people who know the candidate or have worked with them.
If you're not planning to vote because you think it won't make a difference, I strongly urge you to reconsider. Oklahoma has seen many races in recent years decided by very few votes. For example, the Republican runoff for House District 34 in August was decided by only 11 votes. On a statewide scale, the 2018 Republican primary for State Attorney General was decided by only 271 votes.
This election is extremely important as we will select our next governor, lieutenant governor, attorney general, state treasurer, superintendent of public instruction, labor commissioner and corporation commissioner. Both U.S. Senate seats and the seat for Congressional District 2 are also on the ballot.
All of these races are important, but it's especially critical for people who care about our rural schools to elect a good state superintendent.
As always, please don't hesitate to reach out to me with any concerns at 405-557-7375 or [email protected] gov. Thank you for the honor of representing House District 15!
Rep. Randy Randleman, a Republican, serves District 15 in the Oklahoma House of Representatives, which covers Haskell County and portions of Muskogee, Sequoyah, LeFlore, Pittsburg and McIntosh counties.