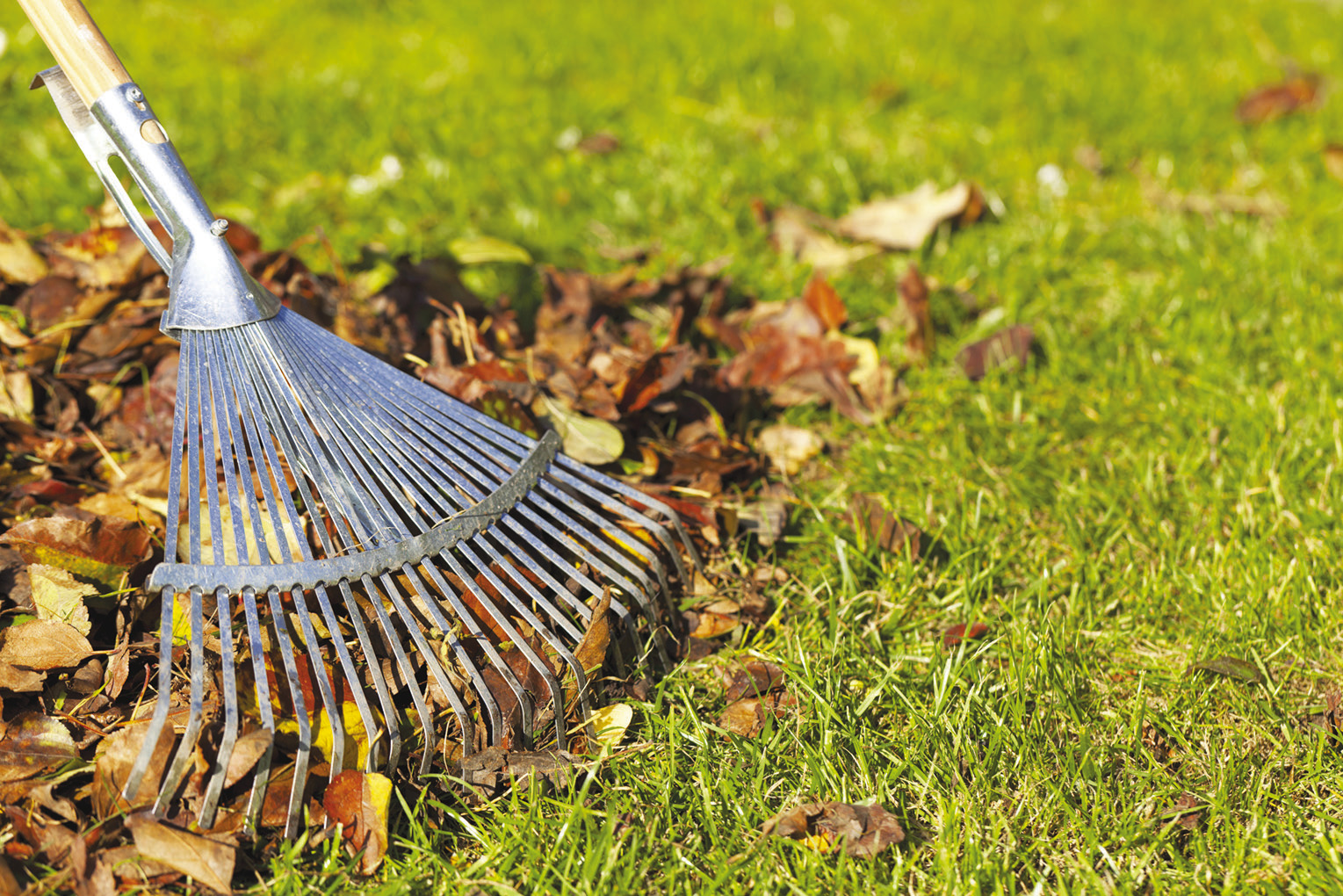 A: Main
November 17, 2022
To rake or not to rake
There may be an answer for autumn's leaf debate
The recurring question this time of the year — Rake the leaves or don't rake the leaves? — may have finally been answered once and for all.
Autumn's annual cascade of leaves — whether colorful and beautiful, or brown and unsightly — often has eastern Oklahoma residents drawing battle lines. Many husbands try to convince wives that the leaves are good for the environment and are actually beneficial to the yard, while wives stand their ground, claiming that a carpet of dead leaves will kill the grass and is not the look she's willing to tolerate until spring.
As it turns out, both are right. The leaves can stay on the lawn, as long as the leaves are mulched, because grass covered with whole leaves is detrimental to the yard and, yes, looks terrible.
That's where Keith Cheney's 20 years as owner of Wild Horse Lawn Care & Landscaping comes in handy.
"If you've got one little tree and it's only got a few leaves on it, you can leave 'em, 'cause they'll break down," Cheney says of leaves littering the yard. "But if you've got several trees and you got so many leaves, it's gonna be detrimental to your yard, 'cause they sit there all winter and they don't break down. And if we get snow, it causes disease to your yard. It's just not good."
So while you may find solace in being able to leave the rake and leaf blower in the shed, you will need to get out the mower, even if your grass hasn't grown much since the recent drought.
"The best thing to do is to mulch 'em up, 'cause there's a lot of nutrients in those leaves that your yard can use," Cheney recommends. "Just mulch 'em and leave 'em. It's a benefit 'cause it's less nutrients you gotta have somebody put on or yourself put on. There's a lot of good stuff in them leaves, a lot of fertilizer stuff. A lot of my customers have me mulch 'em up and leave 'em. And once you mulch 'em up, they're gone anyway, you don't even see 'em."
Leaves that are chopped up with the mower also provide organic matter that protects the grass root systems and preserves soil moisture. Going over the lawn with the mower also cuts any weeds in addition to reducing big leaves into small pieces, which provides critical light for your grass.
"A bunch of whole leaves, you're just askin' for problems," Cheney says.
"If you have like a baggin' system on your mower where you kinda grind 'em up, it wouldn't take 'em nearly as long to break down. Just run over 'em three or four times," he suggests. "Like on mine, I've gotta chute that blocks off the end and a flap, so it doesn't discharge nothin', it just keeps everything underneath and it grinds it. Most people, with any kinda mower, you can still mulch 'em up. You have to run over 'em three or four times, but it'll still do the same job. And you don't have to get 'em real small, unless that's what your customer wants. Most homeowners don't care, they just don't want 'em."
But what about insects and wildlife? Don't leaves provide a protective habitat as well as food for insects during the winter?
"There are some societies out there, especially this year, that say don't do nothin' to your leaves, leave 'em on the ground, 'cause this bug'll use it for winter and this moth'll use it for winter," Cheney admits. "But if you're not into bugs, it doesn't matter."
So if you're not into bugs, the question becomes the negative impact of leaves left on the lawn.
"We don't have a problem with snow, but especially if you gotta area that's gotta lot of snow and you just leave your leaves on the ground, the snow goes on top of it, it causes dead spots.
"There's a lotta good benefits to the leaves, but you just don't want 'em sitting there all year," Cheney says. "Plus, they make your yard and your house look terrible, a bunch of leaves everywhere."
While mulching is Cheney's answer, what if you prefer just to be rid of all those leaves?
"There's a lotta people that just get 'em hauled off, it just depends on who you are.
"The Fort Smith landfill takes 'em and they just let 'em deteriorate and they use 'em for compost," Cheney says. "A lotta people make compost out of 'em, and a lotta people put 'em on their garden. What they'll do is they just bag 'em up and they let 'em just kinda break down in their bags a little bit and they dump 'em on where their garden spot is. A lotta people save 'em for compost, or give 'em to somebody that can use 'em. Most people bag 'em up and take 'em. Fort Smith, they let you dump 'em for free, 'cause they use them for compost, and they sell the compost later."
So there's money in composting? How can you get in on that?
Cheney says it's pretty simple. "Just have some place to put 'em so they won't just get blowed away. Just throw 'em in a pile somewhere," he says. "A lot of people will throw like their scrap trash — not plastic, but like their banana peels, stuff like that — and that helps, too, and it just breaks down, and then after awhile, it turns into dark soil sorta."
How long it takes for leaves to break down and become that valuable sod depends on the size of your pile of leaves.
"Normally, around a year to make it good," Cheney says. "You gotta turn it every so often."
But placement of that composting pile is also important, as some people have learned the hard way.
"You don't want [the pile] up against your house, 'cause that stuff gets hot. I had a buddy of mine that went and got a bunch of compost in the middle of summer and he put it in next to his shop, and it burned down his shop. It was still breaking down, and when it's breaking down, it creates heat," Cheney says. "That's why Fort Smith decided to start having a whole different area that you dump like your limbs and your used mulch that people take outta their flower beds and your leaves — they put them actually on the cement and let 'em break down. They grind up the limbs and stuff in this machine and let 'em sit there and break down till it turns into compost."
So it appears your options are mulch the leaves as a benefit for the lawn or remove the leaves completely, is that right?
"Just mulch 'em or rake 'em, that's about all you can do," Cheney concedes. "The best thing for your yard is mulch 'em up and let all the nutrients go into your soil."
But there's something else to consider that has nothing to do with leaves.
"I recommend a slow-release fertilizer for the winter, or if you've gotta tree that's not doin' good, now's the time to fertilize it, 'cause it gives it all winter to soak that fertilizer in and get it ready. A lotta people do it in the spring, but spring around here seems like it's only decent not even a month and then it's a hundred degrees. And then you're stressin' the tree anyways and it's got all that fertilizer on it and it's even stressin' it more. So I fertilize most of my customers' trees and shrubs in the fall and wintertime like this, 'cause it gives a lotta time to soak it up good and it ain't stressin' the trees and the shrubs," Cheney says. "Every tree's got different problems. Your oaks, they seem to have a lot more, just because they grow so big. And then like your maples, they have a lotta leaves, but they're small."
But is it possible to avoid the leaf debate altogether?
"You don't want any leaves, you gotta plant some sorta conifer," Cheney says. "Then you got needles involved, so it's one thing or another."