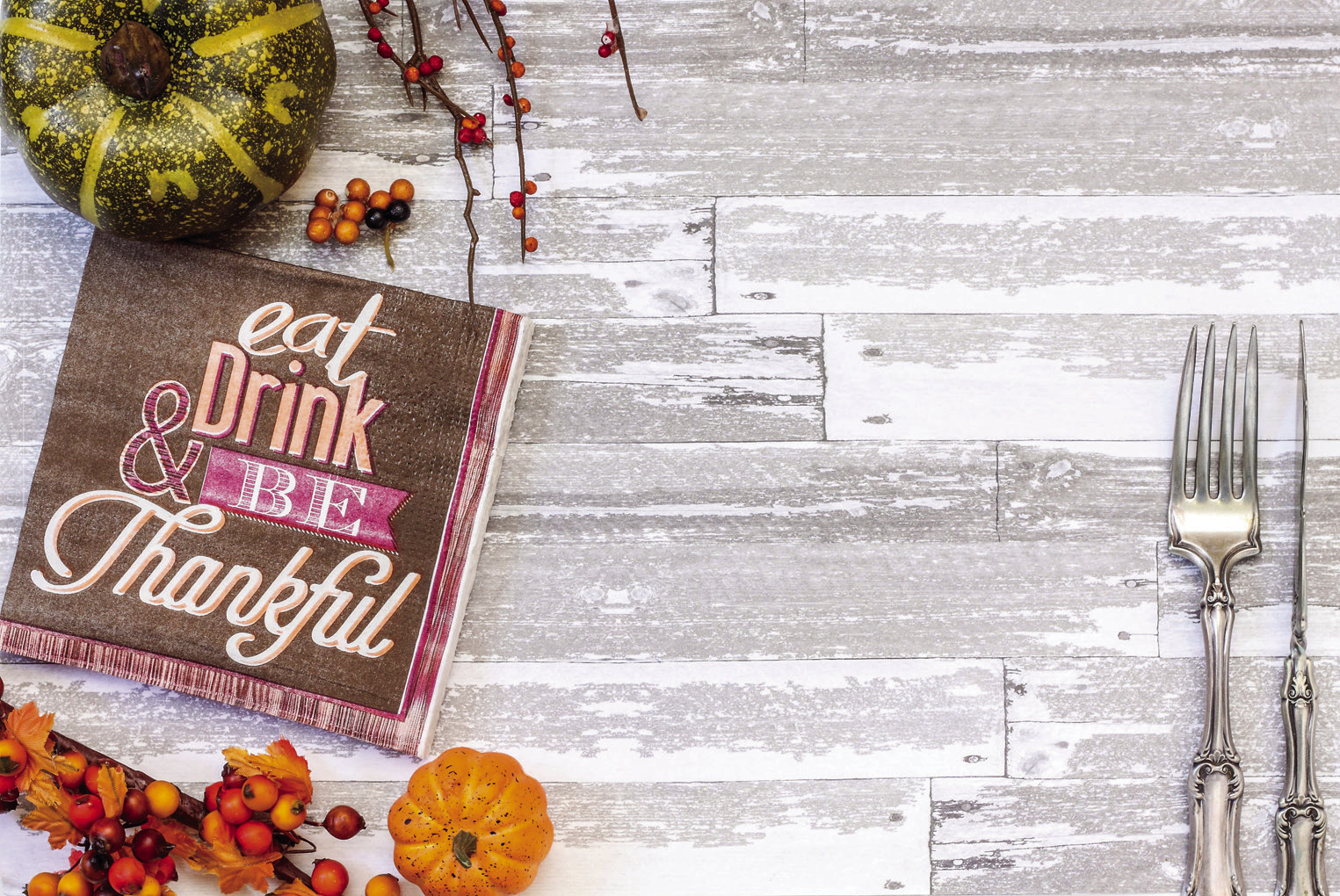 A: Main, Main, News
November 22, 2022
Thanksgiving memories and a holiday bucket list
There are at least two things universally accepted about this week and tomorrow's national holiday, Thanksgiving — travel is the busiest of the year, and family is at the center of the celebration.
In the warmth of our hearts and memories is Thanksgiving with loved ones, those we see often and, possibly more importantly, those we see too infrequently. The traditional Currier & Ives or Norman Rockwell kind of Thanksgiving gatherings are usually depicted as including at least three generations of family, with more food than can be eaten during the four-day holiday period, but always in a cozy household atmosphere of kith and kin, excitement, love and peace.
Depending on destinations for Thanksgivings past and present — whether over the river and through the woods to Grandmother's house or just across town for a day of food, fellowship and quite often football — it's a cherished holiday that takes a backseat only to Christmas for most families.
During my childhood, the fourth week of November usually meant a family roadtrip to Mountain Top, Ark., for Thanksgiving with my maternal grandparents. They lived in the most rural area I'd ever seen, 12 miles northeast of Ozark just across the Johnson County line, the final six miles being dirt road for the steep climb up the mountain.
My grandfather built the fiveroom house in 1947 when my mother was 14 years old, and although a bathroom was included, fixtures weren't added until after I was born in 1955. My grandmother drew water in a dishpan from the hot water heater in the bathroom to wash dishes and clothes, as well as any other water needs, and I was an adult before plumbing was added to the kitchen, which was a luxury for my grandparents.
Other than the kitchen stove at which my grandmother always seemed to be cooking or baking, the only source of heat for the house was a five-foottall, Warm Morning coal-burning stove in the living room. We would all awaken each morning to the clanging, ironon- iron sound of my grandfather "shaking the grates" of the stove to drop the night's ashes and rejuvenate the smoldering embers for adding a day's worth of coal. It wasn't long before it was almost too hot to remain in the living room, but the heat never reached the bedrooms, which is why multiple quilts covered the beds. Once between the cold sheets and the weight of several quilts at bedtime, my two younger brothers and I often decided turning over was not worth the effort.
Memories of frig- id nights, bountiful meals and conversation with my grandfather — which often included Biblical songs and gradelevel academic quizzes (he was, after all, a school teacher in addition to being a farmer) — are the tapestry of my boyhood Thanksgivings.
But everyone's Thanksgiving is different, a holiday built on a foundation of family traditions and often shaped by our memories, whether vivid or fading.
It's the most wonderful time of the year, but there's more we can do during this time of giving thanks than just eating. Whether the holiday includes parades, football, napping or bargain shopping, we can all accumulate a bucket list for the ultimate Thanksgiving celebration.
Watch the parade
The Macy's Thanksgiving Day Parade is now one of the most famous holiday traditions. In New York City, thousands of people line the streets of Manhattan for a front-row view of the giant inflatable balloons that float between the skyscrapers, as well as musical and dance performances that seem to occur at the drop of a hat. And when Santa's sleigh appears at the end of the parade, the festive holiday season officially begins. So how about an ornament exchange to keep the joy going through December?
Breakfast and more
Instead of starving yourself until dinner, start the day with a pie breakfast, or any other "non-traditional" breakfast. Think outside the breakfast box.
Then, while dinner's being prepared, offer a Bloody Mary bar so guests can make their own brunch classic as they mingle and watch the parade. Splurge with over-the-top garnishes like bacon, shrimp and lobster.
Absentee guests
Take a page from the pandemic. Connect with family and friends who can't be part of your get-together by setting up a virtual happy hour or video call before, after or even during the meal. Even those far away will feel like they're part of the special gathering.
Creative place settings
Use old family photos as a nostalgic touch and to inspire "remember when" conversation. After eating, watch old family movies or flip through photo albums for a few good laughs (and possibly tears, too).
Celebrate the warm spices of the season with a DIY cinnamon stick place card holder. Wrap the ends of a cinnamon stick with twine and insert a place card. Use them year after year.
Heirloom plates you've inherited or mix-and-match plates from your own collection infuse vintage vibes for your Thanksgiving table, and makes for lovely and nostalgic settings.
Dine alfresco
There's just something romantic and special about alfresco dining. If we're lucky, Oklahoma's weather may cooperate to allow you to move your feast outdoors. If it's a bit chilly, portable heaters or a nearby fire pit can warm your guests.
The main event — the meal
No Thanksgiving is complete without the traditional meal of roast turkey, stuffing, mashed potatoes and gravy, cranberry sauce — and the irreconcilable debate of jellied from a can vs. homemade — sweet potatoes, green bean casserole and fluffy dinner rolls. Pumpkin pie with a generous dollop of whipped cream, of course, completes the meal. (Surely the kids could help serve dessert.) Don't want to do all the cooking? Include guests in the fun by inviting everybody to bring their best dish.
Bless the food
While the focus is on food, don't forget to express gratitude for family, friends and food with a meaningful Thanksgiving prayer or Thanksgiving poem.
Giving thanks
Thanksgiving is a perfect time to reflect on the year alongside family and friends. Whether during the meal or while relaxing later, ask everyone to share something for which they are grateful. It's heartwarming to hear others relate their favorite moments and experiences from the previous year. If you're serving wine, ask everyone to make a Thanksgiving toast.
The wishbone tradition After the turkey is carved, the wishbone — in the South, many call it the pulley bone — is set aside for the ceremonial good luck superstition when two people make their wishes then pull against each other to break the wishbone. Whoever ends up with the bigger piece is said to have their wish come true as well as good luck for the coming year.
It's nap time
After possibly the biggest meal of the year, it's not unusual that many retreat to the couch for a comfy recliner for an afternoon nap. Turkey, of course, is the well-known culprit with its high levels of the amino acid tryptophan, which makes us drowsy. But it's not entirely the turkey's fault. Foods high in sugar — did someone mention pie? — also increase tiredness. But on this usually busy holiday, everyone deserves some rest.
Watch football If you're not napping — and even if you are — watching football is a popular pastime on Thanksgiving. The NFL lineup consists of Buffalo at Detroit, the New York Giants at Dallas and New England at Minnesota. The college football schedule has the Egg Bowl — Mississippi State at Ole Miss — on Thanksgiving, and Friday games include Baylor at Texas. If you want to burn some Thanksgiving calories, some families split into teams for a game of touch football.
Don't forget the kids
Keep children occupied both before and after the meal with a craft table stocked with Thanksgiving coloring sheets and turkey-themed craft projects.
Friendsgiving Because most people celebrate Thanksgiving with family, making time to give thanks with friends has grown in popularity as a newer tradition. Gather with friends, share a meal and enjoy each other's company either on days adjacent to the family holiday.
Sharing family time A good old-fashioned game night keeps the family together after the meal. Depending on the game, kids and adults alike get in on the action for a memorable evening.
To combat your guests mindlessly scrolling through social media feeds, ask older relatives to share a few of their favorite family stories. You'll undoubtedly find that families that know and tell family stories are emotionally closer.
Don't forget to snap several photos to commemorate the occasion. Maybe you'll all dress in coordinating, holidaythemed pajamas. Gather for a group pic that everyone can share on social media with clever captions.
If nothing else, gather together in front of the TV to watch a classic Thanksgiving movie or two. Logical choices are "A Charlie Brown Thanksgiving," "Miracle on 34th Street" or "Planes, Trains and Automobiles," but other possibilities are "Holiday Inn" and "Home for the Holidays."
Shop 'til you drop
It's almost impossible to think about Thanksgiving without including the shopping mayhem of Black Friday. While e-commerce has impacted traditional shopping, there are those who still stand in line for hours early on the day after Thanksgiving to cash in on great discounts and start the Christmas shopping season.
Visit a tree farm
If Black Friday's not on your agenda, kick off the Christmas season with a trip to a nearby Christmas tree farm. (There's major bonus points if you chop down your tree yourself.) Once you return home, go ahead and let everyone deck the halls by decorating for Christmas. 'Tis the season.
Giving back
Giving thanks can also include helping others. Many communities conduct food drives for those less fortunate. In Sallisaw, the annual Community Thanksgiving dinner is 11 a.m. to 1 p.m. today at Sallisaw Middle School. Event planners expect to serve 600 people at the free event, and the community is asked to donate desserts for the meal. Volunteers are always welcome.
Other possibilities include:
• Play festive music as a soundtrack for your gathering
• Create a festive entryway with bountiful fall decor
• Participate in a turkey trot
• Host a casual, tailgate-style party
• Host a potluck-style feast for the neighborhood
• Celebrate guests with remembrances from Thanksgivings past
• Try a new recipe to freshen up things
• Go for a post-dinner walk
• Make an edible wreath with sugar cookies
• Send guests home with a few leftovers in to-go-style Mason jars
• Start your own family traditions you'll cherish in the coming years