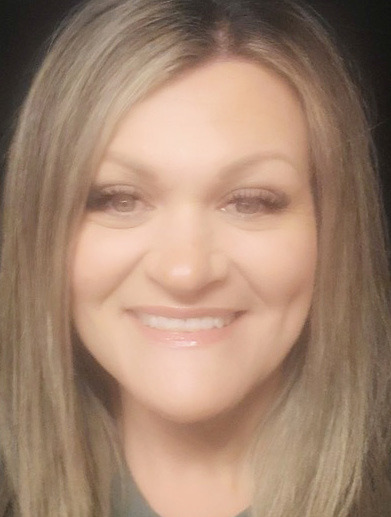 Just Folks
Kristie Hardbarger
Kristie Hardbarger of Sallisaw says she is doing something she has always wanted to do with a little bit of help from above.
Owner of the Holy Moly Sugar Shack in Sallisaw, Hardbarger makes special treats which are gaining popularity from not only people from the community, but also from as far as Canada. She operates a specialty snow cone and ice cream shop from a mobile concession she has parked at the old Walmart parking lot in front of the Tractor Supply store on East Cherokee Avenue.
"We opened in October 2021 and began operating a snow cone shop but then it took a turn when we decided to put our own spin on it," she said.
"I wanted to provide the community of Sallisaw something special that you can only get when you go on vacation. So now, we have snow cones and snow drifts. We add special toppings and they're really big, such as my favorite, the Aloha, which is the snow cone and ice cream mix, topped with crushed pineapple, crushed nuts, shredded coconut, whipped cream and graham crackers," she said.
Other treats include the Strawberry Shortcake which includes cream, bananas, strawberries and whipped topping.
The shop also specializes in seasonal treats made from pumpkin and pecan pie flavors which is available around Thanksgiving. She also makes loaded waffles which come as Pineapple Upside Down Cakes, Coconut Cream Pie, Chocolate Covered Cherry and is in the process of creating special treats for Valentine's Day.
She also has birthday specials which are sometimes personalized and decorated with toppings depending on the customer and the children are brought to the 'shack' and she gives them the iced treat right after it is made. She said most of her treats can be seen on the Holy Moly Sugar Shack page on Facebook.
Hardbarger said she receives a lot of business from her returning customers from around the area. In addition, she has people who have told her they drove from as far as Oklahoma City just to try one of her treats.
"I've had people come down from Arkansas just for one of the treats and even had some from Canada who were in Oklahoma come to visit. They didn't drive here just for this but they heard about my specialty snow cones and said they had to try one. That made me feel good and little nervous hoping the treat was worth their drive here," she said, laughing.
Hardbarger operates the Sugar Shack with her husband Joseph. She is a native of the Sallisaw Community having graduated from Sallisaw High School in 1998. The couple has two children, an 18-year-old son and a 13-year-old daughter.
In addition to operating the Sugar Shack, Hardbarger said she and her husband both also have careers in the Cherokee Nation gaming industry. He works for the corporate office while she works as a supervisor for the Roland Casino.
"For that reason, we're only open at certain hours through the day. We're open from 5 to 8 p.m. Monday through Friday and from 1 to 8 p.m. on Saturdays and 2 to 6 p.m. on Sundays," she said.
Hardbarger said the couple attends the United Faith Church in Sallisaw where she is involved in the jail ministry along with the other group of women from the church.
"It's funny but I believe God has a sense of humor. Because I really enjoy talking and visiting with people and in a way, this is a ministry for me. God probably thinks 'a snow cone ministry? Okay,'" she said, laughing.
"But I just let him guide my direction. One day, we hope to have a building. I enjoy taking pictures of not only the treats we create, but the people who come here. When we get a building, I would like to post all the pictures on the walls of the building of everyone I photograph," she said.
"I really enjoy this and I've always wanted to use my creativity somewhere. But the best thing about this is seeing the smile on a child's face after they receive their treat. I just love that," she said.
Hardbarger said her favorite thing to do especially during the summer months when she takes a vacation is to go to the beach with her family.
"I love love the beach. I could live there," she said. "If I could sell my snow cones from the beach, I could live there forever!"
Just Folks. Just Folks is Your TIMES way of honoring the regular people of Sequoyah County, recognizing their unique talents, personalities, jobs, abilities, etc. Your TIMES appreciates the cooperation of each Just Folks and the public's nominations for this feature. If you know of someone you think might be a good story, contact Amie or Lynn at 918-775-4433.