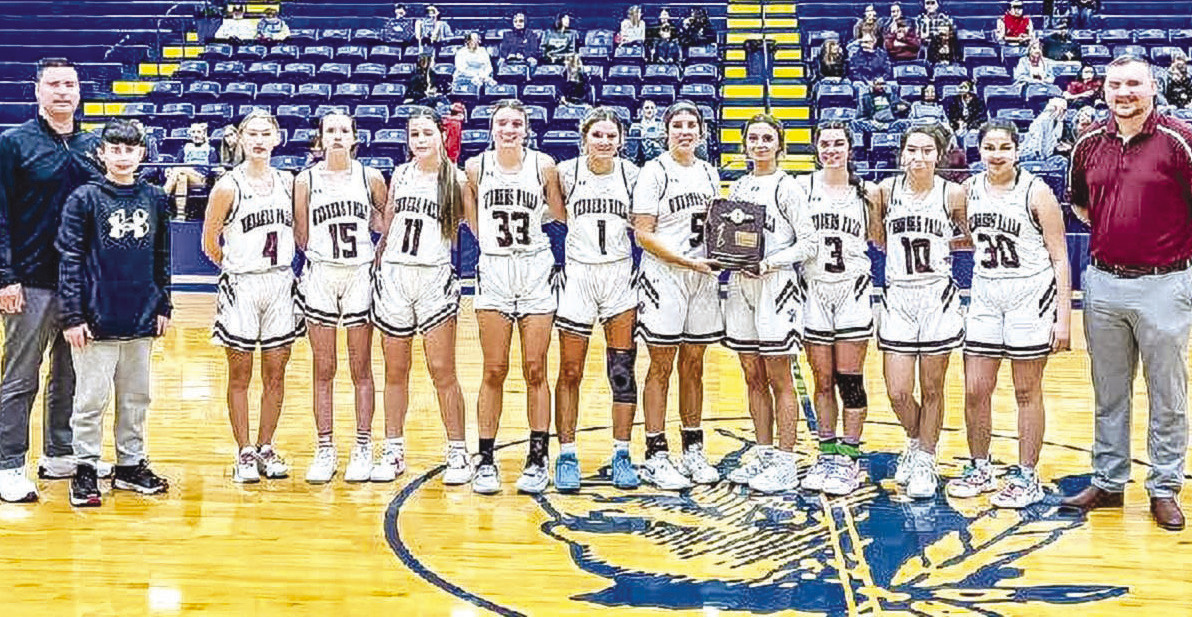 B: Sports
February 14, 2023
Webbers Falls girls win district championship
WEBBERS FALLS HIGH SCHOOL GIRLS BASKETBALL
TULSA – Fueled by four players scoring in double figures, the Webbers Falls Lady Warriors claimed its district championship Saturday with a 59-42 win over Oaks-Mission. Meanwhile, the Webbers Falls boys were outmanned in their district championship game, bowing to ninth-ranked Riverfield Country Day School, 64-27.
Double-figure scorers for the Webbers Falls girls were Anistyn Garner with 20 points, Bridgette Baer with 15 points, and Teralynn Colston and Samantha Griffith with 11 points each.
Webbers Falls girls 59, Oaks 42 In the first quarter, the Lady Warriors (16-4) opened strong, with Garner making two treys, a pair of free throws and a bucket for 10 of Webbers Falls' 26 points for a 26-15 advantage by the close of the first frame.
In the second stanza, Webbers Falls continued to play well, successfully slowing down the Oaks offense while taking advantage of multiple turnovers, improving their lead by another 15 points. At intermission, the Lady Warriors were ahead 50-24, then played to a 7-7 draw in the third period.
Oaks (7-16) outscored Webbers Falls 11-2 in the fourth frame, but the Lady Warriors already had the championship wrapped up.
Oaks 15 9 7 11 – 42 Webbers Falls 26 24 7 2 – 59 WEBBERS FALLS – Anistyn Garner 20, Bridgette Baer 15, Teralynn Colston 11, Samantha Griffith 11, Cheyanne Herrier 2.
Riverfield boys 64, Webbers Falls 27
Webbers Falls struggled from the opening tipoff against the Riverfield Country Day Ravens, and Riverfield took full advantage, building an 18-2 lead in the first quarter, then outpacing the Warriors 22-6 in the second stanza enroute to a 40-8 bulge at halftime.
Webbers Falls (10-11) had some success in the third quarter, led by Jaxon Swearingen, who made 11 of the Warriors' 13 points.
In the final frame, the Warriors again couldn't keep up as Riverfield (17-4) coasted to the title.
Webbers Falls 2 6 13 6 – 27 Riverfield 18 22 11 13 – 64 WEBBERS FALLS – Jaxon Swearingen 12, Maddux Shelby, 5, Stryker Chappell 5, Riley Ogg 3, Caden Dishman 2.