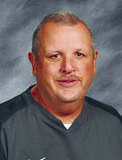 B: Sports
February 16, 2023
Tyler 'excited' about chance to head Sallisaw grid program
Brandon Tyler was named the new Sallisaw head football coach Monday by the Sallisaw School Board and the former Gore and Vian head coach is excited about the opportunity to turn the Black Diamonds' program around.
"I'm very excited to get back over there and looking forward to the opportunity to coach at Sallisaw," Tyler said. "I feel like it's one of the premiere jobs in 4A and in eastern Oklahoma. I know the last couple of years haven't been that way but I think we can get it back going in the right direction."
The Black Diamonds were winless in 2022 and 1-9 the previous season but Sallisaw won Class 2A state titles in 1980 and '81 and were state runners-up in 2000 and 2001. The Black Diamonds have qualified for the playoffs 34 times in the past 43 seasons.
"We always just want to take it one game at a time, just want to go one week at a time and improve and get better each and every day in practice and watch it carry over to Friday nights and I think once we do that and get the kids to buy in to the program and what we're going to do and then changing the culture then I think the wins will start coming," Tyler said.
In addition to Tyler's coaching ability, Sallisaw athletic director Jeff Streun was impressed with some of Tyler's other qualities.
"The first thing I always talk about when I'm talking about Brandon Tyler is the fact that he is a guy of high character," Streun said. "Great morals. I think that he's going to be a good person in our program and help our kids with the game of football and the core values and the things that are important for our kids as they move through life.
"On top of that he's a great football coach. When you've got an opportunity to hire somebody that's got an 84 percent winning percentage as a head coach over an 18-year span that speaks volumes. We feel extremely fortunate to have that."
Tyler, a 1991 Gore High School graduate, was Northeastern State University's starting punter for four seasons before entering the coaching ranks as an assistant at Gore, Velma-Alma, Warner and Vian.
In his 12 seasons as the head coach at Vian the Wolverines were 128-25 and in 2006 Vian advanced to the state title game. In 2016 Tyler was an assistant coach at Van Buren (Ark.) High School and the following season he became the head coach at his alma mater. Tyler's six-season record at Gore was 60-11 and in 2022 the Pirates were 14-1 and state runner-up in Class A.
Streun believes Tyler's familiarity with the area is also a plus.
"I think the other thing that he brings to the table is he's been in Sequoyah County for a long time," said Streun. "He understands and knows our people and the type of kids that we're coaching, so that was extremely important in the process for us when we were looking for a football coach. I feel like we had a lot of good football coaches that we had opportunities to sit down and talk with but some of the separating factors were just his type of character and the way he coaches. He's a kid magnet and he brings a lot to the table as far as understanding Sequoyah County and the people. I think he'll be able to relate to our kids on a great level."
Tyler has ties to the Sallisaw Public Schools. His grandfather, Richard Moseley Sr., was the Sallisaw High School principal and superintendent in the 1970s, and his uncle, former longtime Gore head football coach Richard Moseley Jr., graduated from Sallisaw High School in 1972.
Sallisaw school personnel and other people in the community and area are also excited about Tyler's hiring.
"Our people are excited," Streun said. "The people at the school are excited and the people in the community I've talked to are. Obviously our administration's had opportunities to talk with him, as well as our secretaries and our teachers in the building. I can't tell you how many phone calls I've had from neighboring schools, administrations and coaches. We feel like it's going to be a really good situation for our football team moving forward."
Tyler replaces Mark Hutson, who resigned in December.