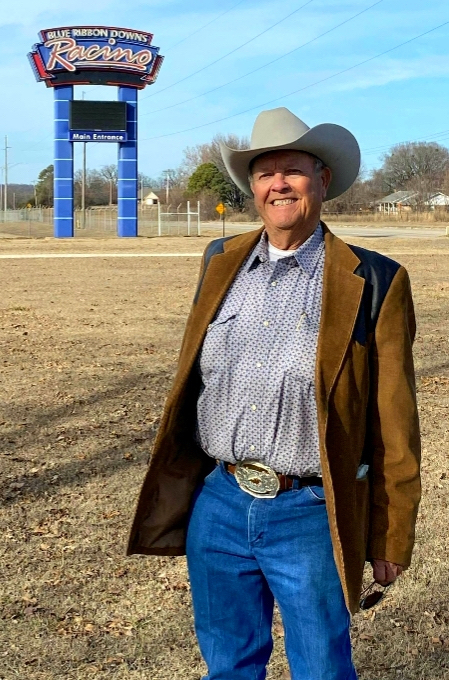 A: Main, Main, News, Newsletter
February 23, 2023
CLASS OF '23
Brooks to be inducted into hall of fame
Ask Rex Brooks about the noteworthy racehorses he's trained, and he's quick to name Gamblin On Sin, Babes Bounce, Dr. Fortune and Libbys Cartel.
After more than 50 years as the preeminent trainer at Blue Ribbon Downs, if Rex Brooks were a racehorse, he'd likely be named Headed For The Hall of Fame. And as that horse in a race for enshrinement, he'd be so far out in front of the field as he rounded the final turn and streaked down the stretch, it'd look like a one-horse race. (Think back to Secretariat leaving all the other horses behind in the 1973 Belmont Stakes enroute to the Triple Crown, and that's Rex Brooks among all other trainers.)
Which is why he'll be inducted into the Oklahoma Quarter Horse Hall of Fame in a 6 p.m. ceremony March 4 at the Grand Casino in Shawnee.
Also being enshrined with Brooks, appropriately enough, is the historic Blue Ribbon Downs, which joins Remington Park and the Lazy E Ranch and Arena. Additionally, trainer Eddie Willis and horses Remember Me Rose and Dashing Perfection will be inducted into the hall of fame, and the Oklahoma Quarter Horse Racing Association will honor Remington Park clocker Vicky Grothaus with the Debbie Schauf Spirit Award.
The balloting to determine Brooks' induction this year was not even close. It was the legendary trainer, and then everybody else, like Secretariat's win.
And Brooks is honored to be among the select few. "It means everything," says Brooks, 78. "I've worked all my life and earned it. They only take two a year, and there ain't probably 10,000 of us out there. I was selected, and Eddie Willis was the other guy selected — couldn't be a better guy, couldn't be a better trainer.
"I've trained for everybody in the country. Life is good. But my attitude's even better. I enjoy life to the fullest, always have. I get up happy, I smile every day. They don't see ol' Rex burn out, he don't quit. That's just me. That's all I can tell ya."
Brooks' resume is a Who's Who cavalcade of quarter horse greats.
When he was asked recently by Sallisaw veterinarian Dr. Paula Haraway, a close friend of his for almost a quarter of a century, to list some of the horses he's trained, he quickly filled up a notebook page with two columns of those that came to mind. Horses like:
• Gamblin on Sin — "Probably the fastest horse ever to hit Blue Ribbon, one of the fastest EVER. I raised him. He won the Blue Ribbon [Futurity], he won the big races here. Won the Hopes and Dreams [Futurity], won the Black Gold [Futurity]. He was a big boy here."
• Barbs Bounce — "She's the only futurity horse that won the Heritage Gold Futurity and the Black Gold Futurity, and that's one of the biggest futurities in Oklahoma. She is the only horse to win both events."
• Libbys Cartel — She won the Blue Ribbon Futurity.
"They were superhorses. When you train that long, you got thousands of 'em, and I didn't name half of 'em," Brooks says. "My house is just full of trophies and belt buckles and plates and stuff. Most people train all their life and maybe win 10 stake races or graded races. I've got over a hundred, but like I said, I've trained a lot longer than 99% will train.
"I've bred and raised $1,500,000 Oklahoma horses, my wife and I have. Then I won like 1,500 non-parimutuel races — they don't even count that … won probably 2 or 3 million [dollars]. Then won 1,500 parimutuel races and won over 8 million dollars, somethin' like that. I've had some of the best horses in the country, and some of the best help, and some of the best riders. I've had world champion riders ride for me. I've been very fortunate. I've had some of the greatest riders and some of the fastest horses in the country.
"My record was so good, and I've run so long, too. There's not anybody probably won 3,000 wins. It's like a coach. He's coached a hundred years, and he's won a hundred games. I've been here a long time," says Brooks, whose been retired almost 10 years.
A 1962 graduate of Sallisaw, Brooks got into the horse racing business early.
"I was a jockey and rode horses at Ozark Downs in '63. Then I got to eatin' and I was ropin' anyway … I like to rope and ride. I never was heavy, but got too heavy to ride. But that was yesterday. Yesterday's gone.
"I got a chance to work for some other trainers, and they left and went to other racetracks. They left me the horses, and then I went to train on my own. I've done nothin' but rope, ride and run racehorses. Never punched a clock. I'm lucky."
But Brooks is best known as a world-class trainer who was a fixture at Blue Ribbon Downs since its early years.
"I've trained several thousand. I've had champions — paints, apps [Appaloosas] and thoroughbreds," he says matter- of-factly.
"I've run at every racetrack in the country. We've run at Enid, we run at Tulsa, we run at Claremore, we've run at Ada; we've run all over Texas — Laredo, Goliad, Columbus, Uvalde, El Paso — [and in New Mexico at] Raton, Santa Fe and Ruidoso was my main stop, they had a lot of big races. We'd run at Los Alamitos, California, and we run in Indiana and Louisiana."
And the horses Brooks trained fared quite well, especially at the futurities at Blue Ribbon Downs.
"I won the Black Gold championship with Bettors Rascal. I won the Black Gold championship with Dr. Fortune. I've won so many derbies, which are 3-yearolds. I've won many Black Golds, that was our main futurity. And I've won several championships. We was runnin' for $25,000 to the winner then, and now it's a three and four and five hundred thousand dollar race, that's how quick it growed up."
But one of Brooks' favorite memories came early in his career when he was in his mid-20s at Ruidoso Downs, which hosts the All American Futurity, the world's richest quarter horse race.
"I qualified for the first All American in 1970. I was probably the youngest trainer. That's quarter horses' largest race.
"I've qualified for every big race I've run at, sometime or another. Not every time, nobody qualifies every time," he says.
"Oklahoma's largest race that was run at Blue Ribbon was the Heritage [Futurity], and I won it three times. And nobody else has done that.
"Sometimes, there's superhorses. Special Effort [1981] was a superhorse. He's the only horse ever to win the Triple Crown [for quarter horses]. How many years they been runnin'? A hundred years. It's very seldom you find a superhorse, unless he's just a freak. And there's a lotta freak runners, I've had some of 'em." The Triple Crown of quarter horse racing includes the Kansas Futurity, Rainbow Futurity and All American Futurity.
The Brooks philosophy
Those who know Rex Brooks — and who doesn't? — know that he'll talk horses with you all day long. He's glad to talk about the intricacies and nuances of horse racing for as long as you'll listen.
"Lots of people have got fast horses, but they're not horsemen. They're scared, they hire good help, they're not horsemen themselves," he says.
"It's like a coach. He's got a good name, but every one of his assistants is a lot better than he is. It's the same with trainers. Some trainers are not really trainers, they're just super businessmen. They've got all the money in the world behind 'em, all the owners behind 'em, 'cause they're super businessmen."
Being a horse trainer is not for everyone.
"It's really a tough, tough livin'. Trainin' horses is seven days eve- ry week to work, every day," he emphasizes. "They've got to be fed, watered and walked, fed, watered and worked, groomed, new shoes, take care of him, he's your money.
"You're familiar with everything about that horse, and it's your responsibility to do the best you can, and that horse knows you. You ship it in yourself, and you ship the rider in. When they send you a horse, you get 5% [of winnings]; if you train his whole stable, you get 10% of winnings, that's where you win your money. But you want a good horse, and they're all gettin' better, all gettin' faster."
And Brooks says there's plenty of money up for grabs.
"They got the most money in our state. Remington Park is runnin' over with money. Like Hot Springs, you better take a good one. You better take the best of the best, 'cause that's all that's there, champions. Same with Oklahoma City, Remington Park. You better take your best stock. If you're not good enough to win, you're spinnin' your wheels. Take the best of the best, the best you've got.
"You have to run at 100% every day you run, or you don't make no money."
To be sure, there are no guarantees.
"There's a lotta 'ifs' and 'ands' about this racin'," Brooks cautions. "My attitude has always been like this, [If] I don't win this race, I'm gonna win the next. And I believe that. And everybody that's worked with and for me said, 'Man, he is never down. If he gets outrun this race, he's gonna win the next one. Most time I do. I just got good horses.
"But some days it's chicken, and some days it's feathers. I've had some of the biggest upset races in history, and I have lost some I shoulda won."
And Brooks, like those from whom he learned, is glad to share what he's learned with those wanting to break into the business.
"You need to observe those trainers above you, and watch," he counsels. "You always learn somethin' from a trainer that's doin' very well. Watch the trainers above you, that's what I did. I done a lot myself, and when I went to races, I'd watch the leadin' trainers, the best trainers in the world. I'd sit back and watch 'em. Watch 'em in the paddock when they saddle the horse, I'd go to the races and watch 'em. I'd go to the track everyday. I'd work my horse, I'd watch 'em work their horse. I'd go down to the barn and visit with 'em — they're all very good trainers, but they're also very good people to teach you somethin'.
"If you'll listen, you can learn somethin' from anybody, makes no difference if he's the best trainer or not. Watch him, you may learn somethin' from him. Always observe the next guy, especially the guy that's winnin' all the races."
And when you achieve icon status like Brooks, there are those who find it difficult to believe success is on the up and up.
A favorite story Brooks likes to tell — and he has no shortage of them — is about winning when he admits he probably shouldn't have.
"We qualified for a futurity, and it was 250 yards, which is short, and [the filly] could only run 250 yards. [Other stables] always accused me of cheatin', 'cause I had too many horses. 'He wins too many races, I know he's crooked, he's gotta be crooked.' And they got the binoculars on you, and you got the state veterinarians, and they come right to the gate, and the state veterinarians are supposed to be in front of the gates. Well, he's behind the gates makin' sure every horse is ready to run. So they told him I was cheatin' real bad, so he stepped behind the gates and watched me. So they said, 'I know you're cheatin'.'
"So they got binoculars — and you gotta have three stewards — they got binoculars, and they sat and said, 'If they havin' 10 races, nine you're first, nine you're first. I know you're cheatin'. Ain't nobody alive can have nine firsts. You don't win all the races, but you're first out [of the gate].' I said, 'I'd rather not get caught than catch nobody. If I'm last out, I can't catch nobody. But if I'm out there first, they gotta catch me'."
Then, after winning a race in which he was being closely scrutinized: "They said, 'I told ya he was crooked. Got the slowest horse in the race, and wins a big race.' It was called the Pegasus Stakes. 'I know he's crooked' — that horse run the fastest of his life — 'I know he's crooked. We've all outrun that horse. He's crooked, I know he's crooked. Slowest horse wins the race.'
"I've had many upsets, and I've had many not get there when I thought I could win. I gotta advantage o'er 'em, usually I got the best rider, and I got champion riders, lots of 'em," Brooks admits.
"I really had a lotta good help, I mean, a lotta good help. I had a foreman here and a foreman there and a foreman here, in each barn. I was they guy that run it, I was the boss, and they was my assistants, good assistants. You can't run it by yourself. I won't take all the credit. I just was the boss."
Brooks enjoys life
If Brooks had his way, he'd still be training championship horses. Asked if he misses what he did for 57 years, he'll answer almost before the question is complete: "Every day."
And then he elaborates.
"That's why I got some broodmares and cows. I went into the cow business after I quit runnin' horses with my grandson (Kaleb). He said, 'Papa Rex, you need somethin' to do. Let's buy some cows.' I said, 'OK,' then he got a full-time job and I don't see him very often."
Brooks owns 250 acres on which he runs 35 cows, 15 calves, a bull and four horses. His days are filled with "hay, cattle and horses. Cut that hay every year, feed them cattle and horses. I'm retired, but not retired. And I'm not gonna stop, I just love to work. It's somethin' to do.
"The best thing about me that I'd say myself, I've never burned out on nothin'. I get up like 4:30, 5:30 in the mornin' when I was workin', and I never stopped, because I was the first one there and fed 'em (horses), I was the last one there EVERY night, and I didn't get done 'til 10 or 10:30 every night. I'd water every horse every night, throwed 'em some more hay, every one. I just didn't burn out. I love it. If I was doin' it now, I'd still love it. Life is good to me. I enjoy life. That's one thing I do — I enjoy life. Get up every day and enjoy it. When I hit the ground, I hit the ground runnin'. Every day. That's just me."
Born in Sallisaw, Brooks, who describes himself as "a gun-totin' sucker, I got guns everywhere," never expected to journey beyond his home county — at least not very far.
"I didn't ever plan on leavin' Sequoyah County until I got into ropin'. I was not big enough to rope, really. We roped Brahma calves. They were rank suckers when I was in school, in high school. Now they don't rope 'em, they're mean suckers. Only cowboys rope 'em. And it was a hassle to get one of 'em down. They growed up quicker than you did.
"I didn't expect to leave Sequoyah County when I was a kid — well, didn't even want to leave Sequoyah County as a kid. [We've] got the prettiest county in the world. I done a lotta travelin', now I know we have. I've traveled everywhere. Seen a lotta badlands, a lotta farmlands. It's amazin', each state's value. You live and you learn."
The oldest of six children — four boys and two girls — Brooks is proud to report "all of us are still here, all still alive."
Then he shares his relationship with his siblings. "I always kid 'em, I always tell 'em, 'I'm the oldest and best lookin'.' I'm half right, I'm the oldest. We're Cherokee Indians, beautiful girls, handsome boys. We was raised in Sequoyah County, and most of 'em ain't never left very far."
While Brooks freely shares his lighter side, he's quick to give credit where credit's due.
"I don't know if it's quite the story, but I've had a good life. There's no regrets. I hugged and kissed my wife when I married her, and when she passed away, I held her in my arms. I have no complaints about nothin'. I've done my share. I've helped a lot of people, and a lot of people have helped me. Ain't done it by myself. Ain't gonna take credit. It's everybody is in the race.
"I'm blessed, I really am. I am blessed, and I know it. Proud of it."
Brooks has already been inducted into the Blue Ribbon Downs Hall of Fame, and he's expecting friends and former racetrack employees from California to Mississippi to attend the OQHA ceremony.
"I'll eventually be in the Cowboy Hall of Fame," he foresees. "Most of 'em you don't get no awards until you die. But all my folks lived to be a hundred, so they can wait on me awhile."