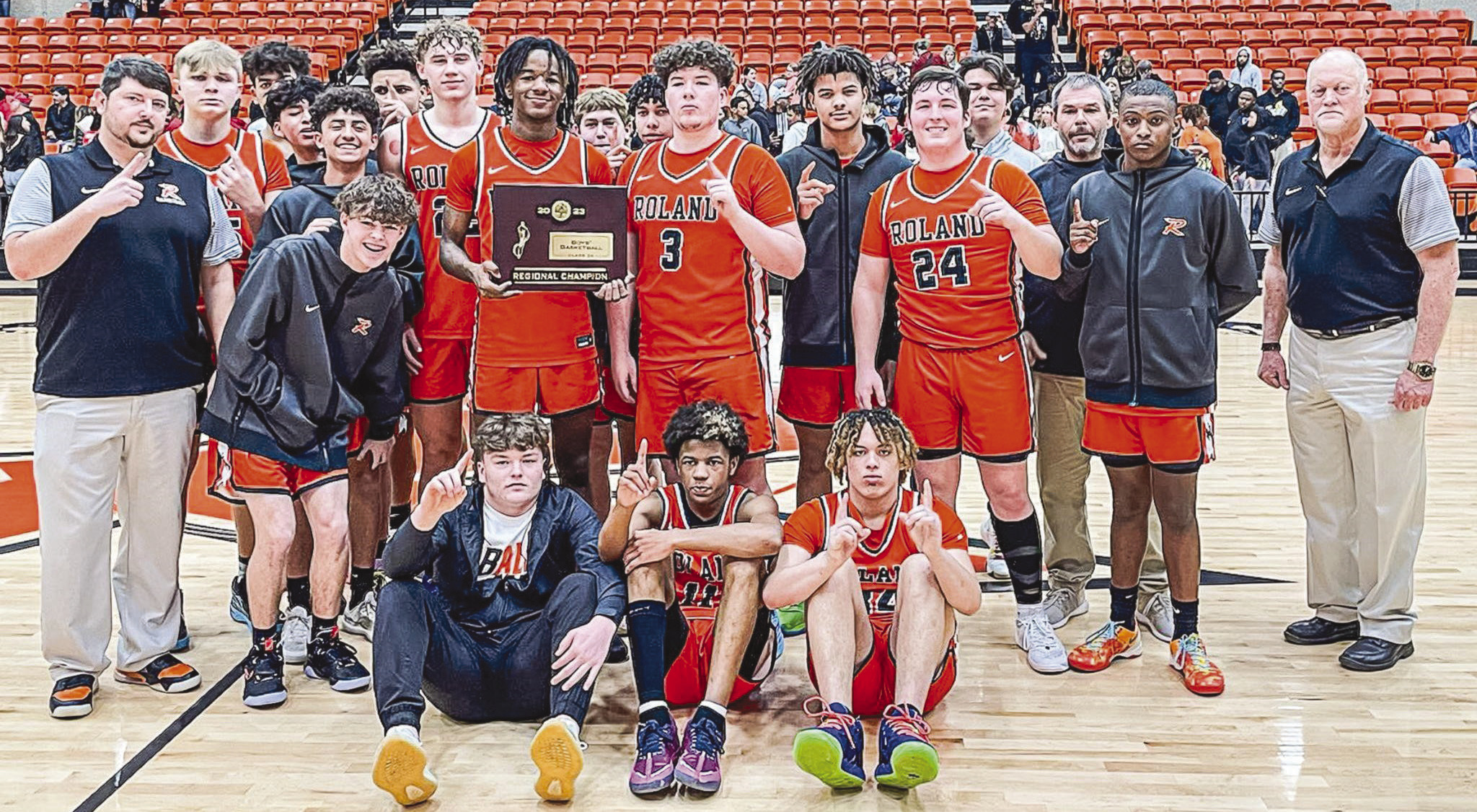 B: Sports
February 28, 2023
Roland trio powers Rangers to regional championship
The fourth-ranked Roland Rangers won their Class 3A Regional Championship game Saturday vs. 18th-ranked Idabel, 53-47, as Carson Wiggins, Davhon Hall and Kyree Hall combined for 46 points.
In the first quarter, the Rangers enjoyed a five-point cushion with help from the six points apiece from Kyree Hall and Wiggins to outpace Idabel's 10-point effort.
But the Rangers gave all but one of those points back in the second stanza when Idabel pulled to within 24-23 at the half.
The Rangers started the second half strong, with their defense doing most of the work, holding Idabel to six points, while Roland increased its lead to 35-29 going into the final frame.
In the fourth quarter, both teams turned up the volume and left it all on the court, as each team scored 18 points. Davhon Hall made nine points, while Wiggins put six points on the board for the Rangers to keep their six-point lead at the final buzzer.
The Rangers play seventhranked Marlow (22-4 overall) at 7:30 p.m. Friday at Ada High School in a rematch of last season's Class 3A first-round state tournament game won by the Outlaws (52-43).
Idabel 10 13 6 18 – 47 Roland 15 9 11 18 – 53 ROLAND – Carson Wiggins 18, Davhon Hall 17, Kyree Hall 11, Ashton Peters 5, Peyton Whisenant 2.
The Rangers started regional play on Thursday with a victory over Stigler.
Roland boys 48, Stigler 35 (Thursday) After leading 29-20 at the intermission the fourth-ranked Rangers (22-2 overall) outscored Stigler (14-10) 19-4 in the third quarter Thursday night inside the Ranger Dome to start regional play with a Class 3A regional semifinal victory over the Panthers.
Stigler took its only lead (2-0) of the game with 5:12 to go in the opening period on Will Rose's reverse layup but Carson Wiggins' pair of 2-point baskets and a 3-pointer apiece by Kyeree and Davohn Hall and Paul Johnson allowed the Rangers to take a 13-7 at the end of the frame. Wiggins (8 points and a dunk) and Davohn Hall each hit two treys in the second period as Roland added (16-13) to its lead. Davohn Hall knocked down his fourth and fifth 3-pointers of the game in the third quarter and Desean Cruse, Wiggins (4 points each) and Kyeree Hall (3) helped the Rangers outscore the Panthers 15 points and take a 48-24 advantage to the fourth. Wiggins and Davohn Hall registered 16 and 15 points, respectively, in the contest and also scoring for Roland were Kyeree Hall and Cruse (6 each), Johnson (3) and Raesean Perryman (2).
Scoring for the Panthers were Jackson McCarter (10 points), Cameron Eakle and Brant Bishop (6 each), McKade Peery (5), Rose (3) and Jamarion Warren (3 apiece) and Jayden Gould (2).