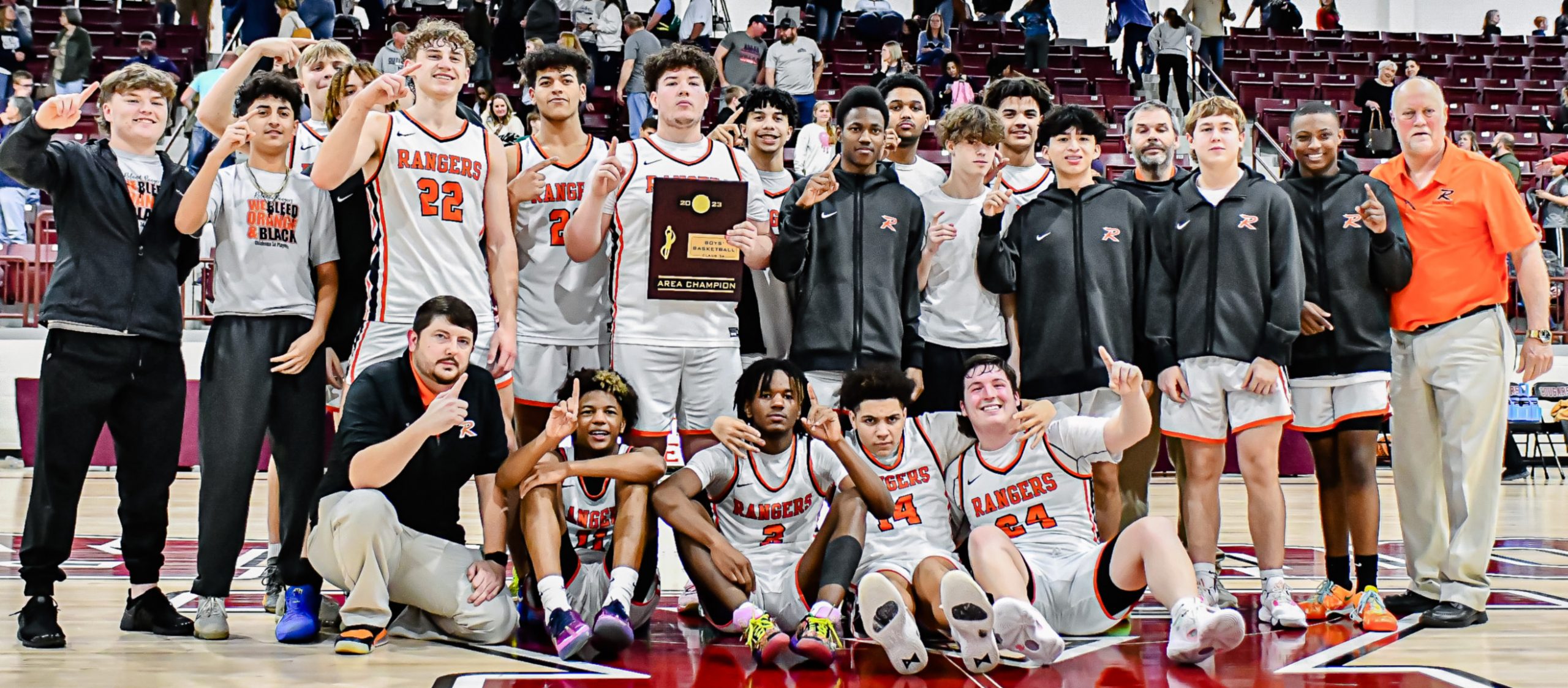 ROLAND HIGH SCHOOL BOYS BASKETBALL
Rangers start state tournament play Thursday in OKC
Roland earns state tourney berth with win over Marlow
Fourth-ranked Roland begins Class 3A state tournament action against No. 8 Crooked Oak at 10:30 a.m. Thursday inside Jim Norick Arena in Oklahoma City.
The Rangers defeated seventh-ranked Marlow 37-29 in their area final Friday night inside Ada High School's Cougar Activity Center.
Crooked Oak, a public school district in southeast Oklahoma City, is 24-3 for the season following its 56-55 Area I final win over No. 15 Cascia Hall Friday in Enid.
"Crooked Oak is a good team, and they've got one guard (Tymier Adkins-Freeman) that's really good," Roland head coach Ed Lewis said about the Ruf-Nex. "He's averaging about 25 or 26 points a game. He's going to take a lot of shots and he's going to score a lot, so I think for us to have a chance we'll have to try to slow him down some, and hopefully the rest of them don't go off on us. Size-wise, they're about like us. They're not real big, but they're a good average team, size-wise."
Adkins-Freeman, a 5-foot-8 senior guard, has scored 2,287 points during his career at Crooked Oak.
The Ruf-Nex losses this season were to 4A No. 2 Crossings Christian (75-56), 3A No. 11 Lindsay (73-58) and 3A No. 1 Metro Christian (62-47).
Roland 37, Marlow 29
The Rangers (24-2 overall) outscored the Outlaws (22-6) 13-6 in the fourth period Friday night at Ada's Cougar Activity Center to claim the Area III championship.
Marlow led 13-10 after the first eight minutes of the contest following a 3-pointer by Roland's Davohn Hall with two seconds remaining. Hall (6 points) and Peyton Whisenant (3) were the Rangers' top scorers in the quarter, and Kaden Harris (5 points) and Avrey Payne (4) led the Outlaws offensively.
Despite a dunk by Carson Wiggins and Whisenant's inside jumper, the Rangers trailed 19-14 at the half after being outscored 6-4 in the second period.
The Rangers erased (10-4) the deficit in the third stanza, and Roland took its first lead (24-23) of the game with four seconds to go in the quarter on Whisenant's corner 3-pointer. Whisenant (7 points and two treys), Hall (3 points) and Payne (4) recorded all of their respective teams' points in the period.
Marlow took its final lead (25-24) early in the final frame on Hudson Morgan's layup before the Rangers went in front for good at the 6:22 mark on Wiggins' dunk. Roland's lead grew to seven following Ashton Peters' wing 3-pointer, Hall's foul shot and Whisenant's inside basket with 1:34 left, but Payne's pair of free throws with 49.3 seconds remaining made the score 32-29. Wiggins' two foul shots and dunk with 11 seconds to go ended the scoring. Wiggins totaled seven points and Peters added three in the quarter, and Payne recorded four for the Outlaws.
Lewis, the Rangers' veteran coach, was happy with the win and the way his team rallied in the second half of Friday's contest.
"I was really pleased with my team," Lewis said. "I thought we showed a lot of resilience. We were behind for a long time and we kept just plugging away, plugging away. We finally made a few baskets, got a few shots, and we got the lead and pretty well kept it the rest of the game, and I was really proud of the way they battled back in that game."
Whisenant tied Payne for game-high scoring honors with 14 points, and also scoring for Roland were Davohn Hall (10), Wiggins (9), Peters (3) and Kyeree Hall (1).
Trailing Payne in scoring for Marlow were Kaden Harris (5 points), Morgan (4), and Zack Long, Blayd Harris and Parker Boyles (2 each).