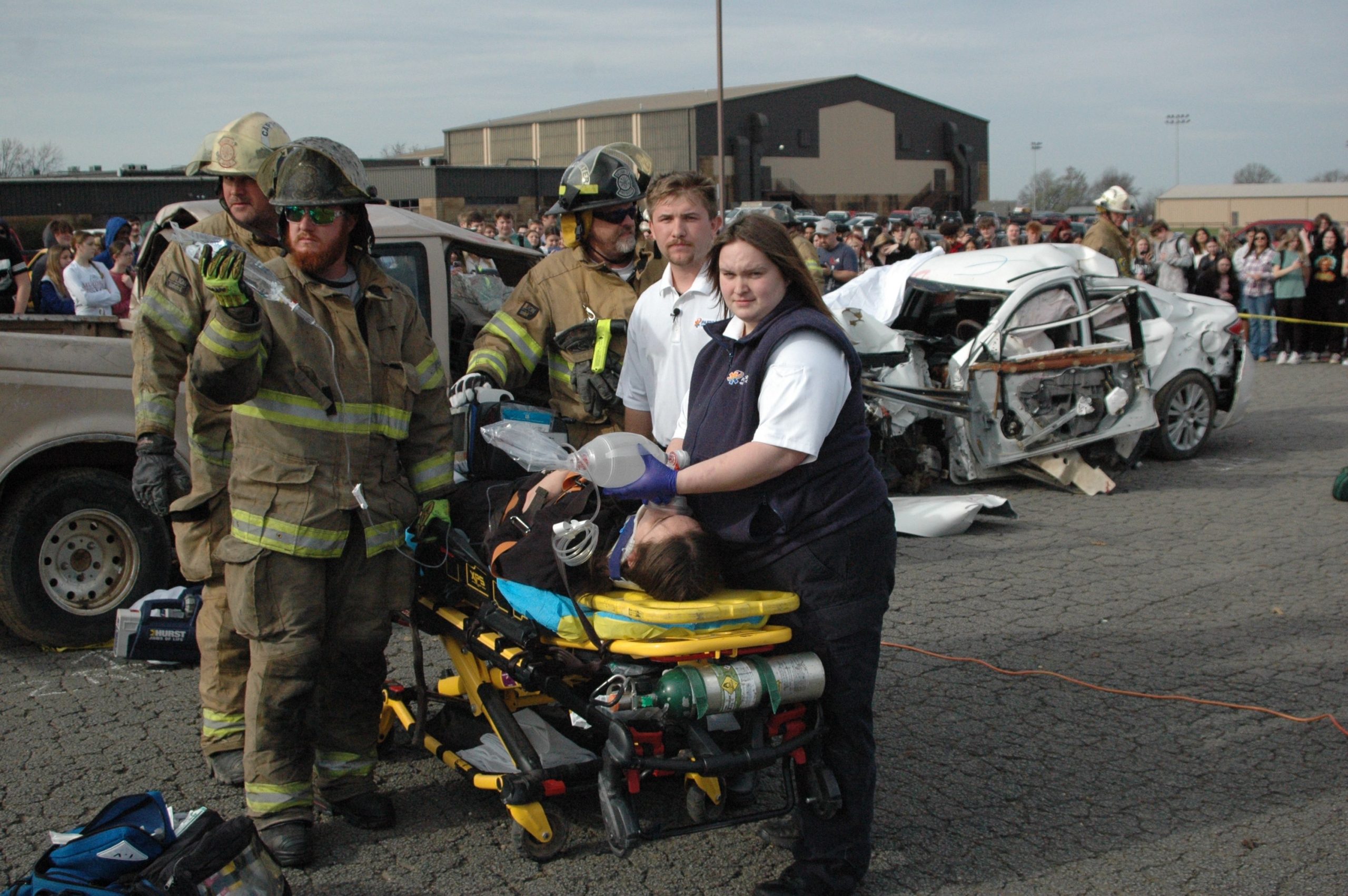 A: Main, Main, News
March 7, 2023
MOCK CRASH
Teen dies in horrific crash
Youth's hopes, future become shattered dreams
A Sallisaw high school student perished, another was airlifted to a Fort Smith hospital and one was transported to a local hospital following a horrific two-car head-on crash Monday morning at Sallisaw High School.
Meanwhile, the driver of one of the vehicles sits in Sallisaw City Jail facing vehicular manslaughter charges and driving while intoxicated.
"Brad Smith," a senior at Sallisaw High School, was pronounced dead at the scene, and senior Addyson Gream was airlifted to Mercy Hospital in Fort Smith with life-threatening injuries. Senior Ellie Martin, with a facial laceration and complaining of a knee injury, was transported to Northeastern Health System Sequoyah. Freshman Sydney Weedon sustained non-life threatening injuries, and was treated at the scene.
Kiowa Coffman, a senior at SHS, failed a field sobriety test at the scene and was arrested by Sallisaw Police before being booked into the city jail.
Family members and friends were openly emotional at the scene as they grieved the loss of the teen and the injuries to three others.
It was a tragic scene that underscored the consequences of drinking and driving, as well as the cost to human life. It is particularly sobering when young lives are lost.
If not for the hundreds of spectators who gathered to witness the graphic scene at the high school, it was a realistic representation of exactly what transpires when emergency personnel respond to a major traffic accident and the price paid by those involved in the carnage.
The mock tragedy, fashioned after the well-known Shattered Dreams experience, is a dramatization designed to educate students, parents and the community about the serious issue of underage drinking and driving by providing a realistic experience and encouraging them to make positive choices. The presentation is intentionally held prior to spring break and the school's prom, occasions on which teenagers are most likely to consume alcoholic beverages.
The event is intended to be so realistic — with emergency lights and sirens from first responders as well as an air evac helicopter landing at the high school — that the school took overt steps to avoid a panic, posting a rotating message on the school's video marquee advising "This is not a real incident. This is a mock crash."
The mock crash involved an alcohol-related accident staged in the parking lot of the school. While the entire high school student body watched — as well as students from Moffett and Gans — Sallisaw police and fire, Pafford EMS, Sequoyah County Sheriff's Office, an Air Evac Lifeteam helicopter and other emergency personnel responded to the 9 a.m. crash. The "victim" students were transported by ambulance and life-flight for medical treatment, while the "deceased" student at the scene was transported to Agent & Mallory Martin Funeral Home. The "drunk driver" was arrested and transported to jail for booking and arraignment.
Assisting the police in recreating the accident were eyewitnesses Madison Bolin, Paige Diffee and Sim Kilpatrick — all seniors at SHS — who were in a vehicle following the pickup driven by Coffman.
Also participating to lend realism to the mock tragedy were Ethan and Emma Hutson, who portrayed Gream's distraught parents, along with senior Ty Brown, who portrayed Gream's brother.
Amy Edwards, prevention services director for Sallisaw NOW Coalition, which sponsored and coordinated the dramatization, said this is the first time such an event has been presented at the school. A similar event scheduled for 2017 was canceled due to rain, she said. In 2015, Roland High School presented a similar dramatization.
"I think it was awesome," Edwards said. "I think it really brought awareness to what could happen after prom, spring break, graduation, and we just hope that it will save one or two lives.
"They did one in 2015 at Roland, but this is the first time we've done one here. We're gonna do them more often, for sure, now. This is our guinea pig year, and it worked out really great," she said.
Edwards was quick to praise the efforts of the student participants, law enforcement, first responders and the school.
While the dramatization targeted teen drivers, Edwards pointed out that it should serve as a cautionary tale for those who are passengers in a vehicle.
"Even if you're not the one driving, if you get in the car with someone and you don't know what they've been drinking or if they're under any kind of influence, you can still suffer the consequences of their actions."