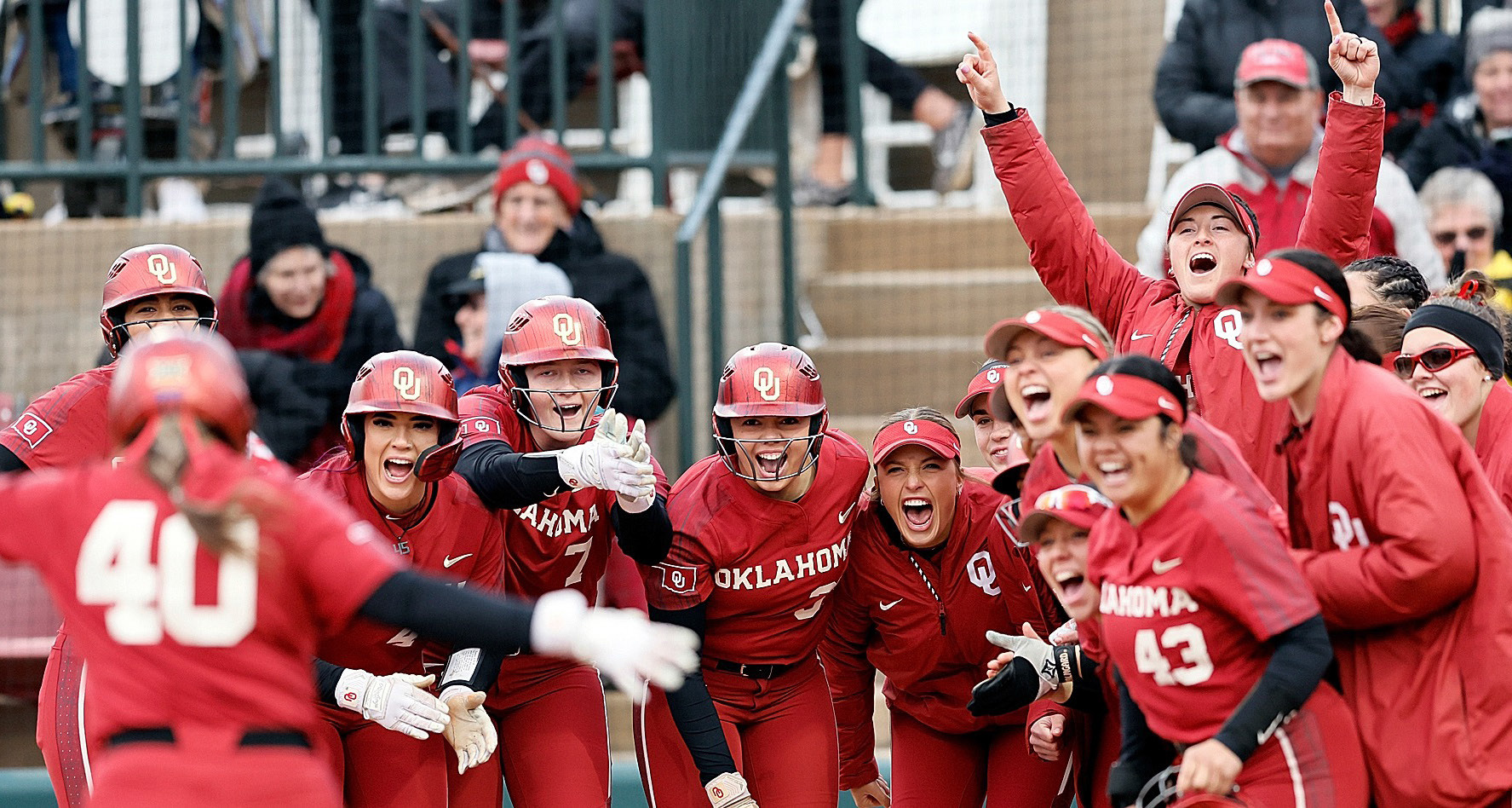 B: Sports, Newsletter
March 16, 2023
OU SOFTBALL
Sooners shut out South Dakota State
NORMAN — On a rare Monday evening game at Marita Hynes Field, No. 1 Oklahoma made quick work of South Dakota State, run-ruling the Jackrabbits 8-0 in five innings.
The Sooners (21-1) started hot off the bat of senior Alynah Torres. After back-to-back walks to Tiare Jennings and Haley Lee and a hit by pitch to Jocelyn Erickson, Torres launched her first home run in the Crimson and Cream after transferring to OU this offseason. It was the senior's 38th career blast and OU's third grand slam of the season.
OU put up two runs in the second courtesy of senior Kinzie Hansen. Following singles from Jayda Coleman and Jennings and a walk to Lee, Hansen ripped a two-run single to right field to plate a pair.
The Sooners pushed one run across in each the fourth and fifth innings to walk the contest off in run-rule fashion. In the fourth, a sacrifice fly RBI from Jennings scored redshirt freshman Quincee Lilio before a bases-loaded hit by pitch to junior Alyssa Brito ended the game by mercy rule.
Junior right-handed pitcher Nicole May (W, 7-0) continued her impressive season in the circle before giving way to sophomore Jordy Bahl in the fifth. May fanned seven batters and allowed one walk, while Bahl struck out one in one inning of work with one HBP. It was the pitching staff's 15th shutout in 22 games.
Torres paced OU with four RBIs in a 1-for-3 showing while four other Sooners had a hit in the contest and Hansen followed Torres with a pair of runs batted in. The Franchise in Oklahoma and nationwide on The Varsity app. Tickets are sold out and fans in attendance are encouraged to participate in the team's "Color Block" promotion where fans seated on the first base side wear white and those on the third base side wear crimson.