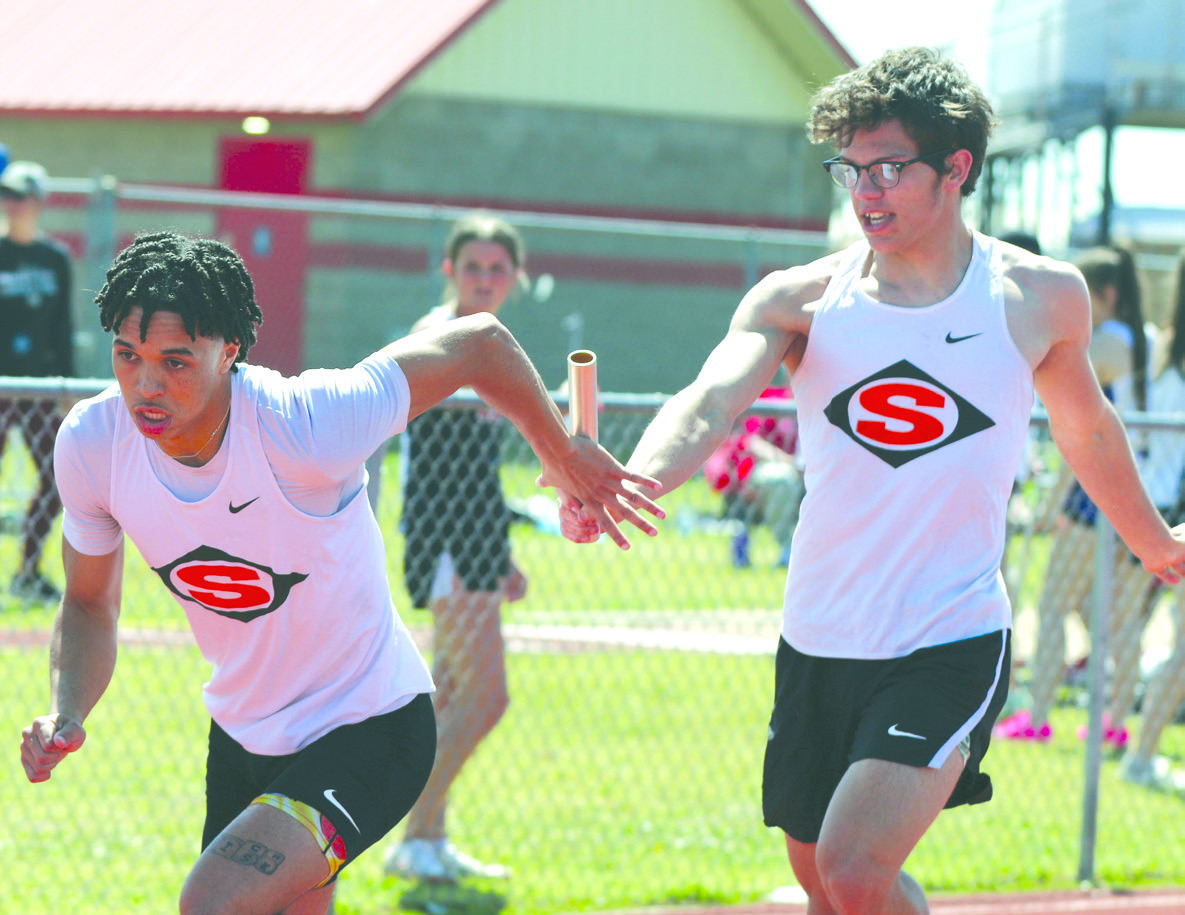 High school track and field
Sallisaw girls, boys take titles at Warner meet
Sallisaw's high school girls' and boys' track and field teams won championships Monday at the 24th annual Warner Track Meet.
Webbers Falls' Lady Warriors also competed at the meet.
The Lady Diamonds, who have won titles at two other meets this season as well as registering a pair of second and third-place finishes, respectively, totaled 151 points and Stilwell was second with 143.5. Webbers Falls (5 points) placed 12th in the girls' division.
The Black Diamonds' title was their first of the season. Sallisaw recorded 152 points and Warner was second with 118.
Medals were awarded to the top 3 individuals and relay teams in each event.
Girls' Results
4x100m Relay
1. Sallisaw (52.08): Kayli Macon, Abby Kate Qualls, Ellie Martin, Kelsey Merrill
4x800m Relay
3. Sallisaw (11:04.48): Jazmyne Wright, Jessica Mattingly, Kylee Holt, Molly Carver
6. Webbers Falls (12:13.02): Bridgette Baer, Teralynn Colston, Abby Pense, Cheyanne Herrier
100m Hurdles
4. Sydney Weedon (Sal), 18.96
4x200m Relay
2. Sallisaw (1:49.98): Kayli Macon, Abby Kate Qualls, Jessica Mattingly, Kelsey Merrill
800m Run
15. Audri Spears (WF), 3:16.98; 16. Addy Orendorff (Sal), 3:18.05
100m Dash
1. Abby Kate Qualls (Sal), 14.24
2. Kelsey Merrill (Sal), 14.85
11. Ellie Martin (Sal), 16.46
3200m Run
7. Cheyanne Herrier (WF), 14:50.94
400m Run
3. Kylee Holt (Sal), 1:07.70
6. Jazmyne Wright (Sal), 1:08.64
12. Taylor Brown (Sal), 1:28.39
300m Hurdles
3. Sydney Weedon (Sal), 53.24
5. Abby Pense (WF), 59.72
9. Ellie Bryars (Sal), 1:05.43.
200m Dash
1. Kayli Macon (Sal), 27.02
8. Emma Martin (Sal), 29.89
13. Tilly Wyrick (Sal), 31.54
21. Emily Carson (Sal), 34.23
1600m Run
8. Molly Carver (Sal), 6:40.56
12. Haley Birdtail (Sal), 7:32.14
4x400m Relay
2. Sallisaw (4:27.66): Kayli Macon, Kylee Holt, Jazmyne Wright, Jessica Mattingly
High Jump
2. Ellie Martin (Sal), 4', 8"
6. Teralynn Colston (WF), 4-0
Long Jump
1. Abby Kate Qualls (Sal), 15', 8"
5. Hannah Palmer (Sal), 14-2.50
6. Ellie Martin (Sal), 13-11
Discus
3. Macie Gremillion (Sal), 85', 1"
4. Addyson Gream (Sal), 74-5
Shot Put
3. Macie Gremillion (Sal), 30', 2"
4. Addyson Gream (Sal), 29-11
Boys' Results
4x100m Relay
1. Sallisaw (44.47): Aaron File, Sim Kilpatrick, Jackson Harris, Cooper Cox
4x800m Relay
3. Sallisaw (10:25.04): Jonas Reid, Ish Patel, Dawson Glover, Morgan Duke
110m Hurdles
3. Jackson Obregon (Sal), 18.82
5. Brecken Hennessee (Sal), 21.92
3200m Run
3. Jonas Reid (Sal), 12:04.61
7. Nick Rainwater (Sal), 12:23.46
8. Dawson Glover (Sal), 12:29.26
800m Run
4. Ish Patel (Sal), 2:20.02
11. Morgan Duke (Sal), 2:35.26
100m Dash
1. Sim Kilpatrick (Sal), 11.12
5. Jackson Harris (Sal), 11.92
20. Sean Laudan (Sal), 13.87
400m Dash
1. Cooper Cox (Sal), 52.35
2. Aaron File (Sal), 54.92
15. Nick Rainwater (Sal), 1:00.93
300m Hurdles
3. Brecken Hennessee (Sal), 50.02
4. Jackson Obregon (Sal), 52.39
200m Dash
1. Sim Kilpatrick (Sal), 22.42
21. Mehki McMillion (Sal), 27.77
25. Sean Laudan (Sal), 28.87
1600m Run
3. Jonas Reid (Sal), 5:26.36
10. Morgan Duke (Sal), 5:52.05
11. Dawson Glover (Sal), 5:54.62
4x400m Relay
2. Sallisaw (3:52.83): Cooper Cox, Aaron File, Jackson Harris, Ish Patel
Discus
1. Canaan Martindale (Sal), 115', 10"