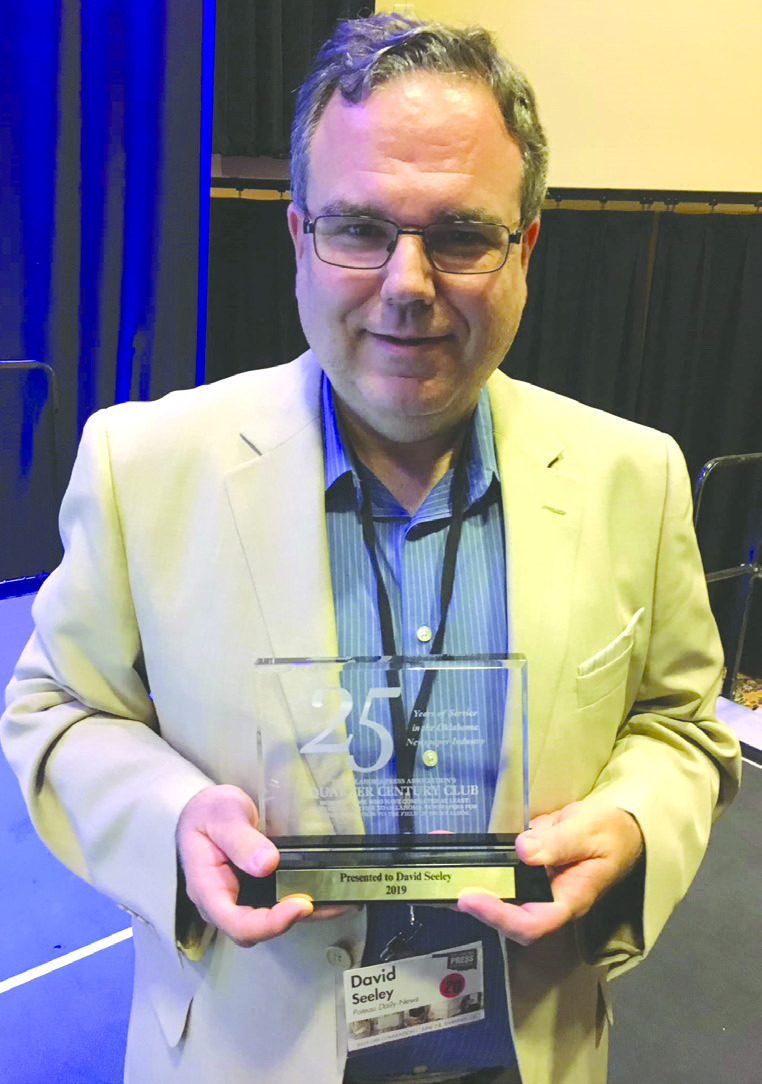 New sports editor arrives at Your TIMES
The Sequoyah County Times' new sports editor came on board Monday morning.
After three-plus years as the editor, and nine years of being sports editor for The Poteau Daily News over two stints covering more than 12 years, David Seeley has become sports editor at Your TIMES, filling the void left by the retiring Lea Lessley.
"I'm excited to return to sports full-time once again after a three-year gap as being a news-beat guy," Seeley said. "I wasn't sure I would want to get back into sports full-time once more after enjoying the extra free time doing the news beat gave me at PDN. However, the job has to be done since Lea is retiring."
Seeley, an Enid native, has been in journalism since August 1989 after graduating from Phillips University — now known as Northern Oklahoma College-Enid — in May 1989. His first gig was as a sports stringer for his hometown Enid News & Eagle, where he then became one of the three full-time sports writers in 1993. In April 1995, he went to the twice-a-week Moore County News-Press in Dumas, Texas, where he was sports editor until July 1997, when he took the same position at The Daily Ardmoreite, where he was sports editor until May 2008. After taking somewhat of a leave from journalism for about a year, in October 2009 he became a sports stringer for The Ada News. In June 2010, Seeley became sports editor for The Poteau Daily News, a position he held until July 2019 when he became sports editor for The Heavener Ledger. In February 2020, he returned to PDN, but this time as the news editor, with his final duties in the capacity taking place this past weekend with the icing on the cake being putting together PDN's 2023 graduation section.
Seeley sort of has a head start since he knows a few of the coaches of the area he knew or was familiar with from his days as PDN sports editor.
"From my days at PDN, I know new Gore coach Brandon Ellis from his days at Panama," Seeley said. "I know Central girls basketball coach Shane Brown from his days coaching at Howe. Current Sallisaw Black Diamonds assistant football coach Matt Lamb had his ties to Poteau in my PDN sports days, and I got to see him as a Poteau City Council member briefly before his resignation when I first started doing the news beat at PDN. From covering Poteau basketball, I'm familiar with local longtime basketball coaches like Roland's Eddie Lewis and Muldrow's Jana Armer. Thanks to my former pastor when living in Ardmore, and Vian's current Landmark Missionary Baptist Church youth pastor, Aaron Heflin, who does those duties along with his wife Becky, a comment was made on my April 22 Facebook post about taking the TIMES sports editor job about how both new Sallisaw football coach Brandon Tyler and new Vian football coach Gary Willis both run "Christian programs."
Seeley said he has some new "wrinkles" he would like to implement at Your TIMES that has been successful at some of his previous stops, but he wants to keep the lid on them for now — and, quite frankly, would like to surprise the readers with them.