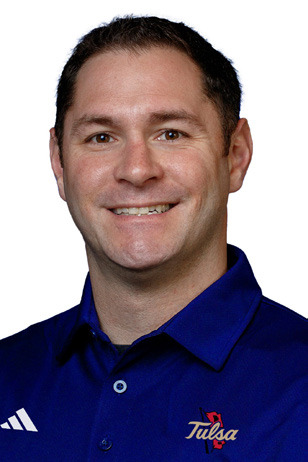 Tulsa football
Polizzi named Tulsa's defensive coordinator
TULSA –– University of Tulsa first-year football coach Kevin Wilson announced the appointment Chris Polizzi as the school's defensive coordinator and safeties coach.
Polizzi comes to Tulsa after spending the past five seasons at Tennessee-Martin, including the past three years as defensive coordinator.
Wilson also announced that linebacker coach Koy McFarland will serve as defensive run game coordinator, Michael Hunter as defensive passing game coordinator and Dominque Franks will continue as quality control coach with the secondary.
"I am excited to have Chris join our program," said Wilson, a former Oklahoma Sooners assistant coach and Indiana head coach. "Even though we're adding Chris late, we tried to do it as seamless as possible to keep the continuity growing with our players. I really liked the direction spring ball went as the kids really bought in to the defense that would be best for us.
"We have good experience with Michael and Dom, both of whom played in the league and have a lot of playing experience but are young in the coaching world. So, I felt that we needed to enhance our group with more experience in the secondary and that's what Chris brings to us."
Polizzi's experience includes coaching at UCLA, Utah, Iowa, Western Carolina, Tennessee Tech and Tennessee-Martin.
"Chris' background includes coaching at UCLA under Chuck Bullough, Utah with Kyle Whittingham and at Iowa under Phil Parker, who is as good a defensive coach as there is in the country," Wilson said. "We had a lot of great candidates, but Chris brings the combination of being a great guy, great leader with tremendous knowledge who can blend with what we're doing and play to our strengths to make it the TULSA defense. Chris is the right fit for our program."
In 2018, Polizzi began as UT-Martin's linebacker coach, recruiting coordinator and co-special teams coordinator for kickoff and kickoff return. A year later, he served as assistant coach and secondary coach and kept those responsibilities when he was promoted to defensive coordinator in 2020.
At UT-Martin, Polizzi helped lead the Skyhawks to back-to-back Ohio Valley Conference Championships in 2021 and 2022. Last year, the UTMartin defense boasted an advantageous defensive attack in leading the FCS for turnovers gained (28) and interceptions (17) through the regular season. The Skyhawks also ranked among the nation's top-10 for defensive touchdowns (four, third), turnover margin (plus-9, fifth) and fumbles recovered (11, eighth).
Polizzi mentored 18 all-conference performers at UTMartin, including the 2022 Ohio Valley Conference Defensive Player of the Year and consensus All-American John H. Ford II. He also coached All-Americans Daylan Dotson and Oshae Baker during his tenure.
In UT-Martin's 10-3 season of 2021, the defense ranked among the nation's leaders for passes intercepted (17, eighth), defensive touchdowns (three, 11th), blocked kicks (four, 15th), turnovers gained (23, 17th) and blocked punts (one, 25th). UT-Martin also ranked among league leaders in sacks (21, first), defensive touchdowns (three, first), scoring defense (25 ppg, second), interceptions (17, second), fourth-down conversion defense percentage (44.4, second), tackles for loss (six per game, second), turnovers gained (23, second) and rushing defense (148.5 yards per game, third).
In his first year as UT-Martin's defensive coordinator, Polizzi spearheaded a dynamic unit which ranked among Ohio Valley Conference leaders in 2020-21 for third-down conversion defense (29.3 percent, first), blocked kicks (six, first), scoring defense (22, second), red-zone defense (72.7 percent, second), fourth-down conversion defense (37.5 percent, third), first-down defense (116, second), team tackles for loss (7.7, second), total defense (330.9 yards per game, third) and rushing defense (128.9, third).
Before joining the UT-Martin staff, Polizzi served as an assistant coach at Tennessee Tech for two years (201617). While at Tech, he was charged with overseeing the Golden Eagle defensive backs while also serving as the programs recruiting coordinator.
Prior to his stint at Tennessee Tech, Polizzi spent the 2015 season as cornerback coach at Western Carolina. Before that, he was a defensive graduate assistant at the University of Iowa, where he worked with the secondary and helped coach first-team all-Big Ten safety Micah Hyde. Polizzi was a part of the Hawkeyes Outback Bowl team in 2013 and the 2014 Gator Bowl team.
Previously, Polizzi served as a graduate assistant at Utah in 2011 where he coached the tight ends. The Utes entered their first season in the Pac-12 Conference that year, finishing the season with an 8-5 record and a win over Georgia Tech in the Sun Bowl.
Polizzi spent two years (2009-10) as a quality control coach at UCLA working with the secondary. The Bruins capped the 2009 season with a win over Temple in the Eagle Bank Bowl.
He began his coaching career at Central Methodist University in Fayette, Mo., where he coached for four seasons (2005-08).
As a player, Polizzi was a four-year letter-winner as a cornerback at Lake Forest (Ill.) College from 2001-04 and was part of a Midwest Conference championship team.
Polizzi earned a communications degree from Lake Forest in 2005. He later earned a master's degree in special education from Central Methodist in 2007. He earned a second master's in Sport Management from Iowa in 2014.
A native of Great Barrington, Mass., Polizzi and his wife Kelli have one daughter, Isabella.