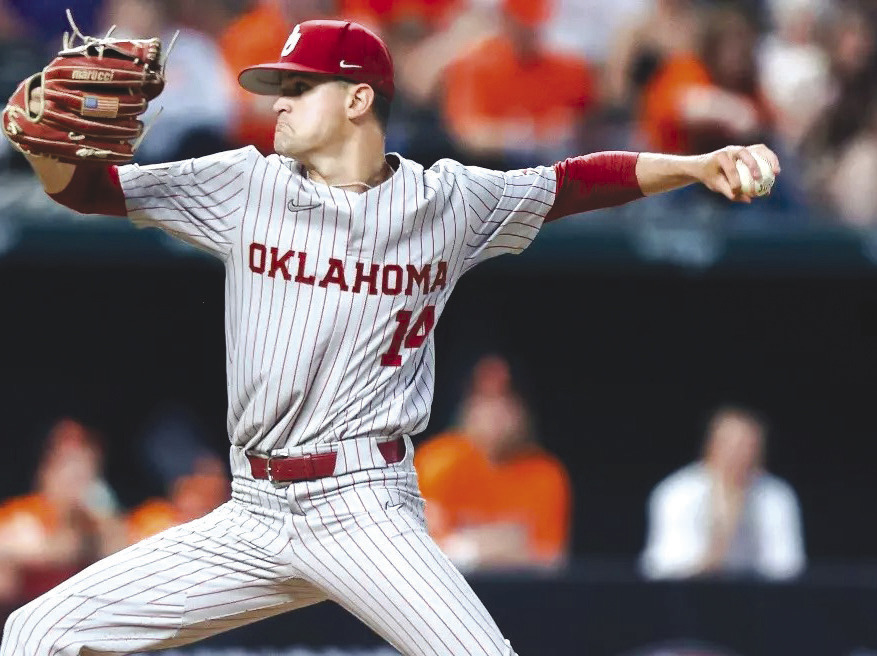 OU baseball
Sooners top Cowboys in Big 12 tourney opener
UNIVERSITY OF OKLAHOMA BASEBALL
ARLINGTON, Texas – Oklahoma State came up short against Bedlam-rival Oklahoma in the opening round of the Big 12 Championship on Wednesday as the 12thranked Cowboys dropped a 9-5 contest at Globe Life Field.
With the loss, the second-seeded Cowboys fell to 37-17 on the season. OSU faced West Virginia in an elimination game Thursday afternoon. The Mountaineers were upset 6-2 by Texas Tech.
The Sooners played the Red Raiders Thursday night in winner's-bracket contest.
The Big 12 Tournament title game is slated for 5 p.m. Sunday at Globe Life Field.
John Spikerman reached in his first five plate appearances for OU drawing three walks and hitting two singles. He saw 29 pitches over those five plate appearances, and scored runs in the first and seventh innings. Easton Carmichael went 2-for-4 with a double and two walks. The bottom four spots in the OU batting order reached base in 13-of-22 plate appearances on Wednesday. OU drew 13 walks in the contest.
Benge took the loss on the mound for the Pokes to fall to 2-2 on the season. The right-hander allowed seven runs on five hits in 2.1 innings while also allowing three walks.
OU jumped out to a lead in its first at bat. Following walks to the first two batters and a fly out to move them into scoring position, Dakota Harris singled up the middle to give the Sooners a 2-0 lead. Later in the inning, a twoout RBI single pushed the lead to 3-0.
The Sooners plated a run in the second and added three more in the third to take a 7-0 advantage.
OSU began to cut into that lead in the third. After backto- back singles by Nolan McLean and Brown, Zach Ehrhard ripped a double to left field to bring home OSU's first run. Two batters later, Benge delivered a two-out, two-RBI single to make the score 7-3.
The Cowboys drew closer in the fifth, getting a solo home run from Brown to cut the OU lead to 7-4. The blast was Brown's ninth homer and was OSU's 100th roundtripper of the season. It marks the first time the Pokes have hit 100 home runs in a season since 1999.
OU extended its lead once again in the seventh, plating runs on a throwing error and a walk with the bases loaded to go up 9-4.
OSU's final run of the contest came in the ninth on a two-out RBI double by Roc Riggio.
Carter Campbell pitched the final four innings of the game for OU, limiting OSU to a run and three hits, to earn his second save of the season. James Hitt (6-1) entered the in the third inning in relief of starter Carson Atwood, pitched 2.2 frames, and was credited with the win on the mound.