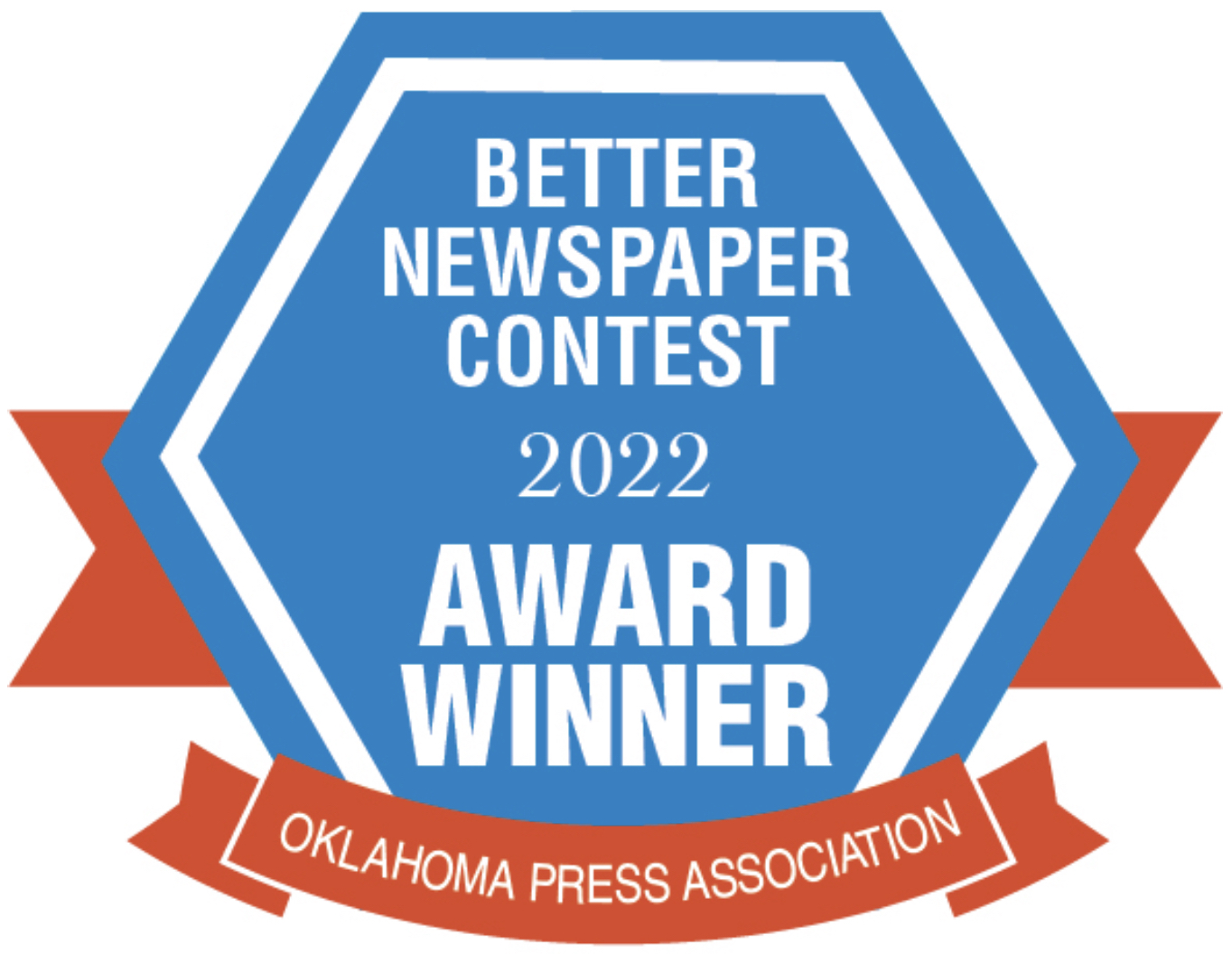 A: Main, Main, News
June 13, 2023
Your TIMES wins awards at state newspaper conference
SHAWNEE — Your TIMES earned three awards Saturday when the Oklahoma Press Association presented its Better Newspaper Contest awards during the association's annual convention held this year at the Grand Casino Hotel and Resort.
Your TIMES earned two first-place awards in competition with other semi- and tri-weekly newspapers from throughout the state in categories that deter- mined the winner of the 2022 Sequoyah Award, the highest honor in the Better Newspaper Contest.
Members of the Hoosier State Press Association judged entries in nine categories recognizing newspapers as a whole, as well as 14 categories recognizing individuals.
Your TIMES took home awards for layout and design, sales promotion and photography. In garnering first-place recognition for layout and design, the judges noted that "this is a good-looking paper. Graphics and photos are used well throughout the paper, and headlines are eye-catching."
The Women's Expo magazine took top honors in sales promotion, with judges citing "nice design and great use of photography throughout the publication."
Your TIMES received a third-place award for photography, with judges singling out a Memorial Day photo of a grandmother and grandson decorating veterans' graves at Sallisaw City Cemetery. The judges also cited "some nice baseball photos."
Individually, Your TIMES staff writer Lynn Adams earned eight awards, while Your TIMES staff writer Lynn McCulley received one award.
Adams won first place for news story, feature story, in-depth reporting and education story, as well as second-place awards for business story, feature story, feature photography and column writing.
For his news story about work resuming on the veterans center, the judges said of Adams' work: "Solid community journalism on a topic important to a vulnerable community." Adams' feature about an Arkansas man's 900-mile walk of faith with a stop in Sallisaw was cited as "a wonderful example of a subject allowed to tell his passionate faith story straightforward without judgment," and complimented the use of Biblical history as "a nice touch."
For Adams' in-depth reporting about last summer's heat and drought, the judges noted that the "series shows really strong coverage of an ongoing topic and looking at it in a variety of ways — the impact of heat on electricity, the health risks of high heat, impacts of drought on agriculture and even fact-checking social media on the topic. I think it provides interesting stories looking at the real impacts. It also gives helpful tips and information to readers on what to do and how to be prepared."
In a story about security measures county schools have implemented in the wake of the Uvalde mass shooting, the judges praised Adams for a "solid, engaging lede," as well as his "powerful technique using the dates of past shootings. In-depth story that contacted multiple schools," and said using mugshots of each superintendent quoted in the story "puts a face to the names for public accountability."
Adams placed second for his business story about how retailers should expect historic sales for the holiday season, which a judge said "if I were a business owner, I think this entry would have been the most useful." For his feature story about professional bullfighter Judd Napier, the judges called it a "colorful story with great detail to give the reader an inside look at a wild job. (Who knew bullfighters study 'game' film?) The writer asks a lot of good questions to adequately present and compare the dangers with other jobs, such as bull riding."
For his feature photography for his story about planned autumn scenic drives, the judges praised Adams for a "stellar photo that could be used on the cover of any travel magazine. Brilliant bold colors with the sun's rays dancing on the water in the midst of the foliage shadows. The crisp blue color of the water is captured perfectly." And for Adams' series of submitted columns — about Blue Ribbon Downs, equality and the 28th Amendment, and a newspaper's value to its community — the judges said it was "good writing across the board, from local issues like a smalltown newspaper suspending print publication to the ERA."
McCulley took home a second-place award for news photography with a photo depicting damage from straight-line winds, which the judges said "beautifully captures just how quickly life can change and how difficult it often is to pick up the pieces afterward."
Other semi- and tri-weekly newspapers against which Your TIMES competed included those from Claremore, Duncan, El Reno, Elk City, Henryetta, Mustang, Newcastle, Oklahoma City, Okmulgee, Poteau, Tishomingo, W oodward and Yukon.