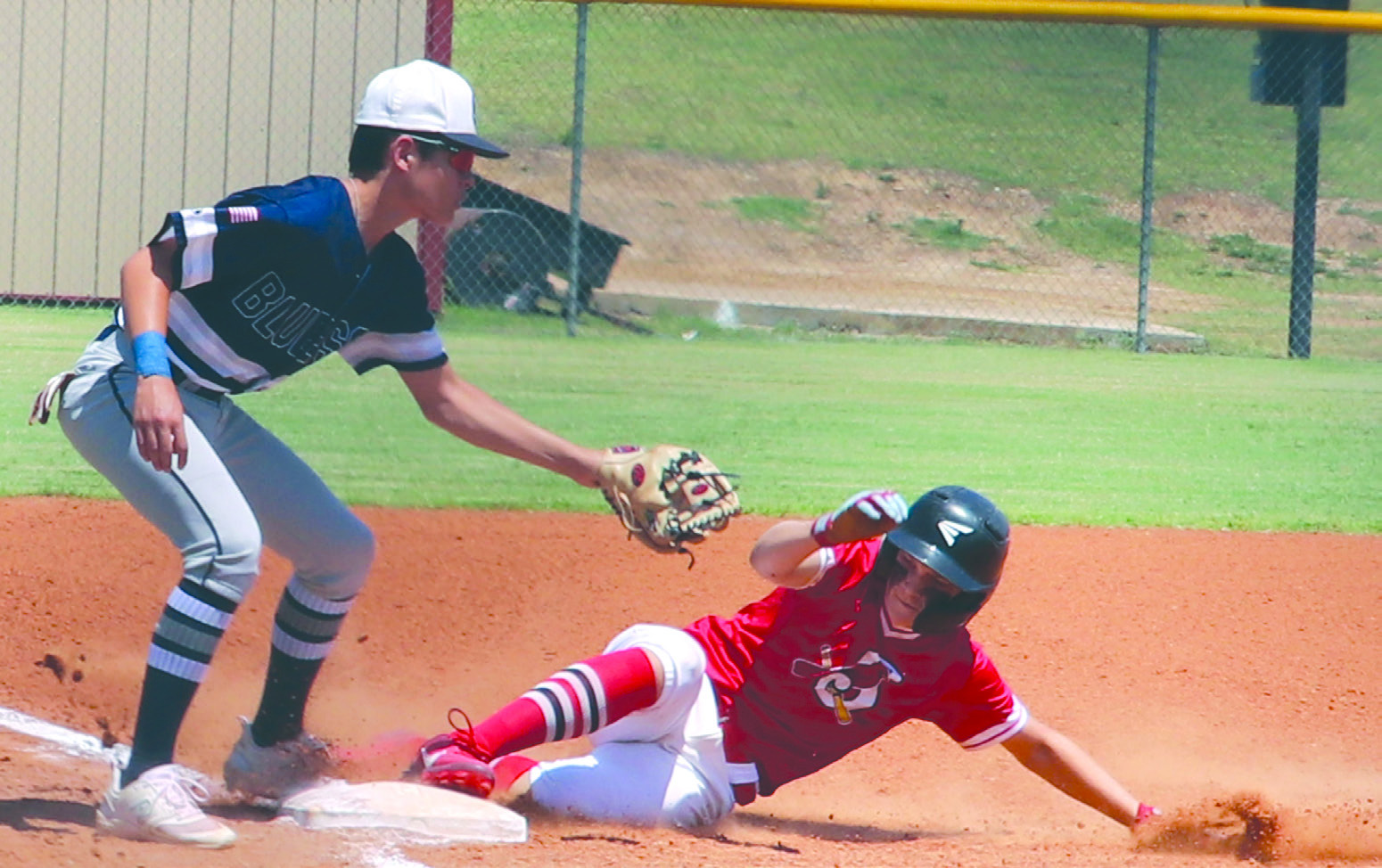 OK KIDS STATE TOURNAMENT
Sallisaw Cardinals inching closer to state title
The Sallisaw Cardinals are flying closer to not only a state-title game appearance, but a state championship.
The Cardinals defeated the Kingfisher Blue Jays 12-2 in Wednesday afternoon's winner's-bracket semifinals of the 2023 OK Kids Age 12-and-Younger State Baseball Tournament, which has been taking place all week long at the Sallisaw Sports Complex. The Cardinals faced the Okarche Warriors in the red bracket winner's bracket final Thursday afternoon, with a win putting them into the championship series, which will begin at 1 this afternoon. However, a loss would make the Cardinals have to win Thursday night's loser's-bracket final to advance to the championship series. Things got started with a bang for the Cardinals as Rowdi Nickell hit a two-run home run in the opening inning for a 2-0 lead. After scoreless second inning, the Blue Sox got on the board on an RBI single by Drew Snider to cut the Sallisaw lead to 2-1.
However, the Cardinals put away the game with a seven-run third inning, thanks to a three-run single by Cord Tucker, an RBI double by Jace Money, an RBI single by Caden Bair and a two-run single by Gunner Griffey. Sallisaw took a 10-1 lead into the fourth inning.
The Blue Sox did their best to keep the run-rule from taking affect in their half of the fifth inning as a two-out RBI single by Snider cut their deficit to 10-2.
However, the Cardinals not only put the game into run-rule status, but ended the game while still batting in the home half of the fifth inning as a two-run single by Luke Warner ended the game.
For the game, Warner was 3-for-3 with two doubles, two runs batted in and two runs scored, Griffey was 2-for-2 with two RBI and a run scored, Kiefer Bailey was 2-for-4 with three runs scored, Nickell hit a two-run homer and scored twice and Money hit an RBI double and scored once.
Nickell got the win, going the first three innings with eight strikeouts. Warner finished the game going the final two innings with four Ks.