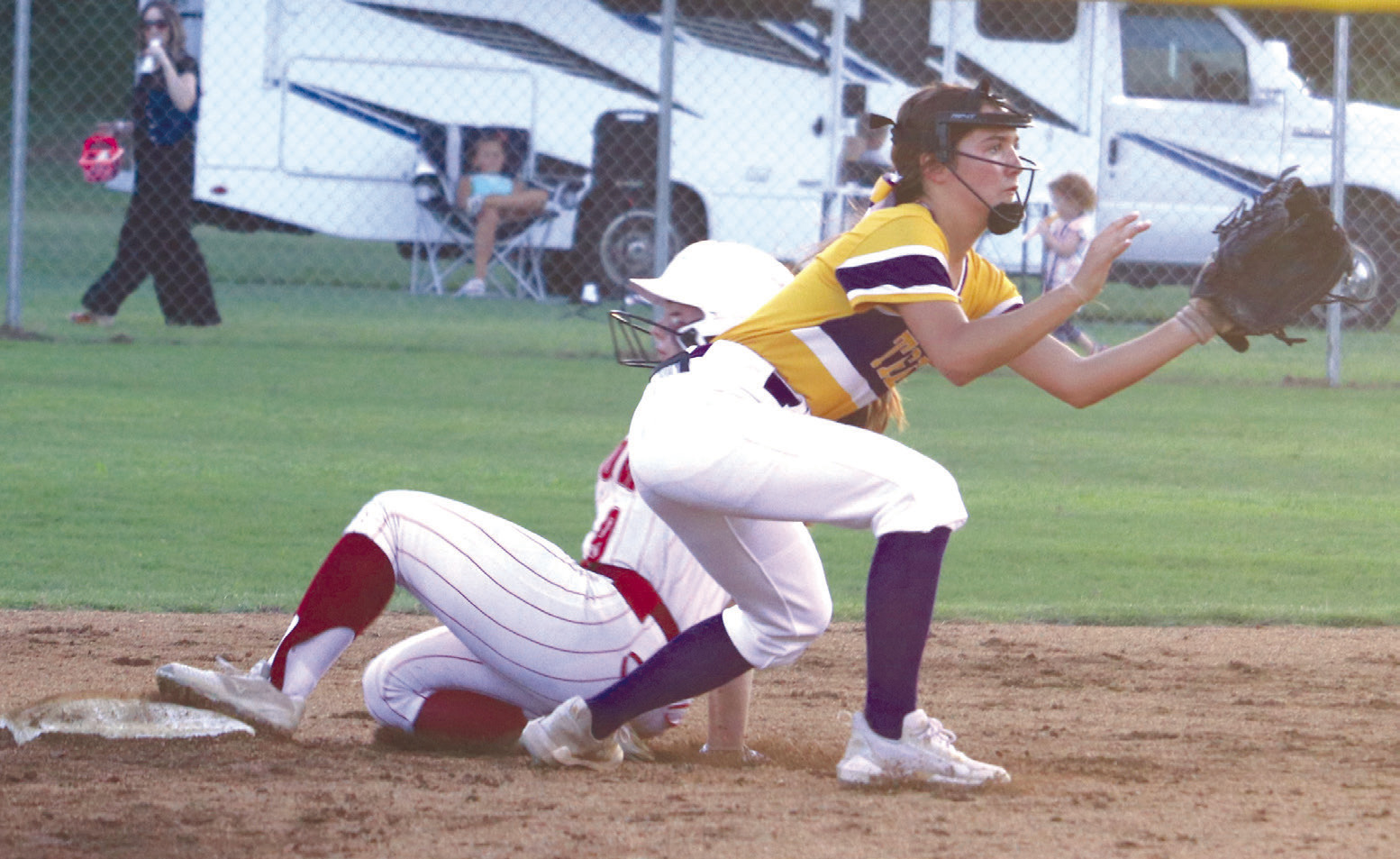 B: Sports
August 10, 2023
HIGH SCHOOL SOFTBALL
Muldrow girls get home victory over Central
It may not have been the prettiest softball game played, but all that matters to the Muldrow Lady Bulldogs was it was a home victory as they got past the Central Tigers 18-10 on Tuesday night in a five-inning game called by the run rule.
The Lady Bulldogs (2-0) trailed twice, the last time at 9-8 in the third inning, but Muldrow regained the lead for good in its half of the frame on a wild pitch, an RBI double by Allison Goodwin and an RBI single by Amaya Duran to put the Lady Bulldogs ahead 11-9 after three innings.
The Lady Tigers (0-1) cut their deficit to 11-10 in the fourth inning on an error, allowing Allie Harris to score, but that was as close as Central got.
A two-run single by Goodwin in the fourth inning put Muldrow ahead 13-10 after four innings.
The Lady Bulldogs put the game into run-rule status with a five-run fifth inning, thanks to an RBI single by Jaydin Dean, an RBI fielder's choice by Kaira Qualls, a Central error, a wild pitch and an RBI fielder's choice by Kaydence Young.
The Lady Tigers drew first blood off Young, Muldrow's starting pitcher, as an RBI fielder's choice by Keeley Poindexter and a two-run double by Harris put Central ahead 3-0.
The Lady Bulldogs took their first lead of the nights they sent 13 batters to the plate, scoring eight of them. A basesloaded walk to Qualls got Muldrow on the board, which was followed by a tworun single by Danica Tune and a basesloaded walk to Goodwin to put Muldrow ahead 4-3.
After Young was hit by a pitch with the bases loaded, Amaya Duran's tworun single made it 7-3, then Dean's RBI single plated Young for an 8-3 lead for Muldrow after two innings.
Central responded with a six-run third inning. The rally got going thanks to consecutive bases-loaded walks to Alyvia Warner and Cambree Bair to cut Muldrow's advantage to 8-5 — which chased Young from the pitching circle.
Brianna Taylor got hit by a pitch from Dean, who came to the pitching rubber, with the bases loaded to cut Central's deficit to 8-6. Then a wild pitch and back-to-back RBI fielder's choices by Avery Warner and Ayrland Jiles scored three more Central runs to put the Lady Tigers ahead 9-8, setting the stage for Muldrow's comeback win.
For the game, Tune was 4-for-5 with two runs batted in and three runs scored, Goodwin was 2-for-3 with a double, four RBIs and two runs scored, Amaya Duran was 2-for-3 with three RBIs and a run scored and Dean was 2-for-3 with two RBIs and a run scored for Muldrow.
Dean (2-0) got the win in relief, going the final 2.2 innings with two strikeouts. Young went the first 2.1 innings with four Ks.
In defeat, Jiles was 1-for-4 with a double, an RBI and a run scored, while Harris hit a two-run double and scored twice for Central.
Jiles (0-1) was the hard-luck loser, going the entire game and striking out four.