By&nbsp
Lea Lessley Sports Writer&nbsp
VIAN HIGH SCHOOL BASKETBALL The unranked Class 3A Wolverines upended No. 11 Keys Friday night inside Traw Fieldhouse while the Lady Wolverines lost by six points to the Lady Cougars. KEYS GIRLS 39, VI...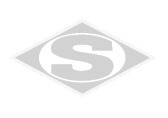 By&nbsp
Lea Lessley Sports Writer&nbsp
Sallisaw, Muldrow, Roland and Vian's high school basketball teams start play in their final tournaments of the regular season Thursday.Central, Gore and Gans' teams are competing in Porum's Cross Tele...
It was a tale of two games Tuesday night for Class 2A Central versus Class 3A Keys, as the Lady Tigers cruised to an easy victory, while the Tigers ended up on the wrong side of the final count agains...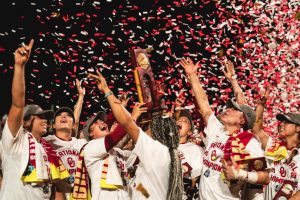 OU SOFTBALL
By&nbsp
JOHN ROHDE SOONERSPORTS.COM&nbsp
OKLAHOMA CITY – Claiming a third straight national championship no doubt was meaningful to the Oklahoma softball team, but the quest came with a multitude of distractions.This helps explain why the NC...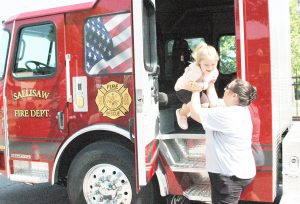 3-year-old Adessa Graham is helped from a Sallisaw fire engine by mother Ashley Thursday morning at the meet-a-hero event at the Stanley Tubbs Memorial Library parking lot. Other first responders repr...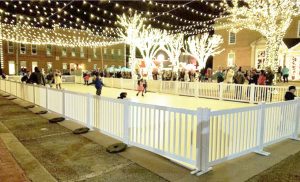 By&nbsp
Lynn Adams Staff Writer&nbsp
With recent temperatures topping 90 degrees, most people aren't thinking about Christimastime. But Josh Rogers is not most people. Visions of sugar plums are already dancing in his head as he looks fo...
By&nbsp
Lynn Adams Staff Writer&nbsp
The Sallisaw Planning Commission on Tuesday approved — despite objections — rezoning for Redbird Smith Estates, and approved a replat of Sallisaw Feed Mill by Aviagen North America to accommodate its ...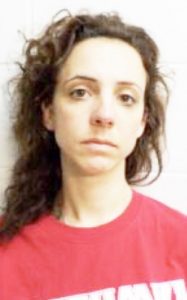 MUSKOGEE – A Sallisaw woman who pleaded guilty to "willfully and maliciously setting fire to and burning a dwelling" has been sentenced to 36 months in prison and ordered to pay $7,500 in restitution ...