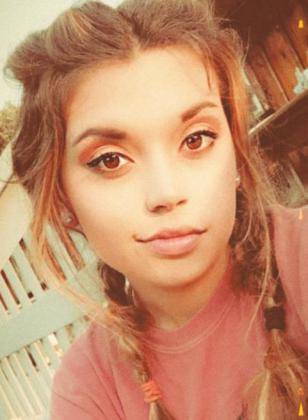 Krystel Willard
Krystel Willard works in an ideal environment to hit the ground running each morning she has to work as a barista at Aroma's Coffee Shop in Sallisaw.
The coffee shop, which opened in 2000, not only offers a variety of coffee, hot, iced or frozen drinks but a daily lunch menu of salads, sandwiches and soup.
Willard, 21, said her day begins with her favorite coffee which is a mixture of coffee with chocolate and hot toasted marshmallows.
"I enjoy working here. I get to meet a lot of interesting people," Willard, who has been working for the coffee shop, about 18 months, said. "I had one customer who was from
"I had one customer who was from Italy. I think she might have been a foreign exchange student. She liked her coffee with a shot of expresso. I'd never fixed one like that but she said that was her favorite way of drinking it," she said.
The busiest time of day at the shop is usually during the lunch hour when people are ordering their lunch, according to Willard.
Willard, who was born in California, said she moved to Sallisaw from North Carolina after her mother decided to move back home.
"My mom owned property here and our family is here so we decided to come to Sallisaw," she said.
"I love being here. The people here are friendly and I like the small town atmosphere."
Willard works five days a week, which may sometimes include working on Saturdays, she said.
When she's not busy working for the coffee shop, she enjoys painting and drawing and has sold a few of her art work. She also likes designing T-shirts and making business cards.
"I've taken a few college courses and I'm hoping to go back to taking some classes," she said.
Her long-term plans are to become an interior decorator.
She also enjoys hiking and her cat, Simm.
"I got the name from a character on Star Wars. He was a storm trooper who was bad but ended up being good. But I liked the name because he was brave and ruthless and my cat is pretty brave and ruthless," she said, laughing.
Willard said she comes from a large family of three older brothers, an older sister and a younger sister.
"Sometimes I like it, sometimes I don't but I'm glad to have them around," she said, smiling.
During her time of working for Aroma's, Willard said she has learned to make all kinds of coffee, other drinks and food.
"It is interesting here and I work with some pretty good people," she said, smiling.
Just Folks. Just Folks is Your TIMES way of honoring the regular people of Sequoyah County, recognizing their unique talents, personalities, jobs, abilities, etc. Your TIMES appreciates the cooperation of each Just Folks and the public's nominations for this feature. If you know of someone you think might be a good story, contact Roy or Lynn at 918-775-4433.