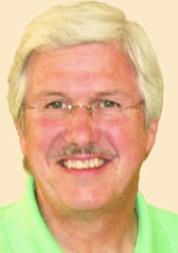 Columns & Opinions
June 29, 2022
Requiem for Blue Ribbon Downs
It's been called the sport of kings, and Blue Ribbon Downs was its palace in Oklahoma. But for more than a decade, peasants and serfs metaphorically ruled the one-time horse racing kingdom.
When the surprising demolition of the castle and its keep began last week at the deteriorating facility west of Sallisaw, it was met with resignation as much as relief, an apprehensive buzz that was quickly replaced with optimism and expectation of what might be.
Virtually abandoned since the track permanently closed in 2010 following multiple bankruptcy filings and untenable financial woes, Blue Ribbon Downs — once the first, last and only words in the Oklahoma horse racing lexicon — had long been lost to history, albeit recent, supplanted by other tracks, Remington Park among them, which chased BRD's bygone parimutuel wagering successes.
Locals maintain that eastern Oklahoma is horse country, and has been for a long time. Then all of a sudden it was just gone.
A shell of its former self as viewed by passersby on nearby I-40, what was once THE place to be stood as a lonely sentinel decaying from years upon years of relentless summer heat, chilling winter cold and incessant year-round winds. It served as a reminder of what might have been. It was a constant taunt of what was, and will never be again.
In its heyday, BRD was the economic engine that drove Sequoyah County. Tack shops and stores sprang up around the race track. Horse racing enthusiasts flocked to Sallisaw, filling motels to capacity and packing restaurants. Virtually every retail business — gas stations, clothing stores, boutiques and more — was buoyed by the prosperity BRD attracted.
As the state's first pari-mutuel wagering facility in 1984, BRD's success was a direct contributor to Sallisaw's success. The city's tax revenue soared, as did that of the state. Within a decade, horse racing had a direct economic impact of more than $51 million to the state's economy, and employed more than 5,500 people. By the early 2000s, the direct impact had mushroomed to $223 million, and accounted for almost 6,500 jobs.
During the good times, BRD's value to the county was almost universally agreed. The prosperity fed local families in more than one way. It wasn't limited to horse racing. The direct impact fueled corporate and family-owned businesses alike. BRD affected us all.
But when the final race was run in late November 2009, closing the beleaguered facility took with it more than a piece of racing history. Those jobs and the livelihoods of those connected with BRD evaporated. Businesses were shuttered. Pastures where horses once ran were mostly empty. Everyone was left wondering what the future held.
Few expected to see sanctioned racing return to BRD, since industry observers had long ago decided tracks offering only live racing were no longer economically viable. But because the Cherokee Nation owns the track and the 100 acres on which it sits, great things are widely anticipated.
When the fate of BRD was decided a dozen years ago, the Cherokees said they had no plans for the facility, but tempered community anxiety with a desire for viable businesses that create jobs. With its deep pockets, the Cherokee Nation invests tremendously in Sequoyah County, which has created a buzz of what the future might hold.
To be sure, on the same day last week that the venerable facility was being razed, the Cherokees provided a ray of hope for good things on the horizon. If the Cherokee Nation has something in mind, no plans were revealed, but that doesn't quell high expectations, however premature they may be.
The demolition project is expected to take about 90 days, which will allow speculation on the property's future to run rampant. When a decision is announced, it's hoped that the lament locals felt a decade ago — "It really could have been something special" — is replaced with the excitement of something that is special once again.