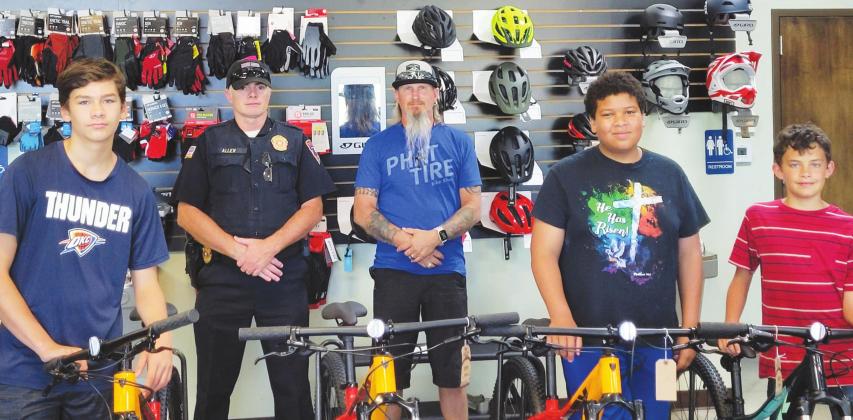 Scholarship provides Mountain Bike team members with new equipment
Vian School Resource officer and Vian Wolverines Mountain Bike coach Robert Allen said thanks to a scholarship, four members of the newly-formed Vian Wolverines Mountain Bike team received new bikes and free gear.
"Towards the end of the school year I applied for the Trek Pathfinders Scholarship that would provide select students with bikes and gear," Allen said.
Allen said out of 10 that he applied for, they were awarded four.
"Each recipient of the scholarship received a Trek Marlin 7 mountain bike, as well as a helmet, shoes, shorts, jersey, gloves, a repair kit, etc., and will also have their registration and entry fees paid," he said.
Allen said Phat Tire in Fort Smith, Ark., received the bikes from Trek and then assembled them at no cost to the team.
"We certainly appreciate them volunteering their time and labor to help," he said.
Allen said Vian will be the second school in Oklahoma to have a mountain bike team through NICA (National Interscholastic Cycling Association) and the first in Oklahoma.
"The Vian Wolverines Mountain Bike team is a cross-country mountain bike team. Cross-country requires a broad range of skills to ride up and down the mountain bike trails," he said.
Allen said student athletes will develop both technical skills and improve their fitness through cross-country riding.
"Vian's mountain bike team's activities will focus on preparing for and racing at NICAproduced cross-country mountain bike events only," he said. "Since Oklahoma doesn't have a league yet we will be training/racing under Arkansa's league. I am hoping other schools in the area will follow with their own teams."
Allen said students in grades sixth through 12th will start practicing this month.