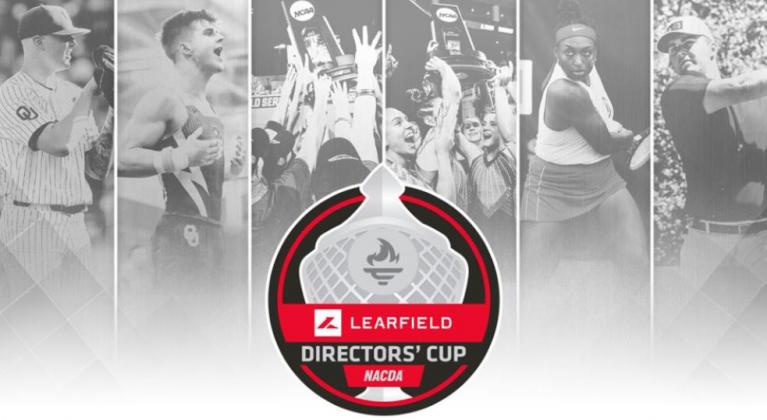 Sooners Place 10th in Learfield Directors' Cup
NORMAN – The 2021-22 collegiate athletics season marked one of the most successful in University of Oklahoma history as the Sooners finished in 10th place in the LEARFIELD Directors' Cup, their best showing since 2012-13.
OU, which tallied 968.5 points, shot up the standings down the stretch thanks to 386.5 points in the winter season and 514.5 in the spring season.
Two Oklahoma sports earned 100 points apiece by winning NCAA championships, while three more earned 90 points each as national runners-up.
"I'm incredibly proud of all our student-athletes, coaches and administrative and support staffs, as well as our great fans, for everything we accomplished as an athletics department over the past year, and I extend my sincere congratulations," said OU Vice President and Athletics Director Joe Castiglione.
"The national championships, conference titles and other significant achievements and honors are fun to celebrate, and we certainly don't take them for granted. But it's the extreme dedication, determination and attention to detail of so many that leads to performing at the highest level, and that needs to also be recognized. So does our student-athletes' academic success. To achieve so much in athletics competition while posting a cumulative 3.19 GPA during the fall semester and a school-record 3.20 GPA in the spring is absolutely inspiring. We're thrilled for the successes of this past year and can't wait for 2022-23."
Women's gymnastics earned its fifth title in the last eight NCAA Championships under head coach K.J. Kindler when it rallied to beat Florida, Utah and Auburn at the Four on the Floor in April. The Sooners finished 31-2 overall.
In June, softball captured its second straight Women's College World Series crown (sixth overall) and finished with a program-best 59-3 (.952) record. Patty Gasso's squad registered an impressive 41 run-rule victories, 33 shutouts and eight no-hitters, and held opponents to one or no runs 49 times.
Men's gymnastics hosted the NCAA Championships at Lloyd Noble Center and finished in second place in April. Mark Williams' Sooners posted their second-highest score of the season (414.55) at nationals and have now finished in the top two in 19 of the last 21 NCAA Championships.
In May, Audra Cohen's tennis team capped its best season in program history with a national runner-up finish. The squad ended the year with a 32-3 record, went undefeated in conference play for its first Big 12 regular season championship and was ranked as high as No. 2 in the country.
The baseball team also turned heads by making it to the Men's College World Series finals. Led by head coach Skip Johnson, OU's historic run included a 45- 24 overall record, a second-place regular season Big 12 finish and a 4-0 record at the Big 12 Championship for its first postseason league title since 2013. The Sooners won their last five Big 12 series and then won an NCAA regional and super regional at Florida and Virginia Tech, respectively.
Men's golf, which tallied 72.75 points, advanced to the NCAA Match Play Championship for a nation-leading sixth consecutive season. The Sooners ended their year with a school-record-tying seven victories, including the program's 18th conference championship and a win at the NCAA Norman Regional. They were the NCAA's No. 1 overall seed for the postseason.
Oklahoma's 10th-place AP finish in football yielded the Sooners 67.5 points in the fall season. They toppled Oregon 47-32 in the Alamo Bowl to cap an 11-2 campaign.
The men's track and field team contributed 109.75 total points between its indoor (52 points) and outdoor (57.75) performances at NCAAs. The indoor team finished 21st at nationals while the outdoor squad finished 16th.
Women's track and field totaled 81 points, posting 49.5 thanks to a 24th-place finish at NCAA indoors and 31.5 at NCAA outdoors. Head coach Tim Langford presides over both the men's and women's programs.
Women's basketball and men's tennis each racked up 50 points for OU. In her first year in Norman, Jennie Baranczyk led her hoops squad to a 25-9 record and No. 4 seed in the NCAA Tournament. The Sooners, who advanced to the second round, celebrated their first 25- win campaign since the 2009-10 season.
Nick Crowell's men's tennis squad made OU's 12th consecutive appearance at the NCAA Championships and knocked off Louisville in the first round.
Wrestling earned 45.0 points after finishing 29th at NCAAs. Lou Rosselli's squad finished second at the Big 12 Championship and qualified nine wrestlers for NCAAs, OU's most since 2012.
Women's golf contributed 22.5 points after advancing to the NCAA Albuquerque Regional. It was OU's fifth consecutive regional appearance under head coach Veronique Drouin-Luttrell.
Oklahoma has finished in the top 25 of the Directors' Cup in 19 of the last 22 years.