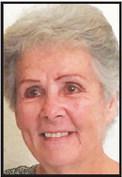 Obituaries
August 10, 2022
Shirley Anderson
Shirley Anderson
Jan. 12, 1942-Aug. 8, 2022
Funeral service for Shirley Anderson, 80, of Muldrow, will be held at 1 p.m. Thursday, August 11, 2022, at Agent Mallory- Martin Chapel in Sallisaw.
Burial will follow at Upper Camp Creek Cemetery at Muldrow, under the direction of Agent & Mallory-Martin Funeral Home in Sallisaw.
Mrs. Anderson was born on Jan. 12, 1942, in Dallas, Texas, to Forest Nicholas Inmon and Caldora (Cruces) Inmon. She died on Aug. 8, 2022, in Fort Smith, Ark.
She was married to David Anderson on May 17, 1958, in Dallas, Texas. He preceded her in death on April 18, 2000.
She was of the Christian faith. Survivors are two sons, David Anderson and Charlotte, and Jason Anderson and Ginger, all of Muldrow; one daughter, Stefanie Richmond of Roland; seven grandchildren; six great-grandchildren; one great-great-grandchild; one brother, Freddy Inmon of Kemp, Texas; and several other relatives and friends.
She was also preceded in death by her parents; and several siblings.
Visitation will be from 6 to 8 p.m. Wednesday at Agent Mallory-Martin Funeral Home in Sallisaw.