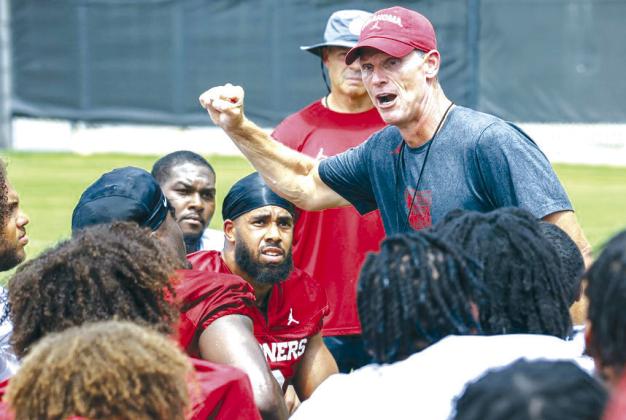 Sooners Open Venables' First Preseason Camp
SOONERSPORTS.COM
NORMAN – Oklahoma football opened its first preseason camp under head coach Brent Venables Friday morning with a two-hour workout at the football practice fields on OU's campus.
The Sooners began preparations for the 2022 season, which begins Sept. 3 against UTEP at Gaylord Family – Oklahoma Memorial Stadium. With the opener just 29 days away,
Venables was happy with his team's effort and energy on day one.
"I thought we had a great flow, great tempo and it was a very efficient practice," Venables said. "Our guys had a ton of energy. Both sides of the ball played really fast. I thought our ability to execute the mental part was terrific, all things considered. You could tell our guys had done a lot of work in the offseason, both in the weight room and in the film room. It was really good. I couldn't be more pleased."
The team was on the field together for the first time since the April 23 Spring Game that featured a record crowd of 75,360. After a summer packed with intense workouts and conditioning training, senior running back Eric Gray was excited to be back on the field with teammates and to get used to running the offense together. The Sooners will debut a new offense this season under first-year offensive coordinator Jeff Lebby.
"It was good to get back out here, get your feet up under you and get back around the team," Gray said. "It's good to be back with everybody, and as a running back getting the feel of the O-line again and the offense again. It was a good day for me."
Veteran linebacker DaShaun White said the pace, energy and sense of purpose were elevated for the start of camp on Friday.
"Guys were flying around," the fifth-year senior said. "Coach V, the way he runs practice, the way we bounce from drill to drill, it's something that we have to respond to. I like that guys came out with attention to detail and a purpose. Today was worth it."
The Sooners will be back on the field again Saturday.
University of Oklahoma first-year head coach Brent Venables addresses his team Friday during the first day of the Sooners' preseason camp.
UNIVERSITY OF OKLAHOMA ATHLETICS