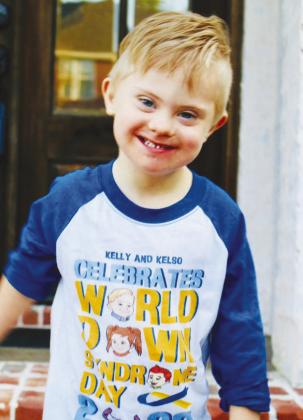 Hudson Hartman appears in fourth Times Square video
Most yearn for their 15 minutes of fame. Hudson Hartman has surpassed that milestone many times over.
For the fourth consecutive year, he will appear in the bright lights of Broadway in New York City's Times Square as part of the annual National Down Syndrome Society (NDSS) video presentation to kick off Down Syndrome Awareness Month.
The one-hour video of about 500 photographs includes children, teens and adults with Down syndrome from all 50 states. The collective images promote the value, acceptance and inclusion of people with Down syndrome in a very visible way.
Hudson's photo was selected from more than 2,400 entries in the NDSS worldwide call for photos. The hourlong video will be shown on two JumboTron screens above Dos Caminos restaurant in Father Duffy Square, the northern triangle of Times Square at 47th and Broadway.
The presentation will be live streamed on the NDSS Facebook page from 8:30 to 9:30Â a.m. CT on Sept. 17.
Hudson is the fouryear-old son of C.J. and Mika Hartman. Mika is the former Mika Cotton, daughter of Larry and Brenda Cotton of Sallisaw. Mika is a 1994 graduate of Central High School. The Hartmans live in Pass Christian, Miss., near Biloxi.
Hudson spent the first six weeks of his life in the newborn ICU. When he was three and a half months old, he had to have heart surgery to provide his heart with four chambers.
In 2019 when he was 17 months old, Hudson was named the grand marshal for the annual NDSS Buddy Walk, which takes place in New York City's Central Park. As in past years, the Sept. 17 walk will follow the Times Square presentation.
In 2021, the governor of Mississippi signed into law Hudson's Law, which requires healthcare providers to provide information to new or expectant parents who receive a positive test for chromosomal disorder regarding their child.
The push to enact the law was spearheaded by the Hartmans beginning in March 2020 because of what they went through when Hudson was born. At the time, doctors gave no information, much less encouragement, about any alternatives for helping their son.
Under Hudson's Law, it's up to the doctor to make sure parents get the correct information. The information must include up-to-date, evidence-based written information about a chromosomal disorder that has been reviewed by medical experts and national advocacy organizations for people with intellectual and other developmental disorders.
"It's been a beautiful journey," Mika says of her life with the youngest of her three children. "Hudson is a typical child in so many ways. He's so determined and strong-willed, and has a love for life. He makes everyone happy when he's around them."