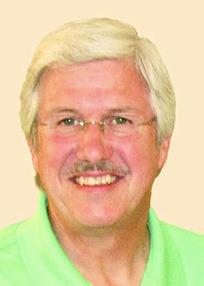 Columns & Opinions
August 19, 2022
The King and I
Don McLean tells us in his "American Pie" song that the day the music died was Feb. 3, 1959, when Buddy Holly's plane crashed into an icy Iowa cornfield.
But for me and millions of others worth their weight in fried peanut butter and banana sandwiches, it was Aug. 16, 1977, when The
King died at Graceland.
That's why this span on the calendar each year is regarded as Elvis Week.
It wasn't until this week that I took inventory of my connection with Elvis, and realized that it goes all the way back to my birth.
Elvis was born three days (and two decades) before my birthday, so we're both Capricorns. Therefore, he turned 20 years old just three days before I came into this world, and he's been part of it ever since.
I missed out on the early days of his career with the appearances on "The Ed Sullivan Show," all the screaming teenage girls and his trademark hip swivels. His induction into the Army at nearby Fort Chaffee also predated my "awakening," so it wasn't until the cinematic portion of his career that I even knew he existed. But once I discovered him, I was all in.
I grew up on Elvis movies. It's widely said that he didn't really care for those movies, preferring to be known for his recording career and his live performances. But I lived for those corny movies, because what guy didn't want to be a girl-magnet like Elvis, and what girl didn't want the attention of someone like Elvis?
I'd like to believe I watched on TV his 1968 Comeback Special, but time and altered memories surely compro-
SEE ADAMS, PAGE A7 mise that part of my Elvis history. What I do know for sure is that I watched his "Aloha from Hawaii" worldwide satellite concert, my belated present just three days after my 18th birthday.
Then four years later is why we observe Elvis Week.
I was vacationing in Hot Springs when the news of his untimely death rocked the world. Surely we all believed Elvis would live forever — and some even believe he is still alive. The doomsday headline on the front page of the Aug. 17, 1977, Arkansas Democrat — like most other U.S. newspapers — proclaimed the shocking news that The King was dead. (I know I've still got a copy of that paper somewhere.)
Since I was within three hours of Memphis, I soon decided to make a pilgrimage to the Elvis Mecca to pay my respects. When I arrived the day after his lavish funeral — on this date 45 years ago to the day — I discovered that thousands upon thousands of other Elvis fans had the same idea. I managed to work my way through the crowd sardined in front of 3764 Elvis Presley Boulevard, eventually making it all the way to the rock wall that surrounded Graceland. There were countless handwritten epitaphs scrawled on the wall, and I added my name to the collection. (I also snapped some photos of the mansion over the crest of the wall, but finding them is another story.)
In the spirit of full transparency, it's at this point that I should disclose that my father was an Elvis impersonator — a tribute artist to us purists — for probably 20 years in Monterey County, California. He had the white Las Vegas jumpsuit, gaudy rings on both hands, chrome-frame sunglasses, dyed jet-black hair and long sideburns, the characteristic performance schtick and a flair for being the center of attention. He made public appearances throughout that part of the California coast, and was featured in several local publications of the time. Unfortunately, I never got to see him perform, but, hey, I grew up with him, so it was just Dad being Dad. (When he'd come back for visits to Oklahoma, he would give his Elvis rendition at the drop of a hat, whether you wanted him to or not, but he lived the part.)
Fast forward to 2005 when I was executive director for the chamber of commerce in Sweetwater, Texas. Who'd have believed that Elvis would have a connection to the rattlesnake capital of the world, but he did. When he and his band weren't playing the Louisiana Hayride in Shreveport in 1955, they were driving all night, sleeping all day and doing concerts on just about any stage within 500 miles of northwest Louisiana. He performed at the historic Sweetwater Municipal Auditorium twice that year, so for the 50th anniversary of those performances — and to generate some excitement that didn't involve venomous serpents — the chamber partnered with the newspaper for a weekend of all things Elvis. We even brought in an Elvis tribute artist — no, Dad missed out on that one — who sang on the same stage and at the same piano of all things that Elvis had back in the day.
Now jump ahead another 10 years when I was at a newspaper in southwest Virginia. No, the region probably didn't have any connection to The King, but why let that stand in the way of having a tribute artist concert? So a local organization pulled some strings and brought in Ryan Pelton, an international, awardwinning Elvis tribute artist, actor and singer/songwriter. He rocked the free — yes, free! — concert in the park with portrayals from Elvis' early years to the 1968 black leather concert to the Las Vegas years. (Using the screen name Blake Rayne, he also starred in the obscure movie "The Identical" in 2014. It has nothing to do with Elvis, but I enjoyed it, and recommend it.)
So that brings us to the present, which for me is actually a tribute to the past. I'm one of those who has a wide collection of Elvis movies, CDs, record albums, 45s, 8-tracks, books, paintings, a 1:20 scale pink Cadillac and a porcelain replica of Graceland, and I even have a life-size cardboard cutout of an early 1960s Elvis that stands next to the lifesize cardboard cutouts I have of Marilyn Monroe.
So in commemoration of this annual week of remembrance, I'll pay tribute to The King's indelible influence with the phrase he actually never said, but is inextricably Elvis: "Thank you, thank you very much."