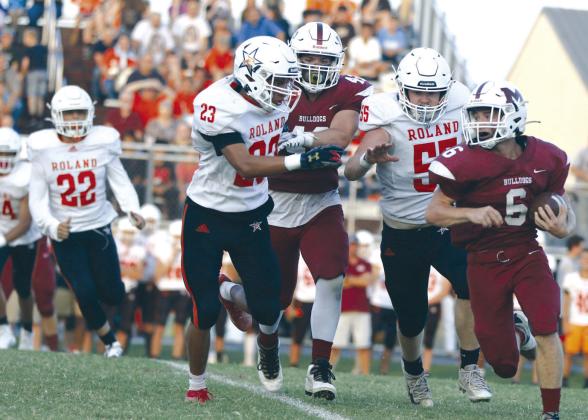 Big first half propels Bulldogs to win over Roland
Collins scores four touchdowns, picks off three passes
MULDROW–Behind the scoring of Trenden Collins and a solid defense the Bulldogs ended their threegame losing streak to rival Roland Thursday night as Muldrow posted a 34-6 victory over the Rangers in front of a capacity crowd inside Aubrey J. Henshaw Bulldog Stadium in the season opener.
The Bulldogs received the opening kickoff and on the first play from scrimmage Roland defensive back Kejuan Youngblood picked off a pass and returned the interception 54 yards to the Muldrow 21. Three offensive plays netted four yards for the Rangers and a missed field goal on fourth down ended the series.
On first down from the Muldrow 20 Collins raced 80 yards for the first points of the game and David Frias' point-after kick with 9:06 left gave the Bulldogs a 7-0 advantage.
Collins returned an interception 45 yards to the Roland 25 moments later to give the ball back to the Bulldogs, and on second-and-goal Collins ran for a 1-yard touchdown at the 6:41 mark to make the score 13-0.
Roland's Lateevis Jones returned the ensuing kickoff 33 yards to the Muldrow 40 and the Rangers recorded their initial first down of the game when quarterback Logen Thomas tossed a 10-yard pass to tight end Desean Casey. Muldrow defender Jacob Gregory sacked Thomas for a 10-yard loss on the next play and three plays later Collins returned his second interception 18 yards.
The Bulldogs' fourth offensive series started from their 33 and on first-and-10 from its 45 Muldrow quarterback Camden Matthews ran to his left and down the home sideline into the north end zone for a 55-yard touchdown. Frias' extrapoint kick with 2:00 left in the first stanza made the score 20-0.
Gregory recovered a fumble late in the period for the Bulldogs and with 9:19 to go in the second quarter Collins crossed the goal line following a 4-yard run. Muldrow led 27-0 after Frias' kick went through the uprights in the south end zone. Key plays in the eight-play, 45-yard scoring drive were a 12-yard run by Collins, a 9-yard reception by wide receiver Bobby Plank and three runs for a total of 15 yards by fullback Eli Crumrine.
Collins picked off his third pass of the game moments later and returned the interception 68 yards for a touchdown with 8:46 left before the half. Frias' point-after kick gave Muldrow a 34-0 lead.
Following the touchdown Roland started its only offensive series of the period at its 27 following Jones' 20-yard kickoff return. Runs of 13 and 12 yards and a 13-yard reception by Youngblood and a 21-yard catch by running back Michael Taylor helped the Rangers move to the Muldrow 8 but Roland was unable to overcome a pair of penalties and the drive stalled.
After receiving the second-half kickoff the Rangers got on the board with 7:55 to go when Thomas completed a 7-yard touchdown pass to fullback Ashton Peters. Key plays in the scoring drive were Youngblood's 9 and 35-yard runs and Peters' 13-yard reception.
"It was a big win for the program and the town and the school and for the kids," Muldrow head coach Brandon Ellis said. "Big-time rivalry and anytime you walk away from one of those with a W it brings the morale up a little bit."
Collins scored four touchdowns, rushed for 175 yards on five carries and intercepted three passes Thursday night.
"Any time he touches the ball it could go house," Ellis said. "He's electric and I'm glad he's on our team. He's a difference-maker."
Matthews had five carries for 69 yards and a touchdown Thursday, Crumrine totaled 49 yards on six runs and running back Cody Gibbs carried 10 times for 34 yards.
Matthews completed 4-of-8 passes for 30 yards with two interceptions and Crumrine (2 receptions for 24 yards) and Plank (2 for 6) caught the throws.
"We couldn't stop Collins and we've got a bunch of young guys that are still trying to learn how to play the game," Roland head coach Austin Cantrell said. "Once we get some experience under our belt I think things will get better for us."
Youngblood ran the ball 12 times for 101 yards and Peters added nine yards on four carries.
Thomas completed 8-of-15 passes for 88 yards and a touchdown with three interceptions. Peters had four receptions for 35 yards and a touchdown and Taylor (21 yards), Youngblood (13), Cruse (10) and Logan Lorenz (7) caught a pass apiece.