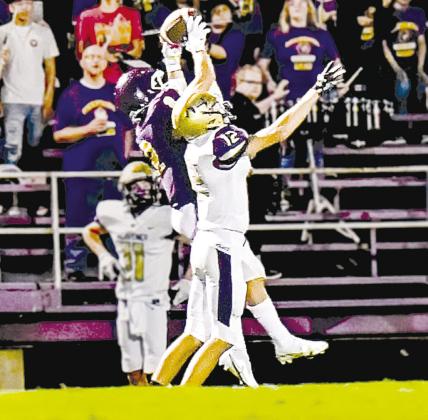 Central overcomes fourth-quarter scare
JIM CAMERON SPORTS WRITER
Central won its home opener, 35-33, in a tough game Friday night against Class 2A Heavener, a nail-biter that went down to the wire.
Tigers head coach Jeremy Thompson had his hands full against the Wolves in the first game of regular season.
The Tigers were able to keep a small lead for most of the game, but fell behind with 4:39 left in the fourth quarter after a successful drive put the Wolves in the endzone.
After the Tigers went three and out on their next possession, the Wolves had great field position.
But Central's defense went to work and held Heavener on a fourth-and-one stop by Tyler Busch, giving the Tigers' offense excellent field position with 2:11 to play.
Quarterback Joseph Lee gave Central the lead, 35-33, with 28 seconds left to play, but the Tigers were still vulnerable.
Cade Tucker sealed the win with 10 seconds left to play by making an interception on a pass intended for Devry Ritter.
"Cade Tucker had a big night," Thompson said. "The offensive line played very well up front with only one penalty. I thought the offensive line played very well.
"We had guys step up and make plays when we needed them to, and won the football game, and that was a big deal. That's what you have to do is have your guys have those plays when they have to make 'em.
"I was very pleased at the end of the night overall with our performance. We need to eliminate the penalties, and we gotta do that this week," Thompson said.
Turnovers played a part in making this a matchup closer than Thompson would've liked, giving the ball to the Wolves twice, ending deep Tiger drives.
"We had two turnovers at crucial points in the game. We gave them great field position. We gave it to them on the 15 or 20 once, and turned it over on a great drive we had about on the 10 yard line," Thompson said.
The Tigers had some big penalties that made a difference as well.
"That'll be the first thing we go to on Monday is work on our penalties. Just discipline on our defensive side," Thompson said. "Offensively, I believe we had two penalties. Most all of it was on the defensive side of the ball, and a lot of that was watch the football. That's something we can fix and will fix."
On offense, Lee had 154 yards through the air, 120 yards on the ground and three touchdowns. Coy Blackburn had 73 yards on the ground on 12 carries and two touchdowns.
Defensively, Isaac Rogers had a pick six interception and 10 tackles, Josh Marino had 13 tackles and Tyler (Chooch) Busch had 10 tackles.
Central goes on the road to play Class 2A rival Warner Friday at 7 p.m.