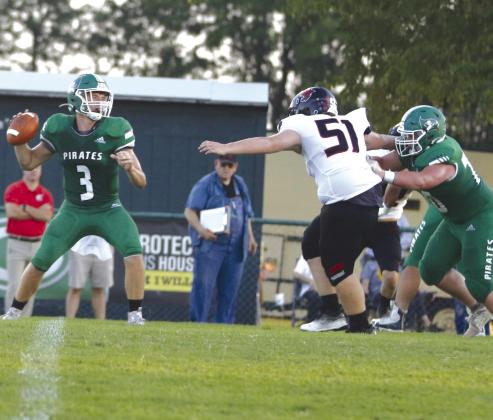 Gore travels to Mounds in battle of unbeaten teams
LEA LESSLEY SPORTS WRITER
Class A No. 2 Gore travels to Mounds Friday night for a non-district matchup between two unbeaten teams as the Pirates go after their third victory of the season.
Kickoff at Mounds, which is located about 15 miles southwest of Tulsa on U.S. Highway 75 Alternate, is slated for 7 p.m.
Gore (2-0) shut out 2A Keys 47-0 Friday night at home while Mounds (1-0) was beating Porter Consolidated 36-27 at Porter.
Gore, which downed Mounds 48-16 in 2021, won 60-0 at Wilburton in its season opener during Zero Week.
"Just watching film on them this weekend very talented," Gore head coach Brandon Tyler said. "They've got probably one of the best quarterbacks in Class A football, Mason Coddington. It runs all around him and he throws the ball well and he can beat you with his legs as well so we've got to get prepared for him. He likes to scramble, run quarterback power, quarterback counter, throws the ball, has some good receivers.
"It all starts with him (Coddington) and Justin Cooper, a 6-2 kid who's about 220, 225, a running back and a defensive end that does a great job. He'll be a fouryear starter for them so he's been in the battles against us a few times. They're a very good, well-coached ball club.
"They've got most of their skilled kids back from last year. Last year they went 10-2 and won that district. They had to replace a few linemen but I think they're probably the best team we've seen up to this point. They do a good job on defense flying around to the football."
Some of Mounds' key players on offense are Austin Harris (6-foot, 175-pound senior), running backs Justin Cooper and Isiah Johnson (5-6, 140, jr.), linemen Levi Hicks (5-9, 230, sr.) and James Garoutte (5-10, 230, jr.) and quarterback Mason Coddington. Harris could see action at several offensive positions.
"They're going to be spread on offense and they like to run power and counter and a little bit of inside zone and just try to throw it a little bit. They've got some good receivers. The quarterback does a great job and this is his second year in their offense and he does a good job of running it for them.
"An offensive key is trying to get the ball out of the quarterback's hands and not letting him beat us. He does a great job of running when the pocket breaks down, of scrambling. They want to run quarterback counters with him, they want to try to keep the ball in his hands as much as possible. Our defensive ends are going to have to do a lot better job of squeezing and containing and not letting him get outside of us or cutting back underneath us. Our linebackers are going to have to fill.
"We've got to control the line of scrimmage and that goes for offensive and defensive lines. We've got to hook up and get after it because I feel like this is the best team we've seen up to this point. Their only two losses last year were to us and then later on in the playoffs. They're doing a lot of good things and I think they're a top-10 team predicted to win that district over there so it will definitely be a good third game for us."
A few of the Golden Eagles' top defensive players are Billy Bowers (5-10, 230, sr.) and Jack Campos (6-4, 150, sr.), defensive backs Austin Harris and Easton Brennan (5-10, 160, sr.) and defensive end Connor Pierce.
"They do a good job on defense flying around," said Tyler. "They're going to run a 3-3-5, an odd stack on defense, and try to bring a lot of pressure, so our offensive line is going to have to get their eyes up and we've got to get our blocking schemes down this week for that because we don't see it a whole lot. It's just one of those deals defensively that we're going to have to prepare for this week and hopefully have success against them."