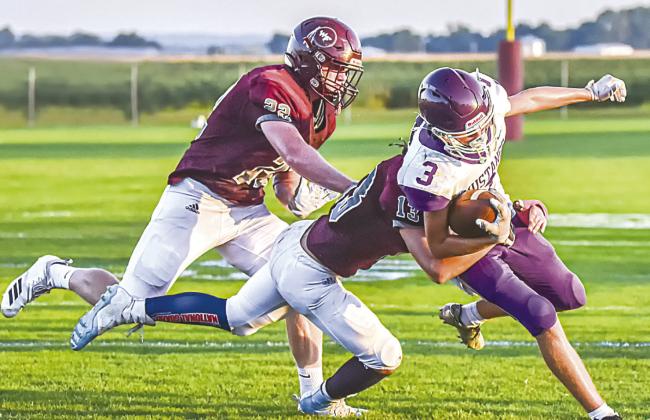 Webbers Falls prepares for Arkoma at home
JIM CAMERON SPORTS WRITER
Webbers Falls hosts Class B Arkoma in their Week 2 non-district game Friday at 7 p.m.
The Warriors (1-1) clawed their way back over four quarters winning, 7855, against the Wesleyan Christain Mustangs during their home opener last week.
Arkoma brings a 1-0 record with them to Webbers Falls with a, 44-28, victory at home versus Midway in their Week 1 non-district game last Friday.
Webbers Falls' Head coach Trent Holt is focusing on the Warriors defense and special teams preparing for Arkoma.
"Defensively we gotta cover the pass better and tackle, we missed a lot of tackles the other night especially open field tackles," said Holt.
"We're losing the special teams battle for sure," Holt explains, "We got to work on onsides kicks, we can't give up any more."
The Mustangs' junior runningback Carl Brake carried the ball 20 times for 403 yards against Midway last week. The Warriors are working on a plan to stop Brake and the Mustangs quarterback Klay Brinkley.
"They've got a pretty big running back that runs the ball pretty hard we're just gonna have to make sure that we tackle him," said Holt.
"We watched one film that had them predominantly run the ball, then we got their second film were they tried to throw it more, so we don't know exactly what they're gonna try to do," Holt says.
"I don't think they throw it very well, so we're gonna have to stop the run," Holt says, "We may be a little different as far as formation, but we're going to stop the run first, and make them pass, at least that's the plan.
The Warriors' played 170 downs last game, their conditioning and preparations paid off, because none of the Warriors missed a single play due to cramps while fighting back on each snap.
"I was proud of my kids, they played hard, and I don't think that we had anybody that had to miss a play because they were cramping, and we played like 170 football plays in that game." said Holt.
Last week the Warriors' offense scored 78 points to overcome a poor showing by the defense early. The Warriors eventually outscored Wesleyan by 23 points last week so Holt isn't planning many changes to the offense.
"Offensively we're just gonna try to stay with what we're doing 'cause it's been working," said Holt.
The Warriors host the Arkoma Mustangs at home with kickoff scheduled at 7 p.m.