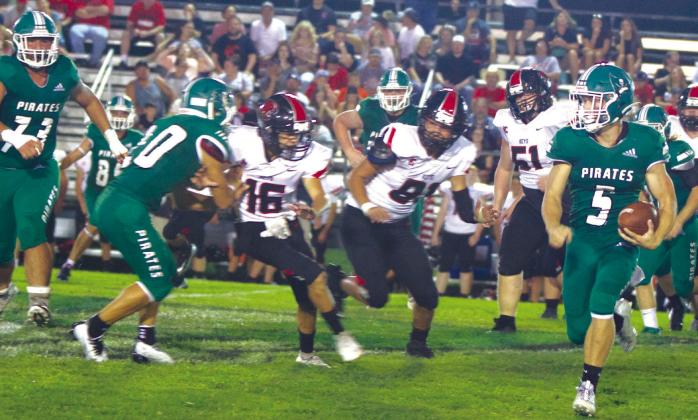 Sports
September 16, 2022
Class A No. 2 Pirates visit Savanna this week
Class A No. 2 Gore takes its unbeaten record to Savanna Friday night when the 3-0 Pirates renew an old rivalry against the Bulldogs.
Kickoff at Bulldog Field is scheduled for 7 p.m.
"Savannah is 1-1," Gore head coach Brandon Tyler said. "Lost to Warner in Week 1 and beat Canadian last week. They've got a new coach (Ricky Cherry) down there. They're running out of the spread offense. You'll see them in a lot of 20 personnel stuff with no tight end and a lot of trips and doubles and they'll come back in and run a lot of two-tight end stuff so defensively we'll have to prepare for a couple of different sets but it's nothing we haven't seen all year long.
"They're a scrappy bunch and do a lot of good things. They always played our kids pretty tough in junior high so it ought to be a pretty good battle going down there Friday night."
Gore and Savanna shared the same district for 12 seasons (2008-2019) and in their last meeting the Pirates won 397.
Savanna was a late addition to the Pirates' 2022 schedule because of Talihina's decision not to play high school football this season.
A few of Savannah's key players on offense are quarterback Ayden Fry (6-foot, 170-pound senior), receivers Jaedon Dan (6-2, 170, sr.) and Kinyon Burge (5-8, 160, jr.), tight end Gavin Jaffe (5-10, 160, jr.), running backs Jordan Kimbrough (5-10, 160, jr.) and Garrett Ward and center Hayden Moore (6-0, 230, sr.).
"Their quarterback is a senior now and he's started since he was a freshman," said Tyler. "It kind of goes around him.
"Our defensive keys are just alignment, getting lined up properly, tackling a lot better and just going and making plays when we're around the football. We've just got to be able to tackle better."
Some of the Bulldogs' key players on defense are defensive back Jordan Kimbrough, linebacker Brett Dickens (5-10, 170, jr.) and defensive linemen Caleb Whitfield (6-0, 230, jr.) and Cade Smith (5-8, 230, jr.).
"Savanna's going to be in a 4-2-5 defense, the same thing that we run," said Tyler. "Everybody's been odd-front up to this point but it shouldn't affect our blocking schemes at all.
"Offensively we've just got to keep doing what we're doing," Tyler said. "We're throwing the ball well and I think we've been pretty balanced and defenses just can't key on our run-game because Gunner (Dozier) is such a great running back. We've got a few more weapons. Ben (Kirkpatrick) and Journey (Shells) outside are catching the ball really well and Blue (Steward) and Liam (Edwards). We've got four good receivers out there plus Gunner carrying the ball. We were able to run Noah (Cooper) a little bit more the other night, something we haven't shown, so that's a new wrinkle with him running the football which kind of opened some more things up. Offensively we feel pretty good about it."