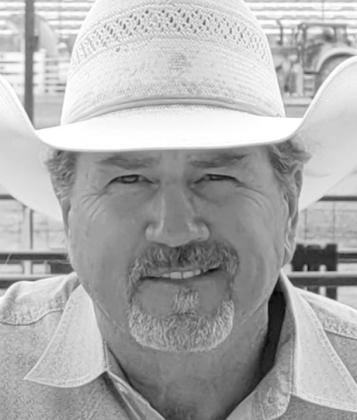 Obituaries
September 21, 2022
Lee 'Allan' Brantley
Lee "Allan" Brantley, passed too soon from this life on September 18, 2022, in Tulsa, at the age of 58. He was born to Clarence and Marsha (Boyd) Brantley on March 19, 1964, in Blackwell. When Allan was four, he and his family moved to Boss, Mo., where he grew up on every country road in Iron County. He went to grade school at Boss and graduated from Viburnum High School in 1982, where he made lifelong friends and brothers. He later attended Mineral Area College on a Cross Country scholarship but his real love fell to being a cowboy and bull riding.
Allan met his future bride Lee Ann Rice in the midst of Cowboy Christmas at a rodeo in the sweet summer of '91. Seven months and seven days later they were married on February 15, 1992, in Beggs. He and Lee Ann raised their two children and numerous bucking bulls on their family ranch.
Allan worked in the drilling industry for over 37 years. He started Mohawk Drilling 20 years ago and was nearing retirement. He also was a professional bull rider until 1994 after a life-threatening injury on a bull in Cassville, Missouri ended his career. He went on to raise some great bucking stock including his beloved bull "Indian Outlaw" who was buried at the age of 18 last year at their 4B Ranch. Allan loved the ranch life and tending to his cattle. Soaking it all in and reflecting on the days gone by were among his favorite things every evening after work in the barn. Weekends were full of work and wisdom for those needing it. There were no days "off" for the cowboy who continually said, "There is always something that needs to be done."
Furthering his love for rodeo and bull riding he belonged to ACRA-American Cowboys Rodeo Association, CRRA-Cowboys Regional Rodeo Association, IPRA- International Pro Rodeo Association, and PRCA- Professional Rodeo Cowboys Association and as a contractor with BRI- Bull Riders Incorporated. In his most recent years he enjoyed competing
March 19, 1964 – September 18, 2022
with his favorite bulls at team events, where he was very successful and highly thought of. As their children were growing up in the Beggs Community, Allan was very involved with their activities and sports.
He served on the Tri-County Little League Baseball Board for many years, coached Little League Football and Baseball, was roped into being on the Chain Gang at the high school football games, and attempted to help out with Tanner and Brooke's track careers in high school with all his expertise. He was more than proud of all that they accomplished.
Allan is preceded in death by his parents Clarence and Marsha; brother Garen Brantley; and father-in-law Gene Rice. He is survived by his wife Lee Ann Brantley; son Tanner Brantley; daughter Brooke Brantley and Quincey McDonald; sisters-in-law Lisa Driver and husband Steve, Laura Macom and husband Clayton, Dee Ann Suazo and husband Kevin; nieces and nephews Nikki Edge, Jakki Brockes, Jessica Snodgrass, Jessica Driver, Micah Driver, Dakota Macom, Colt Macom, Savannah Macom, and Devin Suazo; numerous cousins and a host of great friends that are like family.
Viewing will be from 1-8 p.m. Thursday, September 22, 2022, at the McClendon-Winters Funeral Home of Beggs. Funeral services will be Friday, September 23, 2022, at 11 a.m. at the First Assembly of God Church with Pastor Robert Yandell and Brandon Wren officiating. Interment will follow at Beggs Cemetery.
Arrangements have been entrusted to Mc-Clendon-Winters Funeral Home of Beggs. Memories, condolences, photos, and videos may be shared with the family on Allan's tribute page at www.mcclendon- winters.com.