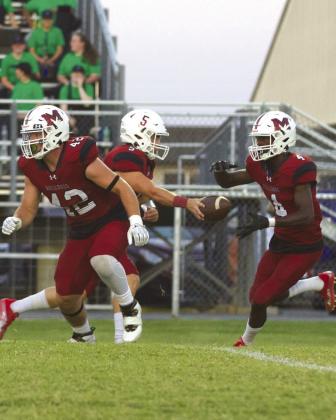 Sports
September 30, 2022
'Dangerous' Berryhill visits No. 10 Muldrow Friday
No. 10 Muldrow takes on unranked Berryhill at home Friday night in what could be the unbeaten Bulldogs' toughest test of the season thus far in a District 3A-3 contest.
Kickoff inside Aubrey J. Henshaw Bulldog Stadium is slated for 7 p.m.
The 1-3 Chieftains defeated Class 4A Fort Gibson 48-13 in their season opener before losing to 3A No. 8 Cascia Hall (28-21), 4A No. 2 Cushing (54-3) and 3A No. 1 Lincoln Christian (14-7) at home last week in their first district game.
"They are a very, very good ball club, Muldrow head coach Brandon Ellis said. "They're big, they're physical and they are better than 1-3. They've played some bigtime, tough competition. They're well coached, they're physical and play hard and they do a lot of things right."
In their last meeting in 2007 Berryhill edged the Bulldogs 27-26 in a Class 3A first-round playoff game.
Muldrow (5-0), which defeated Checotah 28-13 at home last week, is off to its best start since 1990 (7-0 start).
Some of Berryhill's key players on offense are tailback Ethan Stites (6-foot-1, 220-pound senior), running back Mikiah Stevens, linemen Eli Burke (5-10, 225, sr.), Blake Postoak (5-10, 225, sr.), Logan Bivins (5-11, 250, sr.), tight end Lucas Ellen (6-2, 190, sr.) and quarterback Connor Payne (6-2, 180, soph.).
"On offense they're basically just like us," Ellis said. "They want to establish the line of scrimmage, they want to pound the ball and they want to be physical and they've got dudes who can do it.
"Basically they're multiple-I. They'll bring in heavy packages. They're not going to be flashy. They're not a flashy ball club, they're just the opposite of what Checotah was. They're 65 (run)/35 (pass) roughly."
"The biggest (defensive) key is we've got to tackle a lot better than we have in the last couple of weeks," Muldrow defensive coordinator Logan Coatney said. "Stay disciplined, eye discipline is going to be a big key this week for us, then just getting lined up and then doing their job. We're not going to be fancy, we're going to line up and match their physicalness. That's what we've got to do, we've got to line up and be a physical ball club and don't let people behind us. We can't give up the explosive play."
A few of the Chieftains' standouts on defense are defensive linemen Damarie Davis (6-2, 225, sr.) and Ethan Stites, inside linebackers Trenton Deramus (62, 225, sr.) and Colton Million 5-10, 185, soph.), safety Owen Martin (5-10, 150, soph.) and cornerbacks Hunter Waits (510, 150, sr.) and Dalton Barrington (5-10, 175, jr.).
"They're just like us on defense, they're a 3-4 team," said Ellis. "They're physical, they're fast and they're well disciplined. They've got a couple of defensive linemen that are some go-daddies, No. 7 (Damarie Davis) and No. 44 (Ethan Stites).
"Our offensive keys are control the line scrimmage and we can not have turnovers. We're going to have to eat up clock and we have got to finish.
"We also have to start off the game hot. We can not have any quarters off, we've got to play four quarters."