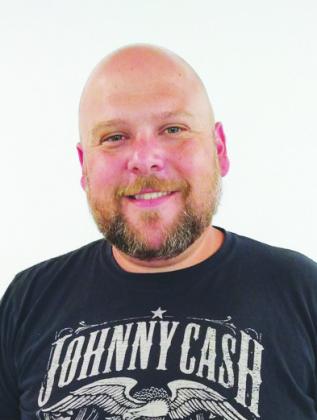 Jim Kidwell
About two a half years ago, Jim Kidwell loaded up his family from Las Vegas, Nev., and moved to Sallisaw in hopes of providing a more stable environment and quality of life with education and sports for his three young daughters.
In addition, Kidwell brought along his creativity, talents and resources to provide a place and event which would be fun and exciting for the children and young people in Sequoyah and surrounding counties.
Kidwell is part owner of the event, the Wicked Willow Fun Festival, which officially begins at 5 p.m. Friday (today).
"We're very excited to have this in Sallisaw. We will be providing our Wicked Willow Fall Festival each weekend throughout October at the Willow Valley Venue located at 2510 W. Lennington Road in Sallisaw, and we invite everyone to come out," he said.
The festival will include a pumpkin patch, bounce houses and slides, a Wicked House of Horrors, a zombie shooting gallery, a wicked trail ride, yard games, music and so much more to provide participants all the fun and excitement they can enjoy throughout the weekends in October, Kidwell said.
Entry to the Fall Festival is free and attractions are $5 each. Bouncers and slides are unlimited and pumpkins are $10.
Kidwell said the event will also provide group discounts for field trips, parties and more.
"This is actually our second time to hold this event. Last year we held one in Poteau because my brother has one going there but this year, we wanted to hold one in Sallisaw. We've had so many calls from schools in Muldrow, Bell and others in Adair County and Fort Smith, Ark., who are making plans to bring their students here for field trips," he said.
Kidwell said he has always had a creative mind. He grew up in Las Vegas. He has held such jobs as being a DJ and spent most of his life in the entertainment business. He is also employed by Wendy's taking care of all electronicrelated equipment. He specializes in "animatronics" which are featured in some scary movies and the festival will include many ghosts, goblins and witches, which talk and move and can be scary but fun, he said.
Kidwell, who owns a business which provides bounce houses and slides for parties and other special events said some of those will be available for the children. There will also be jelly ball battles which are like paint ball games, he said.
"We partnered with the venue here in Sallisaw to provide this event. We will also have some students from the Sallisaw High School Drama class who will be helping with the festival and we are planning a Foster Care Program Family Appreciation night on Oct. 13," he said.
Kidwell said making the move with his wife, Amie, and their daughters to Sallisaw has been a good thing for them. The girls enjoy their sports in basketball and softball and the oldest just received her assistant nursing certificate from the ICTC Nursing Program, he said.
"I'm just looking forward to holding this festival in Sallisaw. We invite everyone to come out for a super scary fun time," he said.
For more information about the festival, contact Kidwell at 918-629-9008.
Just Folks. Just Folks is Your TIMES way of honoring the regular people of Sequoyah County, recognizing their unique talents, personalities, jobs, abilities, etc. Your TIMES appreciates the cooperation of each Just Folks and the public's nominations for this feature. If you know of someone you think might be a good story, contact Amie or Lynn at 918-7754433.