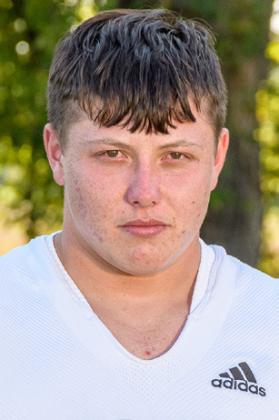 Sports
September 30, 2022
No. 2 Gore hosts Canadian in homecoming contest this week
Class A No. 2 Gore hosts Canadian in its homecoming contest Friday night as the unbeaten Pirates look to improve to 5-0 for the season.
H o m e c o m i n g festivities inside K.G. Horn Stadium will get underway at 6:15 p.m. and the District A-8 game is slated to start at 7 p.m.
Gore (4-0) had an open date last week and Canadian (0-4) lost 54-6 to Pocola. The Cougars fell 36-0 to Ketchum in their season opener before dropping games to Savanna (26-0) and Wewoka (24-8).
"After watching them on film it looks like they're getting better and better each week," Gore head coach Brandon Tyler said. "They got beat by Pocola last week and Savanna the week before. They've got a new young coach (Nathan Leithead) that's doing a good job with them."
Last season the Pirates defeated the Cougars 67-0.
A few of Canadian's key players on offense are quarterback Will Beshear (6foot-1, 210-pound sophomore), running backs Brandon Ybannez (5-10, 170, sr.) and Nick King (6-0, 190, jr.), fullback Michael Stone (5-11, 160, jr.), tight end T.J. King (6-2, 250, soph.) and lineman Camden Harris (6-2, 230, sr.).
"They're going to run the flex-bone on offense," Tyler said. "They like to keep the ball in the quarterback's hands quite a bit, he's a big ole kid.
"We haven't seen an option style of offense under center in a while so we'll definitely have to prepare for their option game. What they do offensively we'll definitely have to prepare for.
"Just alignment and assignment are defensive keys this week. With that option football you've got to play assignment football and make sure we're getting lined up properly and everybody's reading their right keys for shutting down the option. We'll have to prepare for that this week in practice."
Some of the Cougars' key players on defense are defensive linemen Jadon Snyder (5-10, 200, sr.) and Camden Harris and linebacker/ defensive back T.J. King.
"They're going to run a 4-4 on defense," said Tyler. "Offensively we've seen the 4-4 a couple of times this year so that won't be anything new to us.
"Just not turning the football over and just continuing to get better at what we're doing are keys for our offense. We're going to run the football and throw when we have to. Noah (Cooper) is doing a great job of that and our receivers are doing a great job. Just try to stay balanced in what we're doing and make people try to guess at what we're going to try to do so we'll just continue to do what we do."
Behind Gore offensive linemen Gabe Dozier, Garrett Douthit, Nick Wolf, Cas Moore and Layne Ward and tight end Aidan Dickerson running back Gunner Dozier rushed for 89 yards and three touchdowns in the Pirates' recent 54-0 win at Savanna.