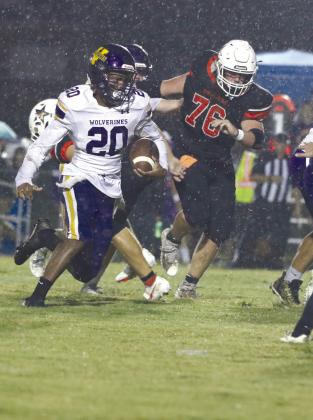 Sports
September 30, 2022
Rangers seek 2nd 2A-5 win
After registering its first win of the season at home against Keys last week Roland travels to Vian Friday night to take on the Class 2A No. 5 Wolverines in a District 2A-5 contest.
Kickoff inside Charlie St. John Stadium is scheduled for 7 p.m.
The Rangers (1-3) defeated Keys 21-20 in their 2A-5 opener last week while the Wolverines won 44-14 at Warner.
The Wolverines (2-2) lost 39-24 at home to 2A No. 1 Washington in their season opener. After winning 4026 at 2A No. 10 Eufaula, Vian fell 42-0 to 3A No. 1 Lincoln Christian.
"We've got to show up and be ready for a physical game," Roland head coach Austin Cantrell said. "They're No. 5 in 2A so we've definitely got to be prepared to go play a physical game."
Last season the Wolverines defeated the Rangers 55-21.
Some of Vian's key players on offense are quarterback Diego Ramos (6-foot-3, 185-pound senior), running back/slot back Desean Mays (5-11, 165, sr.), running back Masyn Wright (5-11, 180, fr.) and linemen Nic Scoggins (5-10, 240, sr.), Marshal Ross (6-4, 290, sr.), Cash Collins, Lane Jamison and Jeff Crow.
"Their offense is pretty multiple," Cantrell said. "They have a good quarterback that can throw it and they're going to try to get the ball to No. 20 (Desean Mays) and No. 2 (Masyn Wright).
"Defensively we've got to be able to keep contain on some of their key guys, their ball carries, keep them corralled and try to limit the big plays."
A few of the Wolverines' key players on defense are linebacker Gage Carlton (5-8, 175, sr.), defensive lineman Marshal Ross and defensive backs Diego Ramos, Desean Mays, Masyn Wright and Michael Polecat (5-8, 160, fr.).
"On defense they rotate between a threeman front and a four-man front," said Cantrell. "To me it looks like whenever they get a heavy set on offense they're going to be in a four-man and occasionally they'll be in a three.
"Offensively we've just got to execute what we're trying to do and hopefully deal with their size because obviously they have large players.
"We're having a hard time executing plays and trying to get everything right. We're really close but it's one guy here, one guy there that's kind of causing a play to be off but once we get 11 guys executing consistently we'll be able to move the ball and be a much better offense."