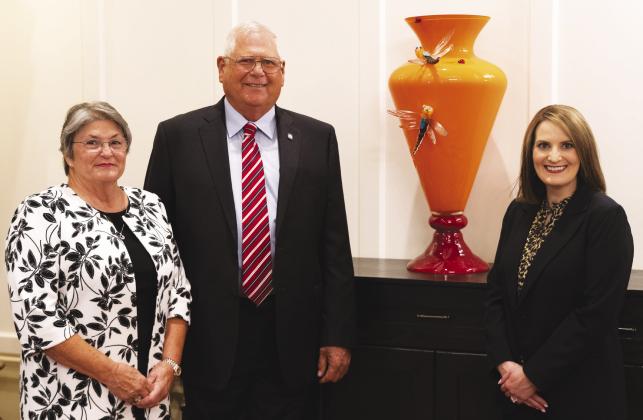 Lifestyle
September 30, 2022
Sen. Allen and wife Nikki donate glass sculpture to Senate
The Oklahoma Senate's art collection now features its first piece of blown glass artwork. During a special dedication ceremony held Sept. 28 in the Senate Chamber, Sen. Mark Allen, and his wife, Nikki, gifted a sculpture to the Senate entitled "Dragonfly Summer." The piece was created by Poteau-based glass artist Steve Brewster.
Allen, R-Spiro, is entering his final weeks of service in the Senate due to term limits.
"Nikki and I originally purchased the piece as part of a fundraiser for Carl Albert State College in Poteau. We were happy to help support the college and the fact that it was created by a Poteau artist was perfect," Allen said. "I've had this piece on display here at the Capitol near my Senate office, and we wanted to continue to share this beautiful glass sculpture with Oklahomans for years to come."
"Dragonfly Summer" evokes memories of summertime in Oklahoma and the iconic imagery of dragonflies often seen near creeks, ponds, lakes and pools. Oklahoma is home to nearly 180 species of dragonflies and damselflies.
Brewster is a former football star with the Oakland Raiders and works out of his Moon Bay Art Glass Studios in Poteau, creating one-of-a-kind sculptures from blown glass, a medium he's worked in for four decades. His creations have been part of the art collections of numerous performers, athletes and political figures, including Pres. Ronald Reagan, actors Lee Majors and Denzel Washington, NHL star Wayne Gretzky, and singer Celine Dion, among many others.
Following the art dedication, a reception was held in the Senate lounge.