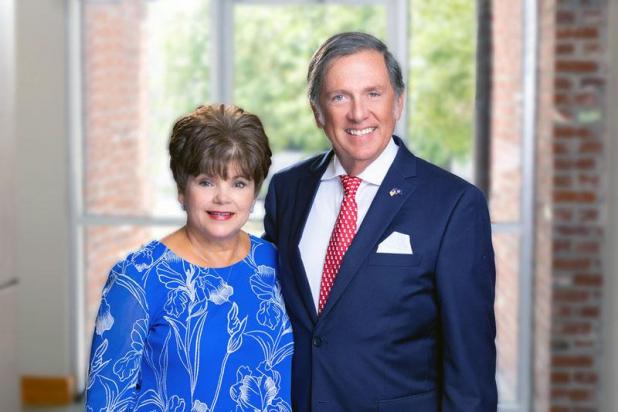 Karen & Fred Hoyt honored as Vermilion Parish Leaders in Philanthropy Award recipients
Community Foundation of Acadiana (CFA) and Hancock Whitney Bank are pleased to announce the 2022 Leaders in Philanthropy Award honorees for Vermilion Parish, Karen & Fred Hoyt.
The Hoyts' passion for philanthropy was infused into the culture of their local business, through which Karen and Fred contribute a portion of sales proceeds to support designated community organizations. These include the Abbeville Police and Fire Departments, St. Theresa and St. Mary Magdalen Catholic Churches, Vermilion Foundation, an affiliate of Community Foundation of Acadiana, the Boys & Girls Club, children's sports leagues, American Legion and Veterans programs, Rotary and Kiwanis Clubs, and the Louisiana Military Museum in Abbeville.
John T. Landry, friend of the Hoyts said, "Fred and Karen Hoyt have been ardent supporters of Abbeville, and Vermilion Parish organizations, for over 40 years. Their generosity has helped improve the lives of the citizens of Vermilion Parish. They are always ' Giving Back ' when asked to step up and assist worthy causes."
"The Hoyt's have big hearts and are known to help many less fortunate citizens who are "down on their luck.", said friend Charles Sonnier.
Leaders In Philanthropy Awards are presented annually to outstanding individuals, couples, and corporations who have supported nonprofit organizations, churches, and schools through charitable giving and/or philanthropic work.
Individuals and couples are selected from each of the eight parishes of Community Foundation of Acadiana's (CFA) primary service area which includes Acadia, Evangeline, Iberia, Lafayette, St. Landry, St. Martin, St. Mary, and Vermilion Parishes.
CFA welcomes nominations from the general public at www.cfacadiana.org/lip. Nominees need not be donors or have a Fund at CFA. CFA's Past Board Members consider nominations and submit their recommendations to the CFA Board of Directors for final approval, including those proposed by any Parish Affiliate Advisory Board.
Community Foundation of Acadiana's core purpose is to build legacies and improve communities by connecting generous people to the causes they care about. CFA has realized more than $348 million in philanthropic activities since inception in 2000.. CFA's donor-directed grant distributions now exceed $185 million. While donors are not limited geographically, CFA's primary service area includes the parishes of Acadia, Evangeline, Iberia, Lafayette, St. Landry, St. Martin, St. Mary, and Vermilion. CFA is the third largest community foundation in the state and expects to soon be included in the Top 100 U.S. community foundations by assets. These important milestones ensure CFA's position as one of Louisiana's premier philanthropic organizations.